IN this CQN series has been looking back at Celtic's English opponents in Europe and so far have covered a dozen competitive matches from the first encounter against Liverpool in 1966 through to Celtic eliminating the Anfield side on the way to Seville in 2003.
We'll also have a look at our games against Spanish and German sides over the next few weeks.
In these 12 matches against English sides in Europe Celtic have won 6, drawn 4 and lost 2 which may surprise some as the English media tend to make us massive underdogs.
Links to the our features on the earlier ties are below.
Next up, it's Manchester United…
In season 2006-7, Celtic were drawn in the same European Champions' League section as Manchester Utd, with Benfica and Copenhagen being the other teams in the group.
Gordon Strachan was at the start of his 2nd season in charge. His start had been horrific, with Artmedia Bratislava beating Celtic 5-0 in  a Champions' League qualifier. Strachan had, on the domestic front, redeemed himself after that dreadful start. He had led Celtic to the SPL championship, with a mammoth 17 points gap over second placed Hearts. In addition, Celtic had beaten Dunfermline 3-0, to win the League Cup final. In 2006, Scotland's co-efficient was considerably better than it is now, so Celtic, as SPL Champions, had an automatic place in the group stages.
Celtic's first match was against Manchester United, at Old Trafford on September 13th.
When Celtic played Liverpool in the 1960s and Leeds United in the very early 1970s, economics was a factor but much less of  a factor than it had grown into, thanks to Sky pumping obs cene amounts of money into English football, with a few crumbs being thrown at the Scottish game.
Despite the difference in financing, Celtic started strongly, although they were given an early fright when Saha's header, from  a Gary Neville cross, drifted inches wide. Shortly after that, Saha, emerging as a major threat, had a stunning left foot volley that went narrowly over the top. Despite Saha's efforts, it was Celtic who drew first blood. Jan Venegoor of Hesselink scored and it was a goal that Rio Ferdinand will want to forget.
From Boruc's long kick out, Venegoor of Hesselink brushed aside a feeble challenge from Ferdinand and picked his spot from 18 yards. Celtic held the lead for only 7 minutes, with Slovakian referee, Lubos Michel (who had red carded Bobo Balde in Seville in 2003), giving a very soft penalty against Celtic.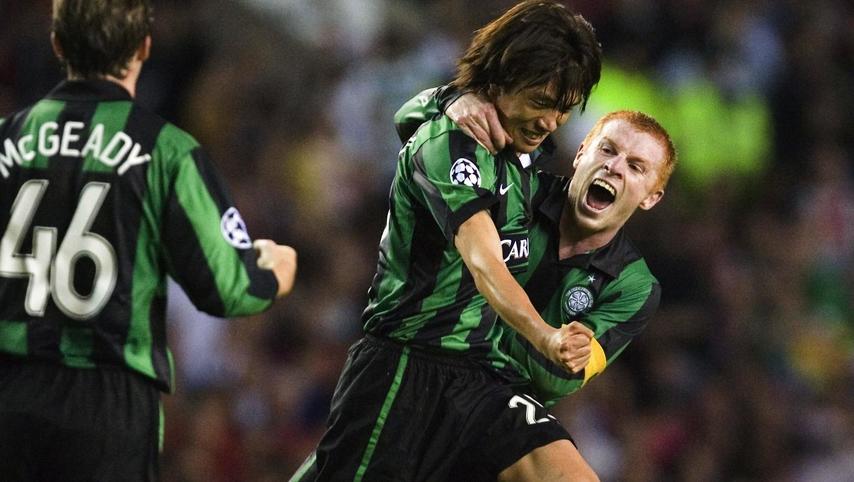 Boruc was harshly adjudged to have foued Giggs, who acrobatically fell to the ground. Saha scored from the penalty spot, so yet again Celtic were on the receiving end of  a dodgy penalty decision. Six years earlier, with Celtic holding Juventus 2-2 and only a few minutes to play in the club's first ever Champions' League group game, Amoruso blatantly dived. Despite the obvious nature of the dive, German referee Krug awarded a penalty, from which the Italians scored. The point that Celtic lost would have been enough to take us  through to the knock out stages that year.
Three years later, Celtic were drawing 2-2 with Lyon in France. Only a few minutes remained in the final group match  and at 2-2, Celtic would have had a place in the last 16. However, yet again, a refereeing intervention cost us dear. Swiss referee Meier pointed to the spot after Balde was penalised for a hand ball that seemed accidental. No Lyon players had even claimed for a penalty. Now, yet again, a harsh penalty had been given in a crucial away game.
Venegoor of Hesselink had a great chance to restore Celtic's lead. However, from a Nakamura free kick, he headed the ball tamely towards United goalkeeper, Edwin van der Saar. Celtic were made to play for that generosity a few minutes later when Saha struck again. After Gravesen lost possession to Scholes, the United midfielder sent a perfect pass through to Saha, who scored. Celtic adopted an adventurous approach in order to get back into the game and that attitude was rewarded. Free kick specialist, Nakamura, curled a perfectly hit 25 yard free kick past Van der Saar. Half time came and Celtic could be very satisfied with their work in the previous 45 minutes. 
All Celtic's hard work in the first half was ruined just a few seconds into the 2nd half. Thomas Gravesen had been a high profile Celtic summer signing from Real Madrid but had found difficulty settling. At Old Trafford, he'd been struggling to make an impact. He very carelessly passed the ball straight to Scholes, who, once again, played in Saha. His effort was scrambled clear by Boruc but deadly striker Solskjaer pounced and put United ahead.
United were now dominant and Rooney and Saha both came close. Gravesen almost made amends for his errors with an excellent run and shot but Van der Saar came to United's rescue. There were several more chances for the home team but no more scoring.
When the clubs lined up at a packed Celtic Park on November 21st, the position was clear. This was the 5th match in the group and Celtic were in a strong position. After home wins against both Benfica and Copenhagen, they knew that a win in this game would guarantee, for the first time ever, a place in the last 16.  
The visitors settled quickly and, in the third minute, Saha, who had caused Celtic so many problems 2 months earlier, tested Boruc with a low drive. Despite the importance of a win, Celtic seemed happy to sit back and soak up the pressure. They were almost punished in the 17th minute when Paul Scholes picked out Ryan Giggs, who was running into the box. However, Giggs' first touch was poor and Boruc was able to easily gather the loose ball. Giggs was again involved on the half hour mark when he swung a dangerous corner which found Rooney. Luckily for Celtic, his shot went past the post, with Boruc stranded.
They had several more chances, including a near miss by Ronaldo when a goal  was averted by a combination of Balde's last-ditch tackle and an instinctive save from Boruc. That close shave spurred Celtic forward and  Gravesen went close. His header from a Zurawski cross narrowly missed the target.
When the teams came out for the second half, Celtic had made 2 changes. Maloney and Jarosik were on, with Sno and Zurawski being sacrificed. The changes seemed to invigorate Celtic and the home side starting taking the game to United. However, after a brief flurry of attacks, the game reverted to the familiar pattern of the first half.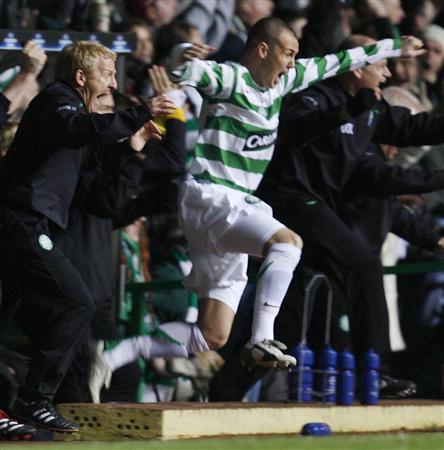 Celtic's defence stood firm and United couldn't find a way through. Celtic then gained in confidence as they realised that they were able to withstand the away team's attacks. Nakamura had a chance, which was narrowly missed. With time running out and the game still goalless, it looked as if Celtic would require to get something out of their final game in Copenhagen. It was then that the magical Nakamura struck with a free kick even more sublime than the one he scored at Old Trafford. Nakamura curled a stunning free kick into the net from 30 yards.
Shortly after Nakamura's wonder goal, Saha was through. The goal was at his mercy but he stopped as he believed, wrongly, that he was offside. Then, just as Celtic seemed to be heading towards the promised land of the knock-out stages, the curse of the soft penalty struck again. Spanish referee Gonzalez pointed to the spot after Maloney was penalised for hand ball. However, this time justice was done and Boruc saved magnificently to send the Celtic fans into raptures.
The final whistle and Celtic had qualified for the last 16. As an added bonus, a win in the final game in Copenhagen would guarantee Celtic top spot in the section, with the likelihood of an easier tie. In that game, Celtic's infamously poor away form was again evident as Copenhagen ran out 3-1 winners. Celtic were then drawn against the highly rated AC Milan.  Celtic put up 2 excellent displays against the Italians and  a late AC Milan goal was all that separated the teams after 210 minutes.
Manchester United would once again be Celtic's next English Opponents in Europe two season's later. More on that tomorrow but it's worth noting that our record at this stage against the best England could throw at us was now won 7, drawn 4 and lost 3.
Not bad, not bad at all.
Written by Hugh Gallagher for CQN.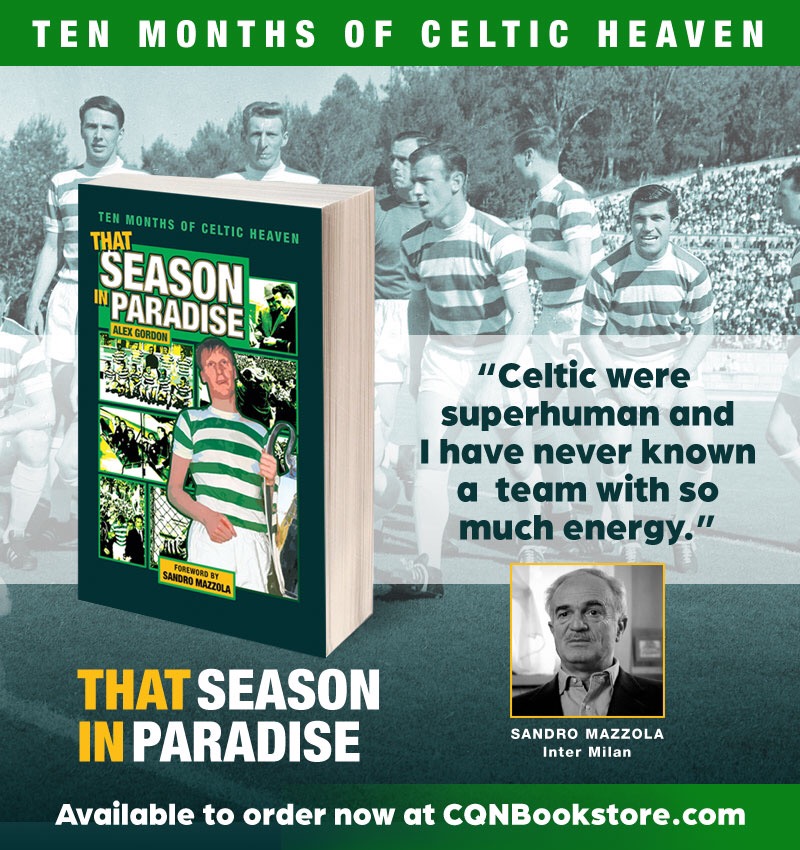 Click Here for Comments >