CELTIC legend John 'Yogi' Hughes has watched the Ange Postecoglou revolution from his usual vantage point in the Lisbon Lions stand at Parkhead.
The seventh-highest goalscorer in the club's history with 189 strikes applauds the achievements of the new manager in such a short period of time after arriving in late June as Neil Lennon's long-term successor.
However, Yogi, now 78, admits to a genuine concern, despite the progress made after last season's wretched campaign that saw the team limp home trophyless for the first time in 11 years.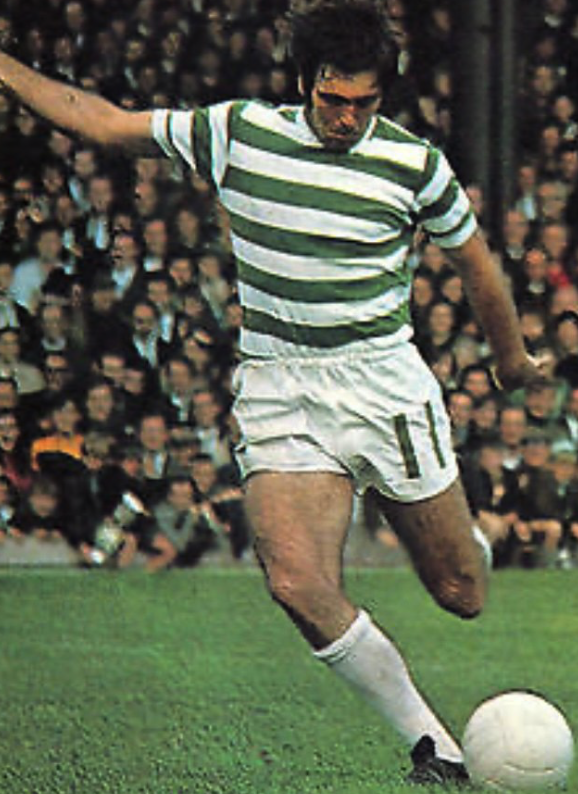 BY THE LEFT…John 'Yogi' Hughes in a typical all-action pose.
The Hoops great has opened up in another CQN EXCLUSIVE as he gives his views to writer Alex Gordon, who co-authored the ex-marksman's autobiography, 'Yogi Bare: The Life and Times of a Celtic Legend', which was published in 2014.
"Exciting times are back at my old club," said Hughes. "No disrespect to anyone, but things had gone a bit stale. The squad required a shake-up, that was obvious after the previous campaign.
"Some players looked somewhat disinterested or distracted and it was no surprise to see such a massive turnaround in staff in the summer.
"Twelve players coming in with regulars leaving such as skipper Scott Brown, Odsonne Edouard, Kristoffer Ajer, Ryan Christie and Olivier Ntcham emphasised the team was going through a massive transitional period.
"In these circumstances, you have to expect an extended spell of time where the club won't actually win anything. Long-term success requires patience and you have to accept there will be frustrations along the way.
SILVER SUCCESS…Ange Postecoglou celebrates the Premier Sports League Cup success last month.
"So, huge credit to Ange that he has already delivered silverware in the shape of the League Cup last month. That was beyond most people's optimistic expectations during the hurly burly of comings and goings through the summer months.
"The manager had also arrived without any of his former staff. That spoke volumes for the confidence he had in his own ability.
"I believe that was the main stumbling block in the move for Eddie Howe. That rumbled on for far too long and action was required. Ange Postecoglou answered the SOS and, let's face it, we didn't know what to expect.
"We knew he was an experienced former manager of the Australian international team and had spent the last three or four years in Japan. He was also 55 years old, so we knew he would be set in his ways. If you haven't come up with a successful formula by that age, you have been wasting your time.
THAT'S MY BHOY…Ange Postecoglou congratulates Nir Bitton at the end of the 3-1 Boxing Day victory over St Johnstone.
"We wondered what was in store. I liked the way he refused to panic after the club went out of the Champions League at the first hurdle. The team just weren't prepared for that game at that embryonic stage in the developments in Ange's plans for the team.
"FC Midtjylland were worthy Danish title holders, had a settled team and were up for the occasion. Having said that, Celtic led twice over the two legs and only lost in extra-time away from home.
"A member of the media claimed it had been a 'catastrophic' result in Denmark, but Ange went on record as disagreeing with him. He underlined he was just setting out on what he hoped to achieve at the club. This was far from the end and that's normally the outcome after a catastrophe.
"I liked his single-mindedness. Clearly, there was a determination to succeed. I'm told Ange had been looking for an opening to manage a club in Europe for a few years. Celtic offered him that chance and it was evident he wasn't about to blew the once-in-a-lifetime opportunity.
"He has been thoroughly professional and comes across as a clever and astute individual. He speaks very well on any subject and has a clear vision of where he and Celtic are going.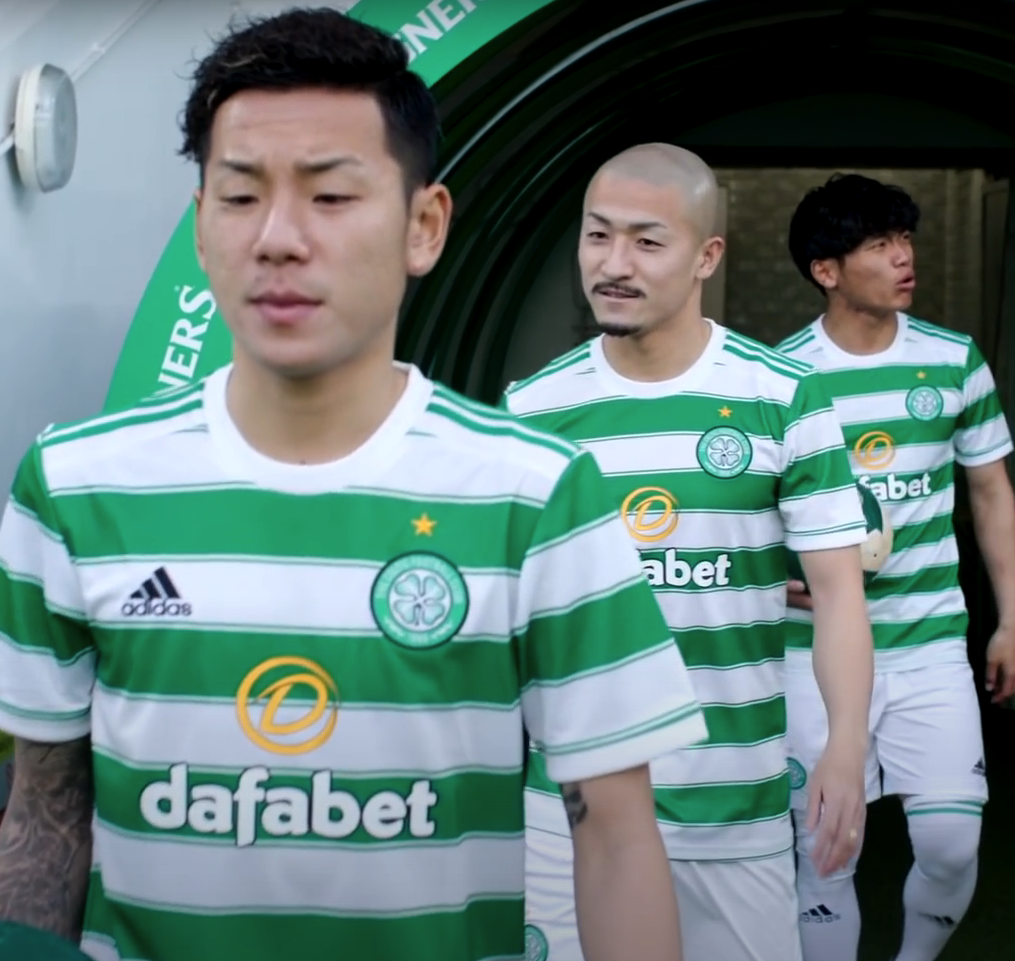 TUNNEL VISION…the J-League January arrivals Yosuke Ideguchi, Daizen Maeda and Reo Hatate.
"The board have shown confidence in his judgement and have give the green light for him to bring in five new recruits in this transfer window. It's obvious there is harmony between the man in the dug-out and the individuals in the boardroom. That hasn't always been the case at the club.
"So, the foundation is there, a springboard to bigger and better things and that has got to enthrall the Celtic fans, myself included."
However, Hughes did add a note of caution. The former darling of the Parkhead terracings said: "I watched Celtic win at Alloa last night and the manager looked more than a shade frustrated when he talked to the TV people afterwards.
"Possibly, he was upset at the injury to Callum McGregor which may see the skipper sidelined for a lengthy spell. He wouldn't have been too pleased to see two other payers, Liel Abada and Yosuke Ideguchi, limp off with injuries before the end.
"Was anyone surprised at the way the opponents performed on their own tight, little artificial pitch? I wasn't and I'm sure the manager wasn't, either.
HAMPDEN HERO…Kyogo Furuhashi celebrates one of his double in the 2-1 win over Hibs last month.
"For some of the Alloa players this was the biggest game of their career, their personal Cup Final, watched by millions on satellite TV. I haven't a clue what instructions they may have received before the game, but they were certainly up to challenging for every ball and some of their tackling was questionable, to say the least.
"It wasn't pretty, that's for sure. Look, even Jock Stein's great teams could get knocked out of their stride by the opposing side being in your face from start to finish.
"You hope for a strong referee on these occasions when your rivals sometimes get a bit over-enthusiastic at the task in hand. That can lead to some of the unruly stuff we witnessed last night.
"Ange, wisely, didn't get involved in any slanging matches and simply said it was down to the match official to take care of these things. All very commendable, but the manager will be more aware than most about what happened on that pitch.
"His players were offered no protection by the referee and that just leads to things getting a bit out of hand.
PICK IT OUT…Giorgos Giakoumakis leaves Alloa keeper David Hutton standing as he belts in the opener.
"My main concern, though, was the fact Celtic did not put the game to bed in the first-half. That is my worry. Celtic should be scoring a lot more goals that they are at present. You can have all the possession you want, but if you don't put the ball in the net it will count for zilch.
"Celtic have to be more ruthless. They really need to work on their killer instinct. Big Jock insisted his players chase that opening goal and then go looking for a second. After that, he demanded a third, a fourth and so on.
"Look at the League Cup Final, for instance. Celtic looked fairly composed in the opening half, but had to come back from a goal conceded from a corner-kick to actually win the trophy.
"On Boxing Day, they were coasting 2-0 ahead against St Johnstone in Perth when they allowed their opponents a goal in a breakaway. I can't recall Vasilis Barkas being asked to make a save before that moment.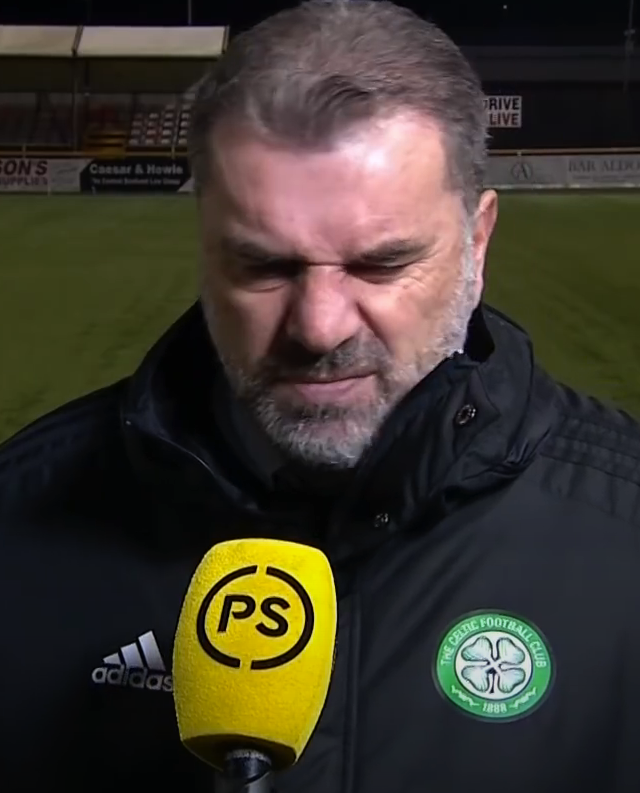 GURN AND BEAR IT…Ange Posetcoglou talks to the media after the 2-1 win at Alloa.
"Once again, the team were one mistake away from losing another goal which would have cost two precious points. Thankfully, Nir Bitton rattled in a third to ease the tension.
"It's been happening all season. Celtic dominating the opposition and that superiority not being reflected in the scoreline.
"Even last night could have proved dodgy after Alloa scored with 12-plus minutes still to play. Ange's players saw it out, but they should never have been put in that position.
"They should have been easing their way to the final whistle without having to look over their shoulder.
"I'm sure Big Ange will find a way. I am a fan of the Greek-Aussie, I like his refreshing style, a team always on the front foot playing at a high tempo.
"But, oh, how I wish we would put the opposition away long before that final shrill from the referee's whistle.
"Plus I hope a tenth league title in eleven years is not out of the question!"
BATTERED AND BRUISED, BUT ABADA'S BELTER DOES THE TRICK
Click Here for Comments >