BRENDAN RODGERS took an immediate liking to £300,000 new Bhoy Lewis Morgan when Celtic faced St Mirren in the Scottish Cup last season.
The Hoops boss revealed: "He was a boy who really took my eye when we played the Saints.
"Even though we won the game 4-1, I liked how direct he was and his quality. He was a handful.
"We kept an eye on him from then and watched him for Scotland Under-21s against Holland, where he was up against a really physical player that night .
"It was interesting to see if he could cope with that and he did.
"He's a boy who is hungry. I spoke to Jack Ross at length about him and then I was given permission to speak to the player.
"Lewis is a very humble boy, he knows where he's at in his career."
Rodgers added: "You come to Celtic and it's hard for lots of players, so if he can cope with that level of scrutiny, pressure and expectations then he could be a wonderful player.
"He has the talent, he's direct, he's quick, he can score goals, he has two great feet, so, yeah, we will look forward to the chance to work with him when he comes in the summer.
"You look at the player and you do your homework on him and you try to find out all the different aspects of his life.
"I like players who are hungry, coachable and want to learn. Everything I had heard about him was very good.
"I had a real nice chat with him. You can't always go on what they're like, but obviously the first impression is important.
"I've spoken to players who looked me in the eye for three-and-a-half hours and never moved.
"Others tell you everything you want to hear, but I've been really impressed with Lewis and, hopefully, there's a great platform for him to go on finish the season with St Mirren."
The CQN Podcast: A Celtic State of Mind (EP28) with former Celtic director Tom Grant
Paul John Dykes and Kevin Graham are joined by Celtic's ex-director, Tom Grant, who offers a fascinating insight into the running of the club in the 1980s and 1990s.
Tom Grant explains exactly why Celtic refused to complete the Mo Johnston transfer in 1989, and lifts the lid on audacious efforts by Billy McNeill to recruit Peter Beardsley and Steve Bruce.
Tom Grant also dissects his relationship with Fergus McCann, and the impact of the 'Celts For Change' movement in overturning the 'family dynasty' board in 1994.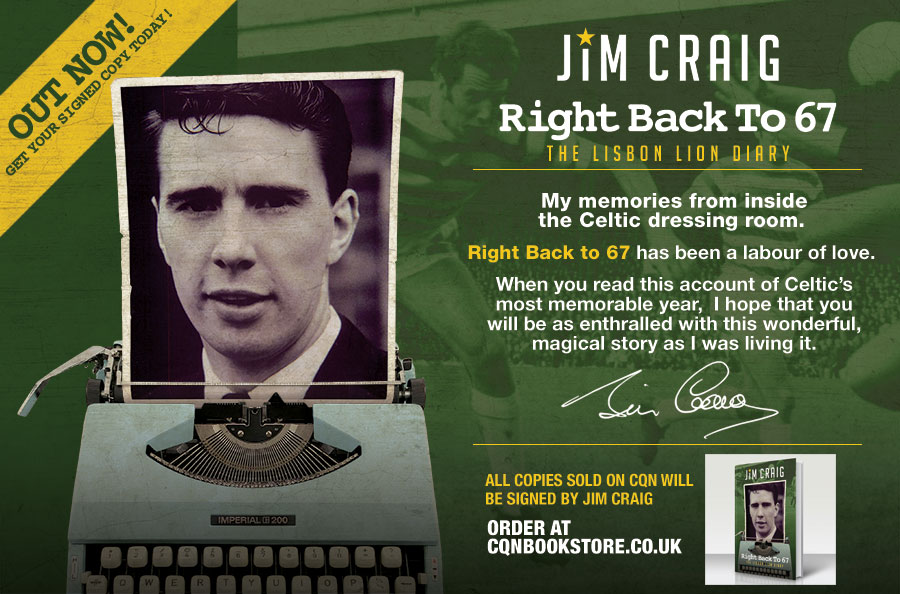 Jim Craig made two of the three goals in the 1967 European Cup Final. Get Jim's new Lisbon Lion Diary – Right Back to 67 from CQNBookstore.co.uk and you will receive a signed copy from the man himself plus a FREE copy of That Season in Paradise – Ten Months of Celtic Heaven signed by fellow Lisbon Lion Bertie Auld! Simply order Jim Craig – Right Back to 67 and the second book will be sent automatically.
Click Here for Comments >