CELTIC celebrated the 53rd anniversary of their unforgettable European Cup triumph in Lisbon on Monday.
Today, CQN is acknowledging the historic achievement with a series of EXCLUSIVE extracts from the late, great Tommy Gemmell's autobiography, 'All The Best', co-authored by Alex Gordon.
It was, of course, Big TG who walloped in the equaliser against Inter Milan to put Jock Stein's great side on their way to victory on May 25 1967 in the Portuguese capital.
Gemmell, who sadly passed away in March 2017 at the age of 73, had a keen sense of humour and it comes across in these memoirs.
Please enjoy.
WEE Jimmy Johnstone often told me that I had been decorated more often than the Queen's living room. I never thought to ask Jinky exactly how he knew of the specific arrangements for the makeovers at Buck House, but I got the drift.
What the Wee Man didn't know was that there was one honour I should have won on a weekly basis – the Best Actor's award.
No doubt my former team-mates and fans alike will be surprised by this revelation, but it's time to come clean. I was never quite as laidback as everyone thought I was. It was all an act. I wasn't a bag of nerves before every game, but I can tell you the butterflies were there. I was as much subject to normal human frailties as the next man. I just did my best to disguise it while sauntering around the dressing room looking as though I didn't have a care in the world.
But, deep inside, I felt the tension.
The trick was not to show it. And once you have done it a couple of times as a cocky youngster coming into the first team to mix with the big boys, then you are stuck with it for the rest of your life. It becomes unshakeable and forms your personality.
Looking back, I realise I had more front than Brighton Pier. I was never really concerned about the image. That was never a priority from someone from a housing scheme in Craigneuk, Lanarkshire. But I realised I had lumbered myself with a part to play. I read in the newspapers that I was flamboyant, cavalier, buccaneering, flashy, swashbuckling, exciting and dashing. I don't think any other Celtic full-back in the history of the club had ever been described in such graphic, praiseworthy terms. Again, that is not being big-headed. In the earlier days, they were defenders first and foremost.
THE BIG SHOT…Tommy Gemmell thumps in the leveller against Inter Milan.
They were never encouraged to cross the halfway line. That was a massive no-no. However, that had always been my natural instinct, to get into enemy territory and do as much damage as possible. I knew I had a good shot in either foot, with my right being the stronger, and, with Jock Stein around, you were given every opportunity to get forward and attempt to create havoc.
I scored my first league goal for the club on 28 October 1964, but I didn't do too much celebrating as we had just been humped 5-2 by Kilmarnock at Rugby Park. At least, I had put down my marker. It was quite awhile afterwards that Big Jock handed me the penalty-taking duties. Before me, the players on the spot were Dunky MacKay, Bobby Murdoch, Bertie Auld, Ian Young, Charlie Gallagher, Joe McBride and John Hughes.
So, I had to wait my turn before I was given the nod when we were awarded one in our European Cup first round second leg tie against Zurich in Switzerland on 5 October 1966 en route to conquering Europe. I had scored in the first game in Glasgow, a 2-0 win, and I had netted again in Zurich. We were 2-0 up in that game – Stevie Chalmers got the other – and I was given the ball to complete a hat-trick over the two legs. I clubbed it into the net and that was me the No.1 choice.
I have to say I was never nervous before I took a penalty. Normally the adrenalin would be pumping because you don't often get a spot-kick in the first five minutes or so unless, of course, it is an absolute stonewaller. So, I was mainly into my stride by the time we ever received an award. I felt sorry for the goalkeeper before I took a penalty. He had no idea where I was going to place it for one very good reason – I hadn't a clue myself.
My secret of a good penalty-kick was simple; hammer it as hard as you can, get it on target and see what happens after that. I had a fairly good record, even if I do say so myself. I think I missed three out of thirty-seven attempts and I believe I hit the keeper on two of those occasions. They weren't quick enough to get out of the way!
Back then, my guilty pleasure was cars. Well, I had to continue to play and look the part, hadn't I? My first car was a gas-guzzling Ford Zodiac which I bought from Ian Skelly's dealership in Motherwell where my mum worked. It was a big three-litre, six-cylinder job which was Britain's version of the American Chevy. It caused a bit of a stir when I parked it outside my parents' tenement block in Craigneuk, I can tell you. It was my pride and joy. I had arrived! Ian Skelly's brother Billy was in Lisbon in 1967 when I bumped into him. 'Score a goal today, Tommy, and I'll give you fifty gallons of petrol free.' And he was as good as his word.
From the Zodiac I moved onto the Ford Zephyr. I bought all my cars from Skelly's and I paid £500 for a Ford Cortina out of my European Cup bonus of £1,500. Over the period I must have owned about twenty cars although, unlike today's players, I only had one at a time. My favourite was a white S-type Jaguar that was really sleek. I enjoyed driving up to Celtic Park on matchdays in that stylish, eye-catching vehicle with the fans waving at me. It was a world away from the days of cycling to Fir Park as a kid with my knees regularly clattering off the handlebars of a bike I had clearly outgrown. Aye, I had come a long way right enough.
I was fairly fashion conscious in those days. Well, I thought I was trendy. I can look at photographs now of me in the late sixties and early seventies and wonder what on earth I was thinking. I had shirts with collars the size of bed sheets. If you got caught in a fierce tail-wind there was a possibility you could be whisked off to another country. I wore flare-bottomed trousers that had enough surplus material to make about six suits.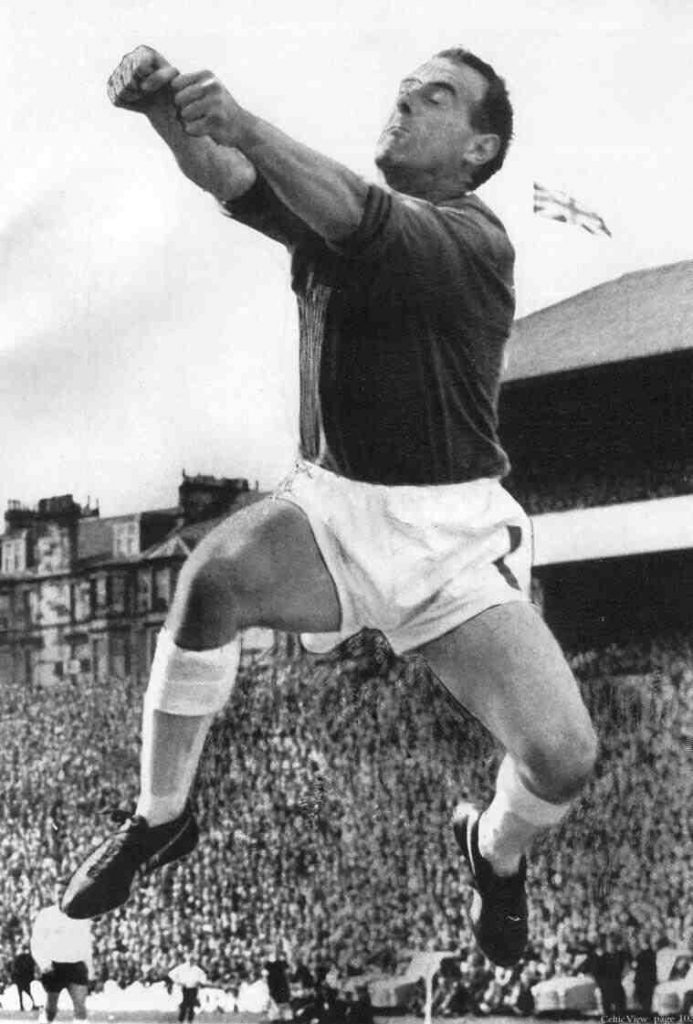 FIST IN TIME…the wonderful Ronnie Simpson punches the ball to safety during a 3-3 draw with Spurs at Hampden in a pre-season friendly in 1967.
Shoes? Don't even go there. Dodgy colours with equally dodgy soles and heels. Most footballers sported hair styles that weren't  dissimilar to blow-dried stoats perched on their napper. Thankfully, I missed the bubble-perm look. That was hilarious. All those big ba'-faced, ugly players with broken noses and hair like Shirley Temple. My only consolation was the fact everyone looked the same, so no-one pointed and laughed. Walk down the street today with that gear on and everyone would believe the circus was in town.
Being a Celtic player was simply wonderful. The public might never have believed it, but Celtic and Rangers players actually got on quite well with each other. Wee Willie Henderson was a particular friend of mine and still is to this day. Bertie Auld, Willie Wallace, myself and a couple of others used to go to Reid's Bar on Hope Street in Glasgow after a game on a Saturday. It was owned by Partick Thistle chairman and SFA President Tom Reid and a lot of footballers used to hang out there. They had an upstairs bar where you could get a bit of privacy. Normally we would be joined by the Rangers contingent of Wee Willie, Ronnie McKinnon, Davie Provan and Willie Johnston. It was all very affable, I must say.
Talking of Wee Willie reminds me of a story he told me back in the sixties when Muhammad Ali was visiting Glasgow in a worldwide publicity exercise. The heavyweight champion of the world and, in my opinion, the greatest-ever sportsman was due to pop in and see us at Celtic Park and then he was going across the city to Ibrox to do the same with the Rangers players. Willie said, 'I shook hands with Ali and this handsome specimen took a look at my flattened nose. He smiled and said, "You a footballer? Man, I'm sure glad I'm a boxer." I couldn't argue.'
Jock Stein abhorred alcohol, as we all know, so it may surprise a few that the Celtic players were allowed a drop of whisky before every game. Okay, it wasn't enough to cater for a party. In fact, it was only a quarter bottle of whisky and it was kept out of sight in the shower room. Big Jock never allowed anyone else into the dressing room apart from the players and staff, but on the off-chance someone did enter his exclusive sanctum, there would never be any booze on display.
However, if the players fancied a nip before kick-off they could go and have a quick snifter with the boss's blessing. I'm not a whisky drinker, but I had a swig one day to test out its therapeutic qualities. That was a one-off. I never touched it again. A lot of the other players didn't bother, either, but that bottle was almost always empty before we left to take the field. I'm not pointing any accusing fingers, you understand, but Ronnie Simpson seemed to make more visits to the shower room than anyone else. Read into that what you will.
Ronnie was a great character. Do you know the only two members of the Lisbon Lions squad who smoked were the goalkeepers, Ronnie and John Fallon? And, before them, the only other bloke I saw smoking at Celtic Park was Frank Haffey, another goalkeeper. Bertie Auld would often be photographed with a giant cigar after a trophy triumph, but I doubt if he ever smoked it. That cigar probably followed him throughout his career and was never lit!
Our veteran keeper, known to everyone as 'Faither' for obvious reasons, was a quiet man off the field. He adored golf, of course, and probably could have made the professional circuit. Away from Parkhead, he had his own friends in Edinburgh where he lived. Mainly he would socialise with those guys. He had a droll sense of humour. Bobby Lennox remembered making a speech when he was voted by the supporters into the Greatest-Ever Celtic Team at the millennium.
He went up to accept his award at a fabulous night at the Armadillo in Glasgow. He was handed his trophy, cleared his throat and addressed the packed audience. 'What an honour,' he said. 'Actually, I am very surprised to be named in the team.' From behind him came a staged whisper, 'Aye, you're not the only one!' Ronnie at his best.
I have to say those Celtic supporters have impeccable taste. At the same poll, they also voted for the club's Greatest-Ever Goal. Who won? Yours truly for my effort against Inter Milan in Lisbon on a day no-one will forget.
Ronnie was only about 5ft 9in, but he had massive feet! He took a size eleven in a shoe and that was bigger than me and probably the rest of the team. Jim Craig, Billy McNeill and I were all 6ft-plus, but I don't think we even came close to Ronnie's giant peds. Coco The Clown didn't have feet that size.
When you went into the dressing room on matchday all the boots were laid out on the floor under the respective peg numbers. Ronnie's stood out a mile. We would joke with him, 'When you go skiing, Ronnie, do you bother with skis?' Or 'When you walk into a room, do your feet arrive a couple of minutes before you?' He would laugh, 'At least, I've got a good grip of earth.'
Actually, our goalkeeper made great use of those gigantic feet. How many times did you see him kick the ball off the line? I saw him do it on scores of occasions. Ronnie never bothered about being flashy. He would keep the ball out of the net by any means possible or by any part of his anatomy.
'Just so long as it doesn't cross the line, son,' he would say. 'That's the main thing.'
TOMORROW: Lisbon Loockback. Tommy Gemmell continues his memoirs.
Click Here for Comments >