A Celtic State of Mind presents its 31st instalment of insightful discussion around the culture of Celtic Football Club, the city of Glasgow, and fans of the reigning treble-winning Scottish champions.
Paul John Dykes and Kevin Graham are joined by Lisbon Lion, John Fallon, at The Penalty Spot in Glasgow.
The interview took place as part of A Celtic State of Mind's first live event – Five-a-sides at The Penalty Spot – and, as such, there is some background noise (including mobile interference – apologies) from the audience.
John – The Original Holy Goalie – discusses pay disputes, bonus rows, cigarettes & alcohol at Seamill, breaking up The Lisbon Lions and The Quality Street Gang, the battle of Montevideo, his volatile relationship with Jock Stein, and he finally tells the full story behind his European Cup winners' medal.
The CQN Podcast has gone from strength-to-strength over the last few months, and there are many more guests lined up in the months ahead from the world of sport, music, film, art, broadcasting, literature and politics.
Our first two editions of 2018 have attracted huge audiences for the interviews with former Celtic Director Tom Grant them politician and life long Celtic supporter Tommy Sheridan, who likes a rant!
Talking about rants, we hand over to the Original Holy Goalie, when it comes to matters concerning Celtic, he has an opinion on everything. Legend!
Connect with A Celtic State of Mind @PaulDykes, @anorthernprose and @CQNMagazine and subscribe to the podcast via iTunes or through your podcast player.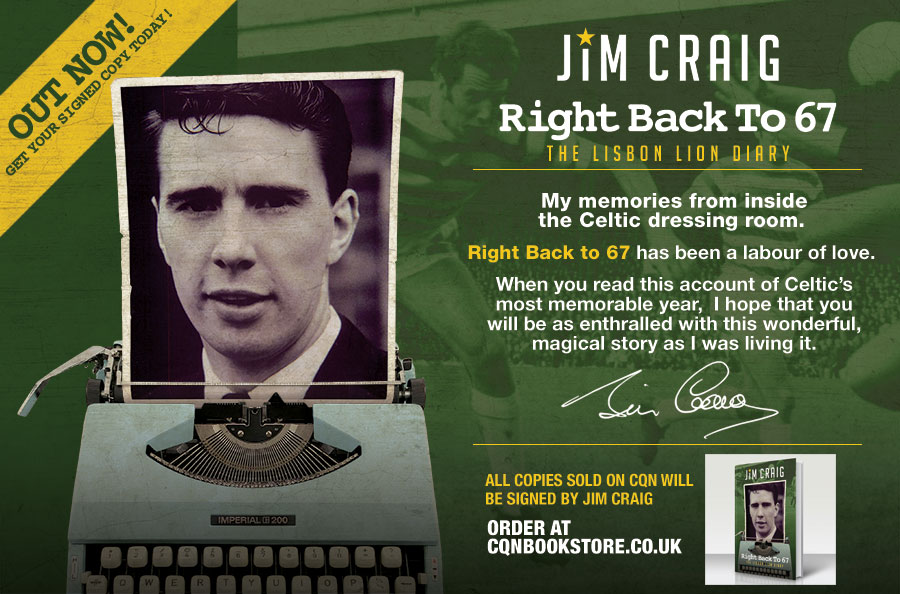 Order Jim Craig's new Lisbon Lion Diary – Right Back to 67 from CQNBookstore.co.uk and you will receive a signed copy from the man himself plus a FREE copy of That Season in Paradise – Ten Months of Celtic Heaven signed by fellow Lisbon Lion Bertie Auld! Simply order Jim Craig – Right Back to 67 and the second book will be sent automatically. Stocks are running very low so hurry!
Click Here for Comments >