JOCK STEIN returned to manage Celtic 57 years and one day ago to kick off the most glorious and spectacular era in the club's history.
The action got underway 24 hours after his arrival with a league game against Airdrie at Broomfield.
In another CQN EXCLUSIVE, author Alex Gordon looks back at the momentous occasion with an edited extract from his publication, 'CELTIC: The History Bhoys'.
CELTIC had often been labelled Scotland's sleeping giant after they had gone without a trophy success since their remarkable 7-1 League Cup triumph over Rangers in season 1957/58. The Ibrox side actually kicked off as favourites that afternoon at Hampden before being decimated by their ancient rivals.
There were many shrewd observers who noted that Celtic were not so much sleeping as comatose. Over the miserable barren years, with Robert Kelly ruling at Parkhead, mediocre players were brought in at bargain fees who did nothing to aid the club to strive away from mediocrity. Elastoplast was being utilised when surgery was urgently required.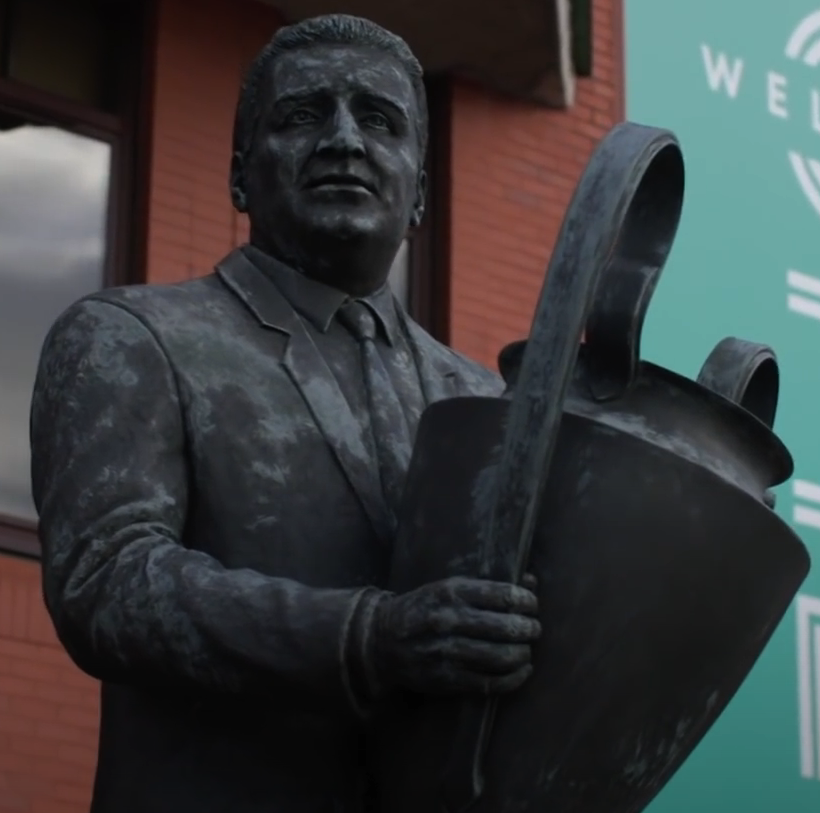 THE BIG MAN…the Jock Stein statue that has pride of place in front of Celtic Park.
When it was obvious the board would have to do something drastic, they moved for their former player and reserve team coach Jock Stein, who had aspired to management and had been an extraordinary success at Dunfermline and Hibs. He even piloted the Fife no-hopers to a fairly sensational 2-0 Scottish Cup Final replay victory over Celtic, of all teams, in 1961.
In late January 1965, Kelly met Stein in secret and put the proposal to him to return to the east end of Glasgow. Stein didn't need too long to deliver an answer. As he would reveal in later life: "Unlike many other Celts, I cannot claim that Celtic was my first love…but I can say it will be my last love."
However, the verbal agreement almost came to a halt before the final syllable when the Celtic chairman put it to a strong-willed man he would have Sean Fallon as a joint manager. The Irishman had been Jimmy McGrory's assistant and, in truth, did most of the training with the players while the manager stayed in his office at the ground and, incredibly enough, sorted out the wages for staff as well as other menial tasks.
Jock Stein, forcibly, rejected the offer to share the managerial duties with anyone else. Kelly, known to all as a stubborn individual, had to backtrack. Stein got his own way; it wouldn't be for the last time, either. As a compromise, Fallon remained in his No.2 position.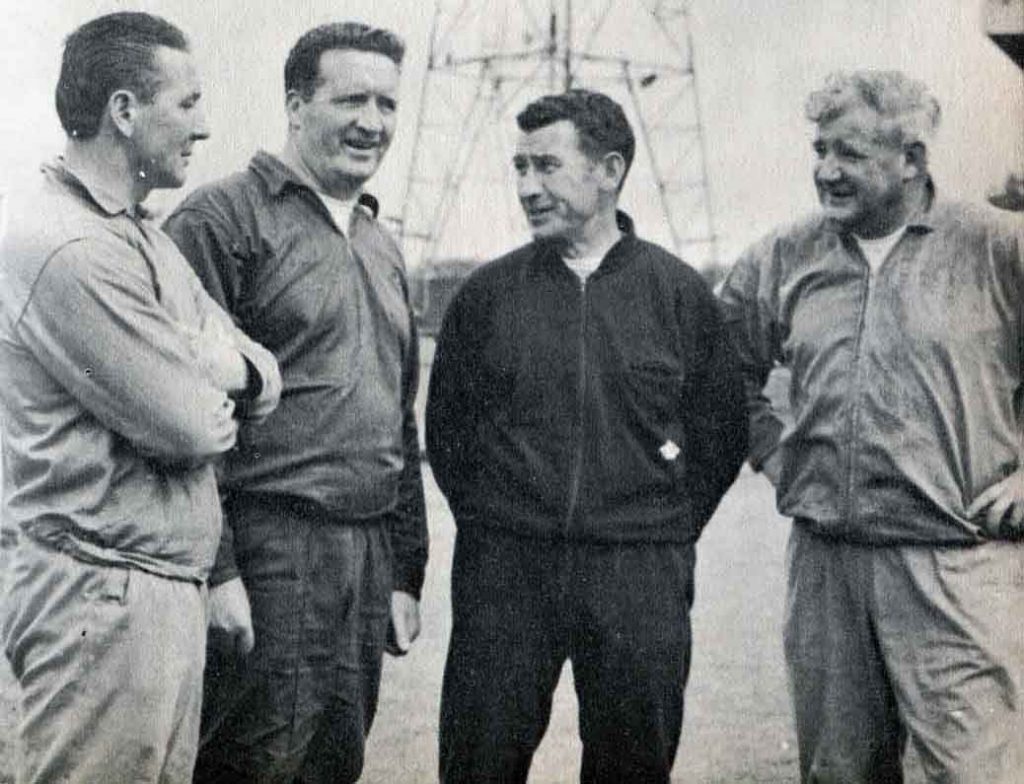 THE FOUR JUST MEN…Celtic's backroom team of Jock Stein, Neilly Mochan, Sean Fallon and Bob Rooney.
Stein, though, admitted to close friends he was "embarrassed" at the prospect of walking out on Hibs; he had only taken over at Easter Road from Dunfermline in March the previous year. The Edinburgh team, going well in the league and the Scottish Cup, understandably wished to hold onto their ambitious young manager, who was only 41 at the time, until the end of the season.
Bertie Auld has always insisted the foxes took to the hills when Big Jock was in town. The astute Stein agreed to remain in place until the club appointed a new manager. He then manoeuvred a situation that enticed Bob Shankly, brother of Liverpool's legendary gaffer Bill, to leave Dundee and replace him early in March.
And so it was that Jock Stein found himself in the antiquated and very public dug-out at age-battered Broomfield on March 10 1965 to take charge of Celtic for the first time. John Hughes, the juggernaut forward known affectionately as 'Big Yogi' to team-mates and fans alike, got the ball rolling with the first goal in the new gaffer's reign. The irrepressible Auld then took centre stage with FIVE goals, two from penalty-kicks, as the Hoops rampaged to a 6-0 triumph.
PRIZE GUYS…Jock Stein and Bobby Murdoch with the history-making European Cup after the triumph in Lisbon on May 25 1967.
Extraordinarily, seven of Stein's debut selection went on to win the European Cup just over two years later – Tommy Gemmell, Bobby Murdoch, Billy McNeill, John Clark, Stevie Chalmers, Bobby Lennox and, of course, Auld.
If anyone had made the preposterous prediction on that damp night in darkest Lanarkshire that Celtic would become the first British club to conquer Europe, they would have been more pitied than laughed at.
The Celtic revival was on. The following month, the Scottish Cup would be won in dramatic circumstances with a late headed goal from inspirational captain McNeill in a storming comeback 3-2 triumph against Dunfermline and the first silverware treble in the club's history was only a season away.
Big Jock Stein was making up for lost time in his trophy quest at Parkhead.
Click Here for Comments >