ANGE POSTECOGLOU watched as Celtic lost three of their first six Premiership games at Tynecastle, Ibrox and Livingston.
They dropped two more points in their seventh league outing in a 1-1 draw with Dundee United at Parkhead.
It certainly wasn't title-winning form and there were a few critics who were quick to write off the new Hoops manager's hopes of completing his debut campaign at the Premiership pinnacle.
Amazingly, the team's 1-0 loss in West Lothian on September 19 – with players such as Boli Bolingoli, Ismaila Soro, James McCarthy, Mikey Johnston and Albian Ajeti featuring – was the team's last reversal in the league as they have gone on a praiseworthy 27-game unbeaten sequence.
THUMB'S UP…Ange Postecoglou prepares for another training session at Lennoxtown.
And the extraordinary somersault in fortunes can be emphasised in the east end of Glasgow in the midday kick-off tomorrow against Giovanni van Bronckhorst's visitors when the hosts can surge nine points league at the summit with only three matches to play.
Postecoglou and his players have risen to answer the doubters with rousing responses and the manager believes they won't falter at this stage.
The Greek-Australian gaffer said: "At the start of the year, the question was could we even challenge.
"Then it got to we're good at chasing, but what's it like if we hit the front?
"Then it was everyone waits for a reaction, but we've got stronger since then and extended our lead.
"All you can say at present is that the players have embraced every challenge and the key now and the question that everyone is asking is: 'Can they bring it home?'
"That's the only question we need to answer."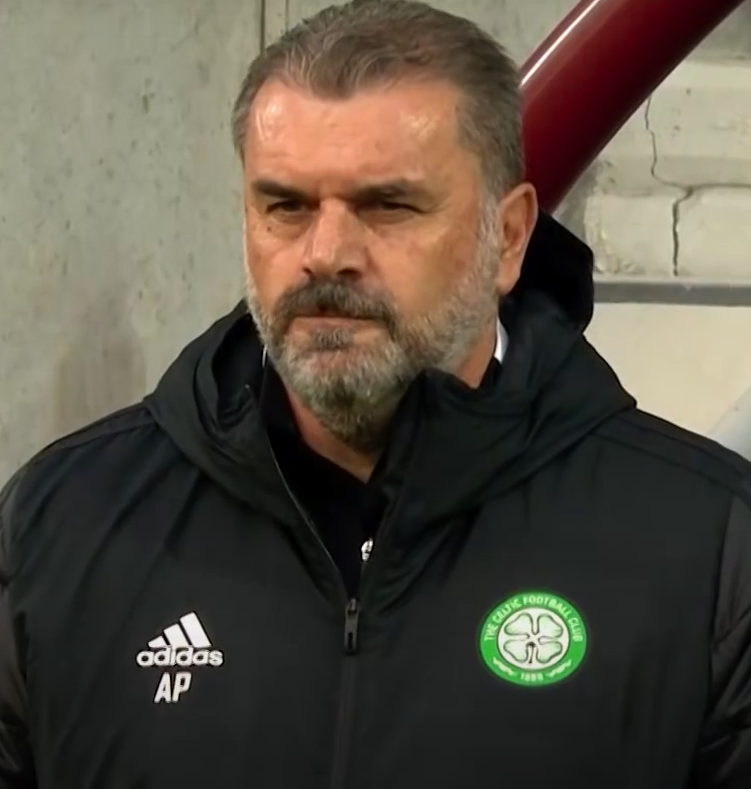 CAPITAL PUNISHMENT…a grim-looking Ange Postecoglou watches Celtic lose 2-1 in their opening league game at Tynecastle in July.
Looking at how his players have reacted to a testing campaign, Postecoglou, speaking to the Daily Record, continued: "They understand it. For the most part, while it's a first season for many at the club, they've been in several key games already.
"We've felt both success and failure, so they know about the different feelings and the impact if you win or you don't.
"Every time you go through that experience it makes you stronger. And I've been really keen to expose this group of players as much as possible and not shield them from it.
"That's because the one thing you know is that whatever happens this year the expectations will be the same when it starts next season, that we try to win EVERY competition and EVERY game.
"If the players have had those experiences and understood them, it's going to hold them in better stead than trying to shield or protect from something that is part of this football club. That you're expected to play in big games and win them. That's the beginning and end of it."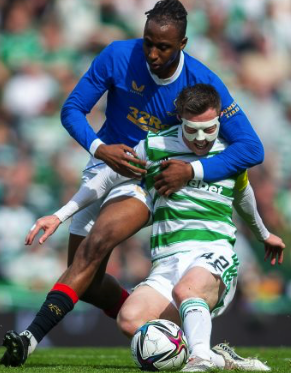 WRESTLING WITH A PROBLEM…Joe Aribo finds a novel way to stop Callum McGregor.
Preparing for the fifth derby of the season after winning the previous Parkhead confrontation 3-0 at the start of February, Postecoglou added: "I'm sure there will be a fantastic atmosphere again and our supporters will create something special for us.
"But all of these things depend on the outcome. We have to play our part.
"With that night at Celtic Park, our performance and the way we played added to the atmosphere.
"You need a combination of both. The off-field atmosphere has to be matched by energy and intensity on the field.
"We put in the same preparation for Rangers as we did for Ross County last week and make sure our players understand what each side has to bring to the table.
"But our focus is on ourselves. The one thing we don't want to do is change what we want to do and we prepare our players for that and that the answer lies within our football and our principles of play.
"I don't think Giovanni van Bronckhorst spends too much time thinking about others and I don't spend too much time on thinking about what other clubs are doing, either.
"What's important is that whatever the competition brings in terms of its strength, it's our job to try and be better."
Click Here for Comments >