POST LISBON highlights – some of the most memorable domestic games in Celtic's history since becoming Champions of Europe in 1967, right up to Tom Rogic scoring that wonderful winner in last season's Scottish Cup Final…sit back and enjoy the memories!
CELTIC 4 – 0 RANGERS
SCOTTISH CUP FINAL, 26 APRIL 1969
A crowd of over 132,000 filled Hampden Park for this Scottish Cup Final hammering of Rangers. Celtic included eight Lisbon Lions in the starting line-up and Rangers had Alex Ferguson in their team. After Billy McNeill opened the scoring with a powerful header in the first few minutes Celtic went on to add two further first half goals from Bobby Lennox and George Connelly in an amazing minute just before half-time. Stevie Chalmers put the icing on the cake in the second half adding a fourth goal and completing the rout. This match effectively signalled the end of Alex Ferguson's Rangers career.
CELTIC 6 – 1 HIBERNIAN
SCOTTISH CUP FINAL, 6 MAY 1972
"Unlucky Hibs beaten 6-1" read the headline in The Scotsman. Over 106,000 were at Hampden in green and white to see Celtic hammer a very good Hibernian. This was the Dixie Deans Final as Jock Stein selected a mixture of Lions and his Quality Street teams. Dixie, who had replaced Willie Wallace in the team, scored a hat-trick and Lou Macari grabbed himself a couple – for the Lions captain Billy McNeill scored one and picked up the Cup in the iconic 1970s Cup Final.
CELTIC 1 -0 RANGERS
SCOTTISH CUP FINAL, 7 MAY 1977
Bitter sweet success for Celtic in this Scottish Cup Final – we won the Cup thanks to a converted penalty from the ever reliable Andy Lynch but we lost our superstar captain Kenny Dalglish, who was soon to head down to Liverpool to even more glory that he achieved in our hoops. In a hard found match Rangers used their predictable tactics of kick them and lodge high balls forward. Celtic had the defensive answers with big Shuggie alongside Roddy McDonald winning everything. Pat Stanton was there to sweep everything up and when a Celtic were awarded a penalty after handball on the goal-line to prevent a certain goal – Andy Lynch stepped forward and we just knew that was that. Only 54,000 turned up for this Final despite ticket sales of over 70,000. This was put down to rain and the fact that for the first time since 1955, the Scottish Cup Final was being shown live on TV.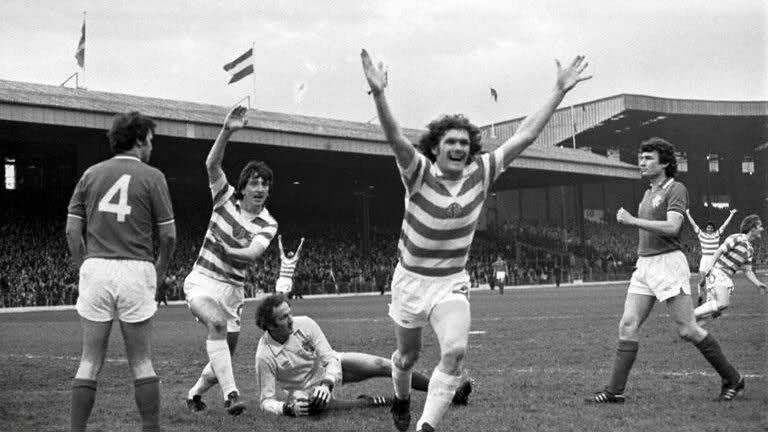 CELTIC 4 – 2 RANGERS
SCOTTISH PREMIER LEAGUE, 21 MAY 1979
Monday nights don't come any better than this. After a really bad winter a struggling Celtic side had a significant fixture backlog and a considerable points deficit to attempt to make up. Having gone on a winning run from around March the gap was closed and on a warm Monday night in May Celtic had one fixture to fulfil – the postponed match from early January against a Rangers looking to win a Treble. A goal down, then a man down and things were looking bad for this Celtic team that Billy McNeill was beginning to shape. Roared on by the Jungle and driven on by Roy Aitken Celtic scored twice to go into an unlikely lead only to surrender it almost immediately. With time running down a harmless looking George McCluskey cross was headed past Peter McCloy in the Rangers goal to put Celtic in front (Big Roy escorted the ball into the net!) Then it happened – Murdo McLeod attempted to either score or hit the ball as far away into the Celtic End as possible as we entered the final seconds. He failed in the latter but succeeded in the former and ten men had won the League. Unforgettable. Rangers limped past Partick Thistle a few days later to a crowd of just 2000 – the lowest ever (World Record) for a League match at Ibrox.
CELTIC 1 – 0 RANGERS
SCOTTISH CUP FINAL 10 MAY 1980
"We chased them all over Hampden" was the popular chant the following season after the Scottish Cup Final success against Rangers. The match finished goalless and went to extra time where a scuffed shot by Danny McGrain of all people was deflected past McCloy in the Rangers goal by George McCluskey. A few Celtic fans ran onto the pitch at the final whistle and the Rangers hordes descended from their enclosure behind the goal where the cup was won and a full scale riot ensued, which would have long lasting consequences for Scottish football fans. There would be no alcohol admitted to the terraces after this battle. Celtic won the Cup but the game was more notable for what happened after the Final whistle. Like the so-called Old Firm shame game a few years ago, this incident occurred after a Celtic win. It was always thus. 210 arrests were made from a crowd of 70,303.
CELTIC 2 – 1 RANGERS
LEAGUE CUP FINAL, 4 DECEMBER 1982
Celtic fans endured torrential rain for the duration of this League Cup Final. Hampden offered no roof for protection – at least not at the Celtic end but that mattered little to the Celtic supporters in the rather small crowd of 55,372. In the first half Celtic battered a Rangers team managed by John Greig and can consider themselves unlucky to be only 2 goals ahead at the internal – just as it was in 1957. The Celtic goals from Murdo McLeod and Charlie Nicholas were both a joy to behold and Billy McNeill's side was looking like a very good Celtic team indeed. An early second half goal by Jim Bett narrowed the score line and Celtic seemed content to see out the match and lift the cup. The Celtic fans couldn't have been any wetter or indeed any happier.
ST.MIRREN 0- 5 CELTIC
SCOTTISH PREMIER LEAGUE, 3 MAY 1986
Hearts had literally printed the t-shirts. They wrote that song about being glorious and they travelled to Dens Park virtually certain to be crowned Scottish Champions in early May1986. Celtic needed to score a handful at Love Street and hope that Dundee could beat the Champions Elect and spoil the biggest party Edinburgh could possibly stage – including those that came later for Hogmanay celebrations. Celtic were wonderful in the first half – scoring four times and that was the job done in Paisley. All we could do was wait. A Celtic fan years later went into a bar in Australia. He got talking to this other guy from Scotland but he didn't at first know whom he was. Eventually the Celtic fan – who is instantly recognisable wherever he goes – realised who he was talking to. The Celtic fan was star stuck. He had met a real hero of his. Far away from Dens Park, in Adelaide Australia Billy Connolly had just bumped into Albert Kidd. The Dundee player who came on as a second half substitute and with seven minutes remaining scored from close range from a rare Dundee corner kick. The roar from Paisley was probably heard in Adelaide –it was certainly heard in Dundee! Then with two minutes left – Albert Kidd, who had not scored all season long before this match, knocked in another and Celtic – now 5-0 ahead at Love Street, were Scottish Champions by a goal difference of 3.
CELTIC 2 – 1 HEARTS
SCOTTISH CUP SEMI FINAL, 9 APRIL 1988
Celtic's birthday celebrations were severely threatened after Hearts opened the scoring in the second half after a Hearts player blatantly barged over the Celtic goalkeeper Pat Bonner. Despite this being one of the clearest fouls on a goalkeeper imaginable the resulting tap in was allowed to stand by the Man in Black and Hearts were one up. Celtic, driven by the superb Paul McStay pushed Hearts back with wave after wave of attacks and as play entered the final moments Celtic's right back Chris Morris won a corner kick. Hearts keeper, over anxious to get his club to the Final, flapped at the cross and the ball dropped nicely for Celtic substitute Mark McGhee who drilled home an equaliser through a crowded penalty area. The Celtic end exploded. Play resumed and with literally seconds on the clock Frank McAvennie crossed the ball for McGhee who got the better of the hapless Henry and the ball fell to Andy walker to smash Celtic into the Scottish Cup Final and on towards a centenary double.
CELTIC 2 – 1 DUNDEE UNITED
SCOTTISH CUP FINAL, 14 MAY 1988
Same script as the Semi Final producing the same mega party weekend for Celtic fans in our wonderful Centenary season. Ironically it was Celtic legend Patsy Gallagher's grandson Kevin Gallacher who put Dundee United ahead after out pacing the Celtic defence. Minutes ticked away and it was looking like Celtic would have to settle for the League Championship only. Prime Minister Margaret Thatcher was the Guest of Honour and was getting ready to rap tangerine ribbons on the Cup when Celtic scored and then scored again in those amazing last two minutes. Frank McAvennie had had plenty of pretty special two minutes in his life up until this point but not even Frankie Bhoy had experienced anything like this. Hampden in the Sun repeated. Celtic 2 Dundee United 1. Happy Birthday Celtic.
CELTIC 1-0 RANGERS
SCOTTISH CUP FINAL, 20 MAY 1989
Rangers, under the arrogance of Souness, funded by David Murray chequebook, were heading for a Treble and Celtic set out to stop them making it. At this time you could feel the tide changing in Scottish football as Celtic, Aberdeen, Dundee United and Hearts were all weakening sides as Rangers bought and bought big. We all know now how this was funded but at the time things were looking grim. We were about to enter the 90s and after this match, there wouldn't be another Celtic/ Rangers Scottish Cup Final for a decade. The great thing about this game on reflection is the fact that Celtic took a quick throw in that should have gone to Rangers and this eventually led to Joe Miller's goal. This is often used as the one and only example of a refereeing decision going Celtic's way in these matches. Maybe Bob Valentine felt sorry for us. Maybe he knew what was to come. But just like in 1988, the Celtic fans partied hard that May night in 1989. It would be a while before we could do it again.
CELTIC 2 – 0 ST. JOHNSTONE
SCOTTISH PREMIER LEAGUE, 9 MAY 1998
The week before Celtic could have won the league and stopped Rangers winning Ten in a Row if they had held on to a one goal lead at Dunfermilne. The feeling leaving that ground in Fife that Sunday afternoon was a taste of what was to come years later at Fir Park on Black Sunday. However in 1998 thankfully Celtic had one more chance. They had to beat St Johnstone at Celtic Park. Henrik Larsson scored an early goal to get the party started but the much needed second goal did not arrive. Just after half time and with rangers ahead in their match, St Johnstone had a great opportunity to equalise and 60,000 Celtic hearts were in mouths as the ball flew over the Celtic crossbar. Then up stepped Harold Bratbaak to finish off a sweet Celtic move started by Tommy Boyd, to send the Celtic supporters in Fergus McCann's stadium into ecstasy. Wim Jansen had done it. He had stopped them doing ten. And for Celtic fans, it was time to party again.
CELTIC 6- 2 RANGERS
SCOTTISH PREMIER LEAGUE, 27 AUGUST 2000
Martin O'Neill had described Rangers as the benchmark. He had spoken to each player in the dressing room before the match to make sure they each believed that they could overcome rangers that day and that season. In context this match is even more special given the level of EBT cheating that we now know was happening behind the scenes at Ibrox at this time. There is no denying the quality of player on display at Celtic park that day. Chris Sutton, a big money Celtic signing from Chelsea, put Celtic ahead and we raced into a 3-0 lead, with Henrik missing a great chance to make it 4. Rangers pulled one back on the stroke of half time though but things were only just getting started. Henrik's chip goal – one of the finest ever to be scored by a Celtic player was followed by a powerful headed goal. Rangers got another consolation before Chris Sutton finished the way he started by tapping in another goal in the final seconds. This was a demolition of an extravagantly assembled Rangers side.
RANGERS 0 – 3 CELTIC
SCOTTISH PREMIER LEAGUE, 29 APRIL 2001
What wasn't to like? Henrik Larsson scored his 50th goal of the season at Ibrox and two memorable goals at either side by Lubo Moravcik gave us one of our most enjoyable trips ever to Govan. A greedy young substitute – Sean Maloney – stopped Henrik adding a fourth near the end but by that time three stands were all but empty and the Celtic party was in full swing. Their team was EBT heavy even at that stage and it was left to the bargain basement Celtic stars – Henrik and Lubo with a combined transfer cost of less than £1M – to show real class. Hugh Keevins had said this of Lubo "I don't know what I find more laughable; the fact that Celtic cannot find £500,000 from their biscuit tin to sign a proven talent like John Spencer, or the fact that they then spent £300,000 on one of Dr. Jo's old pals, the unknown Lubomir Moravcik!" Who still listens to these people?
CELTIC 2 – 1 RANGERS
SCOTTISH PREMIER LEAGUE, 16 APRIL 2008
Celtic were chasing Rangers for the title but had to win to keep our hopes alive. Shunsuke Nakamura scored his first goal against Rangers and what a screamer it was, to give Celtic a deserved lead. In the second hallf Walter Smith sent on Nacho Novo to try to grab an equaliser against the run of play and the horrible little Spaniard duly delivered catching Artur Boruc out as the Celtic goalkeeper got his angles all wrong. Celtic pushed forward and with twenty minutes remaining another Nakamura shot was stopped on the line by the outstretched hands of Carlos Cuellar. After the Rangers defender was sent off Scott McDonald tamely hit the Celtic penalty and an injured Allan McGregor was able to dive to his left to save. Celtic's championship challenge was all but over as play entered the final minute. Gary Caldwell showed great composure to summon up one final assault on the Rangers goal. His precise pass to the head of Scott McDonald resulted in the little striker heading across goal for the flying Dutchman Jan Vennegoor of Heselink to head past the substitute goalkeeper Alexander to put Celtic ahead. The Championship would be won at Tannadice by another Hesselink header but the stuffing was knocked out of Rangers that night.
CELTIC 3 -0 RANGERS
SCOTTISH PREMIER LEAGUE , 29 APRIL 2012
This was the last ever Celtic versus Rangers match as the Ibrox club were about to be liquidated. Celtic dominated them and easily won the match by three clear goals. Gary Hooper will go down in Celtic history for scoring the last ever goal against Rangers. This game was more an occasion than an important match, The Green Brigade produced their best ever banners to see Rangers out the door of Scottish football and the LIQUDATION LIQUIDATION NA NA NA chats were just something to behold. Celtic fans had endured the honest mistakes, the dodgy dealings, EBT scams the lot – and here they were in complete and utter triumph, while the defeated Rangers army had only their sectarian songs of hate, sung with a death rattle. But it was all over Celtic had won.
CELTIC 5-1 SEVCO RANGERS
SPFL, 10 SEPTEMBER 2016
Charles Green's bundle of assets made their long than expected journey through the lower leagues to get to the top league, which was now the SPFL. During this period in the three lower leagues, including the old Third Division they were unable to go through the season without suffering a league defeat, losing at places like Stirling Albion while in the third division. Brendan Rodgers pointed this out this week – an excellent little dig ahead of this Saturday's match. Moussa Dembele came in for the injured Leigh Griffiths and scored a wonderful hat-trick to announce himself as a hugely talented striker. Scotty Sinclair and Stuart Armstrong got the other goals as Scott Brown put the big mouth Joey Barton in his place. His career in Scotland was effectively ended that afternoon and the Sevcovians, who had been sold the ludicrous proposition of 'Going for 55' during the season ticket selling season, got a reality cheque.
MOTHERWELL 3- 4 CELTIC
SPFL, 3 DECEMBER 2016
Unbeaten Celtic were 2-0 down at the interval. Lustig should have had a free-kick in the build up to the second goal and it looked like the Invincible opportunity would end on this back of this honest mistake. But Celtic had a manager who has the match instincts necessary to find the answers and his Celtic side reached a new level in belief and self confidence after a remarkable second half. Rodgers changed the formation, using the midfield diamond that is now established as his plan B and how it worked. McGregor and Roberts got Celtic level before unbelievably Motherwell almost immediately went 3-2 ahead. Rather than the wind being knocked out of their sail, Celtic responded brilliantly and within a minute Armstrong scored a beautiful goal. And rather than settle for a point Tom Rogic, not for the first time in his Celtic career and also not for the last in this season, popped up with a wonderful last minute winner. Rogic only ever scores magnificent goals and this one was special. After that game at Fir Park the support started to talk about becoming Invincibles.
SEVCO RANGERS 1 -5 CELTIC
SPFL, 29 APRIL 2017
Celtic had outplayed and outclassed Sevco Rangers at Hampden in the Scottish Cup semi-final six days earlier but the Sevcovians hoped for a different outcome on their own patch the following Saturday. How wrong they were. In his book The Road to Paradise reveals how gutted Scotty Sinclair was at missing two real sitters in this game. Celtic won 5-1 but it could easily have been 7 or 8. Lustig's celebrations after he scored the fifth goal will never be forgotten as he ran arms stretched wide with his shirt over his head to the corner flag. This was an afternoon of undiluted misery for the Ibrox fans as Celtic rubbed their noses in it.  The goals came from Sinclair from the penalty spot after Roberts was brought down, Griffiths, McGregor (his second in a week against them), Boyata with a brilliant header an Lustig after a great run through their defence.
CELTIC 2 – 1 ABERDEEN 
SCOTTISH CUP FINAL, 27 MAY 2017
Celtic had had a fairytale season, the first with Brendan Rodgers in charge. And of course they club and the supporters around the world had been honouring the success of the Lisbon Lions 50 years earlier in winning the European Cup. Celtic had already won the League Cup back in November against Aberdeen with a comfortable 3-0 win and had secured the title at the start of April with a thumping 5-0 win away to Hearts. There had been no opportunity to take the foot off the gas however as Celtic got closer and closer to the Invincible status everyone at the club so desperately wanted. Hearts were back at Celtic Park for trophy day, the week before the Cup Final and Celtic won to ensure that they were invincible in the league campaign. But victory in the Scottish Cup Final would mean a treble, an invincible season and the perfect way to honour the Lions. Jonny Hayes hadn't read the script though and he gave Aberdeen the lead. Celtic kicked off and passed the ball about – the next time an Aberdeen touched the ball it was to pick it out of their net after Armstrong equalised. And so it remained. Celtic dominated the second half with no further scoring the match reached its last minute before extra time had to be played. The heavens opened. Lightening hit the Hampden turf just behind Tom Rogic who gathered the ball and almost in slow motion with the rain bouncing of the turf strolled past two defenders and from an impossible angle found a gap at Lewis' near post. The water fell from the net as the ball landed unexpectedly in it and there was pure joy all three quarters of Hampden. Tom Rogic had done it again, the fairytale was complete. Grown men  with green and white scarves shed a tear or two. It was wonderful.
This is how it feels to be Celtic.
NEW CQN PODCAST OUT NOW! CHRISTMAS JUMPERS FOR GOALPOSTS
Paul John Dykes and Kevin Graham are joined by Celtic authors, Stephen Sullivan and Stevie Murray for a special festive episode – Christmas Jumpers for Goal-Posts.
Stephen Sullivan is a former Celtic View reporter who wrote the much-lauded Sean Fallon biography, 'Iron Man'. He is now the editor of FIFA.com.
Stevie Murray has now written two books on Celtic – 'Ten Men Won The League' and 'Kenny of the Celtic' – and he is a respected and authoritative voice on the club.
Treat yourself to a signed copy of Jim Craig – Right Back to 67 and you will receive a copy of That Season on Paradise signed by Bertie Auld, just order the Jim Craig book at CQNbookstore.co.uk and we'll do the rest…
Click Here for Comments >