CELTIC defender Dedryck Boyata spoke yesterday about the tired legs in the Celtic camp after a grueling start to the season with a real intensity over the last week or so with three games in seven days including a cup semi-final at Hampden and a trip to Munich on Champions League duty.
Aberdeen by contrast have had ten days to put their feet up, have a few days off, then prepare for the game tonight at Pittodrie as they seek to end Celtic's long and impressive domestic run without a defeat and in doing so go three points clear at the top of the Scottish Premiership.
Celtic, with their tired legs, will face a monumental challenge tonight. On the other hand, this Celtic team has risen to just about every challenge that has come their way, other than some understanding although hard-to-take defeats against the mega-rich clubs in the Champions League.
One thing is for sure, if Aberdeen are to end that record tonight, they will have to be very, very good and probably very lucky too.
The referee tonight is Craig Thomson and he was in charge the last time the Dons beat Celtic at Pittodrie.
So Boyata can expect a busy evening in the heart of he Celtic defence and he's doing everything he can to be ready.
"I liked going to the gym at night but that's impossible just now!
"I'm playing every game and I'm still coming back from injury, so that means I still have a lot of work to do on the fitness side and it's difficult to find the time to do the right rehab for the injury I had," the big Belgian said.
"I was going to the gym before because I wasn't playing. Today I'm playing so I'm very happy to be in this position.
"I'm training every day but don't get me wrong, if I feel it's not possible I just have to say," Boyata said.
"We're working with good physios and sports scientists, and they look at the results and the scores and if something seems wrong they will put us on the sidelines.
"I'm feeling pretty tired, it's definitely been a hard week, especially playing three games in seven days.
"We're fine though, we have another game in two days and we'll just prepare for that again.
"The adrenaline keeps you going in a way. When you play only one game a week, it can feel very long sometimes. When the next game is seven days away, it can seem far away.
"When you are playing every two or three days, you are always doing something and physically it isn't the best, but we are working hard to stay on top of our game and being fit for every game," he continued.
"We went from Champions League to the semi-final and now we're playing a team that have the same points as us, so it's going to be tough.
"That's why we're here though. We're here to play games and we have these big challenges, and we are up for it.
"With the situation we're in with a lot of injuries, when it comes to managing myself, if the other centre-back had have been there then maybe it would have been different.
"But the manager has 100 per cent faith in me, and he would never risk me. If he felt I wasn't ready, he wouldn't put me on the pitch.
"I've always been a defender who likes to take responsibility. I talk a lot on the pitch and try to help my team-mates and the people around me.
"In this position we're in at the moment we are missing two of our experienced centre-backs and I'm the only one left, but Nir Bitton is doing well when he's in and Mikael is doing well too.
"We're helping each other. It's not easy, but at the moment we are doing fine.
"I was watching the Premier League games and they were talking about normally centre-backs you want a good partnership because one player can't do anything. It can help the team.
"For right now we have been shifting a lot. Maybe it's not helping but that's the situation we're in. We're fighting, we're helping each other 100 per cent non stop and we're doing fine.
"That's the situation."
Boyata scored early doors in Celtic's last visit to Aberdeen in early May as Celtic raced into an early 3-0 lead, eventually winning 3-1 after Jonny Hayes pulled one back.
A repeat performance would do nicely tonight.
AND DON'T FOGET THE LAST MEETING BETWEEN THE SIDES ON THAT WONDERFUL AFTERNOON AT HAMPDEN…
The last time we faced Aberdeen, something special happened. pic.twitter.com/N2qUsBX7sF

— Focus on Celtic (@FocusOnCeltic) October 25, 2017
Incidentally, have you seen the Celtic players pay tribute to the greatest fans in the world yet?
The players send their appreciation to all the #CelticFC fans for being #TheBest! pic.twitter.com/rgH4Kao7mv

— Celtic Football Club (@celticfc) October 24, 2017
Meanwhile there's a new CQN Podcast out where we look at how Celtic reached the final in the 4-2 win over Hibs.
Kevin Graham hosts our match day podcast from Hampden on Saturday and this features some of FIFA's Best Supporters in the World.
This week's Matchday Special saw Brendan Rodgers' side carry a 59-match undefeated domestic run into the League Cup semi final against Neil Lennon's Hibs.
Kevin provides pre and post-match discussion as well as in-match analysis in what will be a regular Celtic State of Mind feature.
JUST OUT! MATCH DAY SPECIAL CQN PODCAST FROM HAMPDEN, FEATURING SOME OF FIFA'S BEST FANS IN THE WORLD…
ORDER Charlie Gallagher? What a Player! and we'll send you a copy of The Winds of Change for FREE only at www.cqnbookstore.com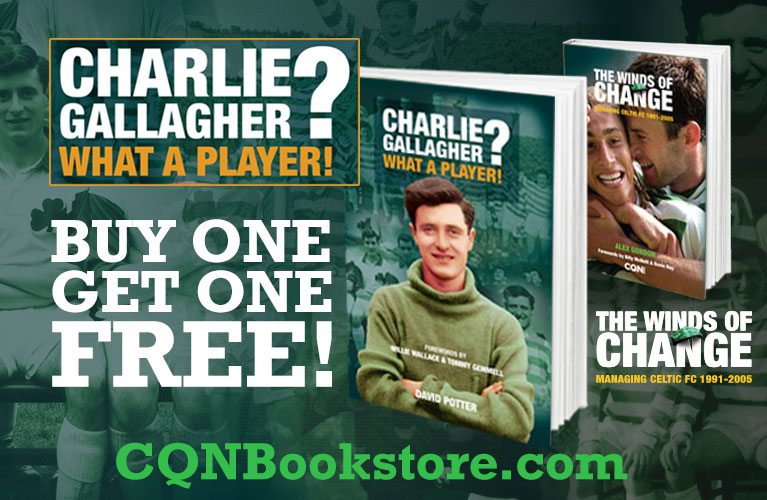 Click Here for Comments >