TODAY CQN brings you the sixth EXCLUSIVE extract from Alex Gordon's book, 'CELTIC: The Awakening', which was published by Mainstream in 2013.
The book covers the most amazing decade in the club's history, the Sixties, an extraordinary period when the team were transformed from east end misfits to European masters.
'CAN it get any worse than this?' That was the collective thought of the grim-faced, morose, thoroughly disheartened Celtic support as they filtered out of Ibrox Stadium on 1 January 1963. The reason for their plunge into the black hole of despair? Rangers 4 Celtic 0. And the answer to the earlier question was, 'Yes. Much worse.'
This was to turn out to be the year where allegiances were severely put to the test, the year when only those with the strongest of convictions would make it through to 1964. It was not going to be a comfortable journey on SS Celtic; far from it. There appeared to be a few with no great desire to stand on the deck of a sinking ship.
It was one of those games where the Rangers players seemed to spend more time in the Celtic half than the Celtic players. The visitors must have realised it was not going to be their day when Harold Davis, as he had done at Parkhead two years previously, got on the scoresheet. The effort at Celtic Park was half his goal tally for that season. He didn't score at all in 1962 and here he was planting another past Frank Haffey in a campaign where he would finish with a modest two goals to his name. How Davis must have wished he could line up against Celtic every week; he could have become a contender for top goalscorer.
Haffey was blameless. The defence in front of him simply disintegrated and the attack, starved of service, didn't function. 'It was never easy to accept defeat against Rangers,' said Billy McNeill. 'It was never easy to accept ANY defeat, but it was particularly hard against Rangers. Sadly, it was another match where we hadn't turned up. We were all getting sick of it.'
In 1963, alas, Celtic would have to get used to it. And they would have to get used to it without the services of their most creative player and on field influence, Paddy Crerand. The volatile midfielder had a heated argument with coach Sean Fallon at the interval with the club trailing 1-0 at Ibrox. There were reports of Crerand throwing his jersey at the Irishman and, coincidence or not, he never played again for Celtic.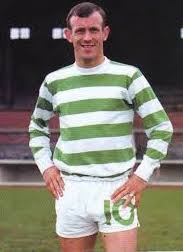 BOBBY LENNOX…Celtic's goal machine.
Years later Crerand admitted, 'Bob Kelly was the main reason I left Celtic. I never wanted to go, but my situation at the club became untenable. We played against Rangers on the first day of 1963; the game should never have been played because it was a brick hard pitch. I argued with Sean Fallon, with whom I normally got on well, about what kind of tactics we should play. In truth, Sean and I differed on our football theories that day and I couldn't hide my feelings any longer. We were losing by a goal when we trudged back into the dressing room and the lid came off.'
Fallon ordered the players to knock the ball long on a treacherous surface. Crerand disagreed. 'No, we need to pass the ball short to feet.' Fallon, by now in a state of agitation, disagreed. 'No, we must play long balls forward. And you, Crerand, don't move so far up the park.' The player argued, 'I'm not going back out on the park if we have to play like that. You don't know what you are talking about.' Fallon fumed, 'You're wrong, Crerand, you're wrong.'
With no substitutes allowed in those days, Crerand backed down and took the field for the second-half. He pointed out, 'Bob Kelly had been in the dressing room and had witnessed everything. He didn't say a word, though. Nor did ten of my team-mates. It was me against the rest. We were hammered 4-0 and I was distraught and very angry when we returned to the dressing room, where I had a stand-up row with just about every Celtic player and Sean. That day at Ibrox I was furious with everyone, especially Sean.'
Crerand was dropped for the next game against Aberdeen. 'It was obvious to me that the club either wanted rid of me or that I was just not good enough, despite being a Scottish international, ' he said. 'When I didn't return to the first team to play Falkirk I decided that enough was enough and asked for a transfer. After 120 appearances and five goals, I would never play for Celtic again. Unbeknown to me, Bob Kelly and Matt Busby had an agreement that Manchester United would have first refusal if I ever left Celtic.
'One journalist, Jim Rodger, of the Daily Record, who was a big friend of Matt Busby and, later on, Alex Ferguson, told me on the Sunday I would be moving to United. I went to Celtic Park for training the following morning and trained as normal. Nobody said anything to me and I assumed Jim Rodger was wrong. Then, after training, Jimmy McGrory asked for a word. He told me that there had been talks between Celtic and Manchester United and that a fee had been agreed for me to move to England. "That's what I've been told to tell you, Pat," McGrory said, as though it had nothing to do with him.
OUTSPOKEN…Pat Crerand.
'Jimmy, despite being manager, wouldn't have had a choice whether I was sold or not as he would have been acting on Bob Kelly's orders. There was no room for negotiation. I was going to Manchester United. My head was swimming, but bookmaker Tony Queen, who was a good friend of mine and also a great pal of Jock Stein, urged, "Go to Manchester, Pat. Celtic are going nowhere." Deep down, I knew he was right.'
At the completion of another wretched and shambolic campaign, Celtic finished fourth in the table with forty-four points, Rangers reclaimed their crown with fifty-seven points. Kilmarnock, with forty-eight points, took the runners-up place and Partick Thistle, on forty-six, were third. If there was despair in the league for Celtic, there was disaster ahead in the Scottish Cup. After beating off the challenges of Falkirk (2-0), Hearts (3-1), non-league Gala Fairydean (6-0), St.Mirren (1-0) and Raith Rovers (5-2), Celtic took their place in the Scottish Cup Final on 4 May at Hampden. Rangers would be the opponents.
Can it get any worse than this? That was the question posed by the Celtic fans after the New Year thumping, a seven-game failure rate in this fixture only interrupted by Jack Frost the previous year. And the answer, four months ago, was, 'Yes. Much more.' The green and white legions were on the verge of finding out, but, first, there was a shaft of light, a flicker of hope.
A crowd of 129,643 crammed into Hampden for the Cup Final and no-one, and I mean no-one, could believe what they witnessed. Frank Haffey, so often a figure of fun and ridicule, decided to put on a spectacular show that defied Rangers, being beaten only once by a strike just before half-time from Ralph Brand which was nullified almost immediately with an effort from Bobby Murdoch. Haffey's performance was awesome. He plunged, swooped, leaped and dived this way and that way in a breathtaking display of acrobatics and heroics. The ball became a magnet to his yellow jersey.
Another Celt putting on a mesmerising solo show was little Jimmy Johnstone on the right-wing. This bundle of mischief – likened by one newspaper reporter to Harpo Marx with a head of bouncing curly red hair – had been introduced for three league games near the conclusion of that campaign. Davie Provan was in at left-back for the injured Eric Caldow and he looked as though he would much rather have been anywhere else than a football stadium situated in Mount Florida as his opponent continually teased and tormented him. The Scotsman newspaper noted, 'That little fellow Johnstone was very good and it's difficult to remember him not using the ball well. He seems cut out to be a Hampden personality.'
Everyone knew Celtic's selection process bewildered even the brightest of intelligences, boggled the sharpest of minds, but what happened next completely beggared belief. Staggeringly, Johnstone was dropped for the replay and the poor wee chap went to his grave never knowing why anyone would make such a preposterous decision. Totally inexplicable, utterly absurd. There is meddling and then there is madness. The two names that had to be first on the team list for the second game should have been Haffey and Johnstone. No argument. Johnstone later said, 'I felt it wasn't Jimmy McGrory's decision because I don't think he was that influential. Bob Kelly ruled everything. Amazing, but these were the type of decisions that were being made.'
Bobby Craig came into the side at outside-right and Davie Provan, realising he wouldn't have to endure ninety minutes being tortured by a pirouetting prankster, must have heaved a mighty sigh of relief, all his Christmases and birthdays arriving on 15 May. The Celtic fans among the 120,273 crowd trekked to Hampden that Wednesday evening fully expecting to see their snake-hipped wee winger in action again. They didn't have a clue about the line-up until it was announced over the tannoy just before kick-off. Johnstone's name was missing. There was a general shrugging of shoulders and mystified looks among the support. 'Johnstone must be injured,' was the chorus. How wrong they were; a perfectly fit Jimmy Johnstone watched from the stand that evening, powerless to help a team that was about to be put to the sword.
Alas, Haffey was unable to reproduce the performance of the earlier game. Instead, he reverted to type, the flawed character who frustrated team-mate and supporter alike. He flapped at a right wing cross, palmed it down in front of Ralph Brand and the ball was in the net early in the proceedings. Davie Wilson added a second shortly afterwards and it was game over. With twenty minutes to go, Brand tried his luck from twenty-five yards. It wasn't quite a netbuster, but it was enough to bounce past the collapsing Haffey and that was the signal for a fair percentage of the Celtic support to head for the exits.
Billy McNeill recalled, 'We couldn't cope with Rangers that night. In truth, we were outclassed. Jim Baxter was in supreme form. He wanted to take the mickey and there was little we could do about it. Of course, I knew him well. I sidled up to him at one stage and said, "Right, Stanley, that's enough of the showboating for the night." He just grinned. Stanley? That was his nickname, called after the Scottish screen and stage comedian at the time, Stanley Baxter.'
JIMMY JOHNSTONE…Celtic's Lord of the Wing.
Left-half Billy Price would be on his way after only six more appearances. Haffey was shown the door after seventeen games and right-back Dunky McKay would only play eleven more games before being offloaded to Third Lanark. Jim Kennedy, thankfully, never played again at left-back where his lack of pace was repeatedly exposed by raiding right-wingers such as Rangers' Willie Henderson. John McNamee, who played alongside McNeill in the Cup Final replay, was only seen for five more games and Frank Brogan, who played in the first match against Rangers, was shipped out to Ipswich Town after another twelve first team outings.
Around this time there seemed absolutely no rhyme or reason to what was going on behind the scenes at Parkhead. One minute, a player was good enough to feature in an Old Firm Cup Final and the next he was out the door. In short, Celtic were in a mess, lacking leadership and guidance.
As luck would have it, Celtic and Rangers were paired in the League Cup sections and the season kicked off at Parkhead on 10 August. The home support must have wondered if they were being forced to watch an action replay of the Scottish Cup Final. Celtic 0 Rangers 3 was the scoreline and even the most optimistic home fan among the 60,022 crowd must have realised this was not going to be a memorable campaign. Jim Forrest rattled two past Haffey and the aforementioned McLean rubbed it in with another. Four days later Celtic drew 0-0 with Kilmarnock at Rugby Park before the powderkeg went up in the most astonishing fashion against Queen of the South in Glasgow on 17 August.
Frank Brogan scored in a lamentable 1-1 draw against a team that would be relegated at the end of the season. That game afforded them their only League Cup point and they would go on to concede twenty goals in their six games, ten of them to Rangers. On that particular afternoon, though, the Celtic support decided to stage a demonstration outside the main entrance after witnessing another dreadful display.
'KELLY OUT!', was the cry. The fans remained for well over an hour before the intervention of police and stewards persuaded them to disperse. It was an ugly incident and there was a frightening mood of revolt in the air. Enough was enough. A week later Celtic were turned over again by Rangers, 3-0 for the third consecutive occasion. The older fans among the Celtic support reminisced about the good old days when the team had a backbone.
Rangers won 2-1 in the third Old Firm encounter and it was obvious to all it was going to be yet another long hard season. Then came a crazy encounter with Third Lanark that summed up Celtic perfectly. Goals from Brogan, Lennox, Divers and Turner, his solitary counter in green and white, gave them a 4-0 half-time lead over Third Lanark. Final result? Would you believe 4-4? Tommy Gemmell played that day. He recalled, 'We were superb in the first forty-five minutes. We were striking passes all over the place and every shot seemed to be hitting the Thirds' net. Goodness knows what happened after the interval, we just became a completely different team. Simply put, we couldn't do a thing right.'
The supporters were getting used to the league title ambitions being dismantled before the turn of the year and the nightmare scenario was being played out in front of them again as their favourites faltered. One win in the opening five league games was never going to be good enough to halt the misery. It was tough being a Celtic supporter at that time; very tough. The balance of power had settled in Govan and it would take something or someone special to change the situation. Celtic did not possess that special individual. Not at that stage, anyway.
Rangers were due at Parkhead on 1 January. Would Celtic at long last put an end to a horrible run of New Year Day failures that had left strong men weeping into their beer? Would 1964 see a change in fortunes? Would the sun be blotted out by flying pigs? All would be revealed.
* TOMORROW: THE NEARLY MEN: Part Seven of CQN's EXCLUSIVE extracts from Alex Gordon's book 'CELTIC: The Awakening', an in-depth look at the most fascinating decade in the club's history, the remarkable sixties.
Click Here for Comments >