WIM JANSEN has at last revealed why he quit Celtic 48 hours after winning the club's first title in a decade in season 1997/98.
The Dutchman has maintained a silence for 23 years, but has spoken out in his recently published autobiography – and admitted there had been a communication breakdown between the team boss and club owner Fergus McCann and general manager Jock Brown.
Jansen, of course, prevented Rangers from winning 10 in a row as he led the Hoops to championship success, but he resigned while the Parkhead were still celebrating a monumental flag victory.
The one-season manager said: "The truth is, I hadn't spoken to the board from January that season.
CALM BEFORE THE STORM…Wim Jansen and Fergus McCann after his managerial appointment in June 1997.
"Everything went through Murdo MacLeod. Of course, you cannot sustain such a situation. If you enjoy your job and what you do, it's very easy.
"But if you don't, it takes up a lot more energy. I wanted to continue to build a team at Celtic, but they didn't want to spend any money.
"If you want to keep improving and go higher up, you have to spend money. It got to a certain point that I didn't want to wait for the next argument anymore. I couldn't go any further.
"For me, a big decision like that doesn't depend on success or sympathy – it depends on vision. Do you move forward, or do you want to stay still?
"My gut instinct told me to leave. And everything I do, I do by instinct."
Jansen celebrated his 75th birthday on Thursday and also made the sad announcement he is suffering from dementia, as CQN reported.
RIGHT-HAND MAN…Wim Jansen in the dug-out with his trusted ally Murdo MacLeod.
The former Holland international midfielder, who played in two World Cup Finals in 1974 and 78 – losing both to hosts nations West Germany 2-1 and Argentina 3-1 – was also stunned to learn Celtic had sold the players McCann had dubbed "The Three Amigos" – Pierre van Hooijdonk, Paolo di Canio and Jorge Cadette – before he arrived in Glasgow as successor to club legend Tommy Burns.
He continued: "When I agreed to manage Celtic, they didn't tell me anything.
"Whatever team in the world you manage, if you sell your three top attackers, there is little left.
"Working with Murdo was blissful for me because I was able to let him do a lot.
"In the team meetings, I focused on the game and he did the analysis of the opponents.
"Back then, you didn't have the same information at your disposal as you have now and I didn't have the time to go to games.
HEAVENS ABOVE…Wim Jansen shows his delight – and relief – as Celtic beat St Johnstone 2-0 to lift the 1997/98 title.
"But because of the knowledge and work of Murdo, I knew exactly what to expect every week.
"John Clark was our kitman. He kept track of what was being written, and who we could and could not trust."
And the Feyenoord icon – who played in the side that overcame Jock Stein's men 2-1 in extra-time during the ill-fated European Cup Final in the San Siro in 1970 – watched his new team lose their first two league games, against Hibs at Easter Road and Dunfermline at Parkhead, both by 2-1.
Jansen, in an extract published in the Sunday Post, continued: "You need time for these kinds of jobs, that's all. We turned it around by making things change and that will not happen overnight.
"For example, we got Alan Stubbs to play as a libero and not as one of four defenders in a line.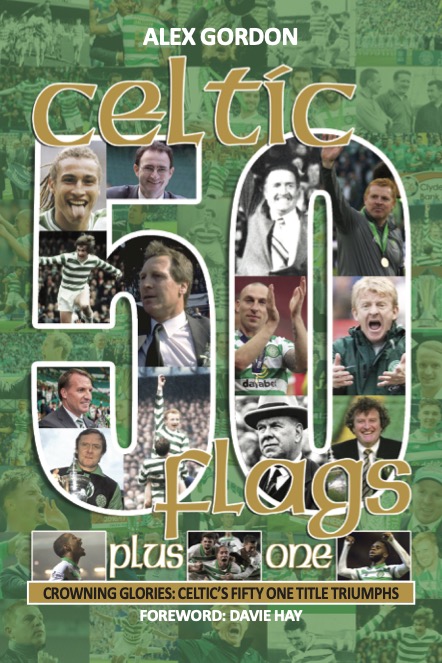 READ ALL ABOUT IT…Wim Jansen's championship success is one of Celtic's 51 title triumphs.
"Tommy Boyd was the quickest of the two centre-backs, so we used him as cover.
"I had a very nice right-back in Jackie McNamara. I pushed him up to the right wing because I saw that he was not only fast, but could also beat a man and could make a good cross.
"And Henrik Larsson needed crosses.
"We played Rangers in the second Old Firm game and equalised in injury time. In retrospect, those were crucial moments. If we had lost, then the gap would have been too big."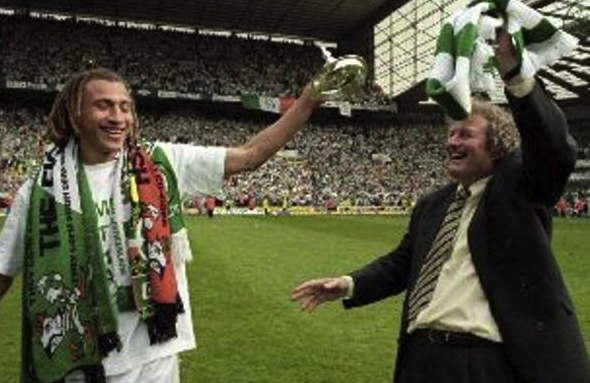 PARADISE REGAINED…Henrik Larsson and Wim Jansen celebrate the club's first flag in a decade.
The revered Dutchman added: "What happened when we won the league was immensely enjoyable. It was special.
"It is always the people who create the atmosphere. That love is incredibly deep.
"You can compare it with Feyenoord. There, the fans are also a twelfth man. It's great for a manager to have something like that behind you.
"That's why I chose to come to a club like Celtic.
"My wife, Cobie, still has letters from all sorts of people after we won the league."
* Meesterbrein by Yoeri van den Busken is published in the Netherlands. An English-language edition. Masterbrain, will be available soon.
GIAKOUMAKIS PENALTY BLUNDER AS HOOPS HELD
Click Here for Comments >