I discussed their winning of the European Cup with each of the Lisbon Lions. To say they knew nothing the impact their achievement would have is an understatement. While the uniqueness of the event was clear at the time, they were the first British team to reach the final, never mind win the trophy; they could never know light from that day would shine as brightly half a century into the future.
Celtic fans won the 'The Best' award from Fifa yesterday for the full stadium tifo at the game against Hearts in May to mark the 50th anniversary of Lisbon. We won it because football people, of all colours, respect heritage. And heritage comes no greater than Celtic's.
None of this would have happened without Jock Stein and his players. They provided the foundation for everything that followed, including Martin O'Neill's revival of the club in 2000 and Brendan Rodgers' general Invincible-ness.
Just about every element of what you recognise as Celtic today is due to them: the trophies and glory, Champions League nights, the stadium and Celtic Way, even achievements of the Foundation can be traced back to the foundations laid in '67.
Congratulations to everyone involved with the tifo display. Which I missed. But I'm sure it was nice.
The players send their appreciation to all the #CelticFC fans for being #TheBest! pic.twitter.com/rgH4Kao7mv

— Celtic Football Club (@celticfc) October 24, 2017
KEVIN GRAHAM hosts another match day podcast from Hampden on Saturday featuring some of FIFA's Best Supporters in the World.
This week's Matchday Special saw Brendan Rodgers' side carry a 59-match undefeated domestic run into the League Cup semi final against Neil Lennon's Hibs.
Kevin provides pre and post-match discussion as well as in-match analysis in what will be a regular Celtic State of Mind feature.
JUST OUT! MATCH DAY SPECIAL CQN PODCAST FROM HAMPDEN, FEATURING SOME OF FIFA'S BEST FANS IN THE WORLD…
ORDER Charlie Gallagher? What a Player! and we'll send you a copy of The Winds of Change for FREE only at www.cqnbookstore.com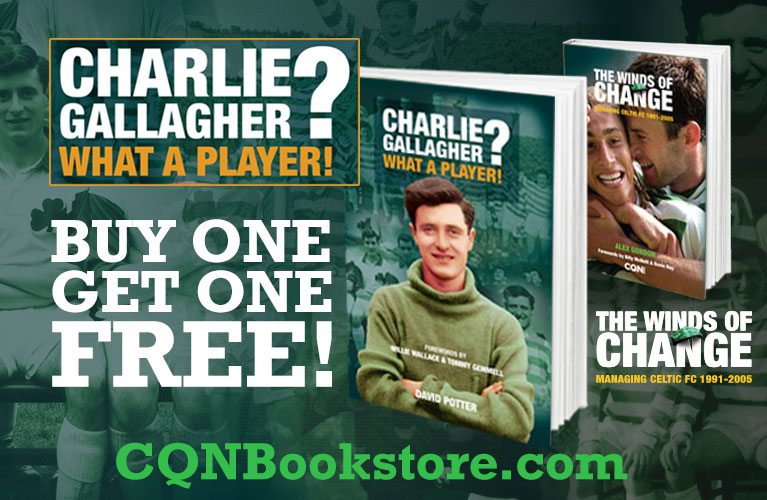 Click Here for Comments >