ARTUR BORUC has celebrated an extraordinary title triumph at Legia Warsaw – FIFTEEN years after picking up the first of his three championship medals with Celtic.
The 41-year-old former Polish international keeper returned to his ex-club in the summer for the first time since Gordon Strachan lured him to the Hoops in July 2005 – one of his first signings after taking over from Martin O'Neill two months earlier.
Boruc has taken a circitious route back to Legia with stops at Fiorentina after winning six honours in his five years at Parkhead. He then played for Southampton and Bournemouth, where Eddie Howe was his boss, before agreeing a one-year deal with his old club where he won a title in 2002.
BAWL BHOY…veteran keeper Artur Boruc has a word of advice for the Legia Warsaw defenders.
The Hoops legend was signed as a back-up shotstopper, but established himself as No.1 as he kept 10 clean sheets in 23 games.
Legia have now clinched the championship, the Polish Ekstraklasa, and he is negotiating a contract extension for the new season.
The club's president, Dariusz Mioduski, speaking in a report in the Daily Record, said: "We have very good relations with Artur.
"We know his value for Legia, we appreciate his role on the pitch and off the pitch. We will do everything to keep him at the club."
Team boss Dariusz Mioduski added: "Artur's story is an incredible one. He's still one of the best keepers in the country and we are very lucky to have him."
Former Celtic gaffer Strachan would probably agree with those sentiments. He had to make a swift decision shortly after his first two competitive games as manager after succeeding charismatic Irishman O'Neill in season 2005/06.
The new man had witnessed the Parkhead side ship NINE goals in two awful defensive performances in the 5-0 Champions League qualifying disaster against Artmedia Bratislava and then the league opener against Motherwell that ended in a 4-4 deadlock at Fir Park.
After the colossal flop in the Slovakian capital, Strachan, struggling to keep his emotions in check, gasped: gasped: "This is the worst night of my footballing life. I'm still in shock."
David Marshall, of course, could not be solely blamed for the awful back-to-back results, but it did open the way for a relatively-unknown shotstopper from Legia Warsaw to get his opportunity to show what he could do – an unassuming chap by the name of Artur Boruc.
Author Alex Gordon tells the story in his latest Celtic book, '50 Flags Plus One' – his fifteenth tribute tome to the Parkhead team – of a traumatic start to Strachan's managerial career at the club.
SLIDE IN TIME…Artur Boruc denies an opposing forward.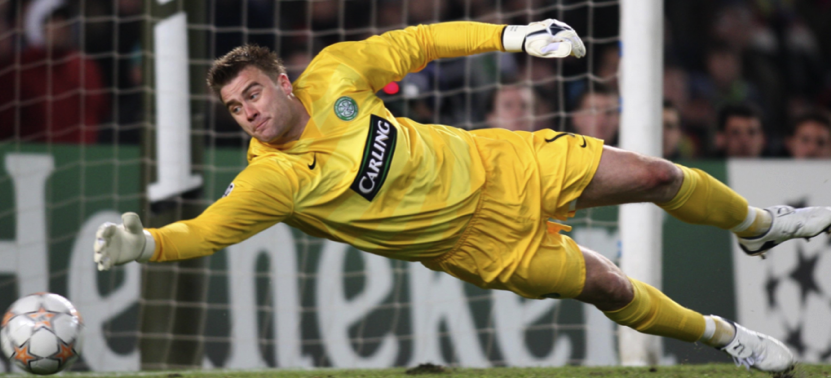 FULL STRETCH…Celtic hero Artur Boruc flies across his line.
Fortunes changed dramatically for Strachan, Boruc and Celtic after the initial hiccup and on the evening of April 5 2006, in front of an audience of 59,699, the club won their fourth title in six seasons and their fortieth in history.
Hearts were the visitors on a cool, still night in the east end of Glasgow and, with six games still to play, Strachan realised his team were a mere ninety minutes away from championship success.
The sparky, quirky character admitted with typical candour: "We want it badly – and we want it tonight. This has been our priority for so long. Now the players can get a reward for all their efforts."
Only three minutes had gone when John Hartson scored what turned out to be the winner who thundered a 30-yard first-timer beyond Craig Gordon, the Hearts keeper, who, of course, had such a glorious career at Parkhead later in his career.
Boruc, as you would expect, played a massive role in the flag clincher when he launched a clearance straight down the field into the stride of the Welsh international frontman. It was the pass of the evening and he wasn't let down by his team-mate who let fly from distance.
Afterwards, Strachan said: "To have won the trophy and be twenty points clear is scary."
The full story of a truly remarkable debut campaign for Strachan is told with insight and inside knowledge by author Alex Gordon, a former Sports Editor of the Sunday Mail, whose other Celtic books include the autobiographies of club greats Bertie Auld, Tommy Gemmell, Davie Hay and John Hughes as well as the acclaimed tribute to Billy McNeill, 'In Praise of Caesar'.
Click Here for Comments >