Many years ago I remember laughing like hell upon hearing the story about Tommy McLean being told. The wee winger, with the reputation for being a good crosser of the ball, had just signed for Rangers from Kilmarnock and was being introduced to the Ibrox dressing room.
Sitting on one of the dressing room benches was another "wee" man, one William Henderson, who until that moment had customarily occupied the right wing position for Rangers – the same position where McLean had played for Killie.
Years later, Willie Henderson would remark: "When Tommy McLean walked into the dressing room at Ibrox I thought "Oh ho! He's not here for my autograph!"".
Last night, I sat two seats along from Willie Henderson at the Imax cinema. As there was no one sitting in the seat between us I was clearly able to observe this small and sharply dressed man.
He wore a light blue suit, a sharp shirt and tie, the familiar spectacles, and was immaculately turned out. I also noticed how small his feet were. He was wearing a smart pair of burgundy lace up shoes, and they were small. Very small.
Seated immediately to Henderson's left was the unmistakable face, figure and voice of Robert Terrence Auld. "Wee" Bertie was also smartly dressed in the familiar green blazer and usual accompanying attire.
At times during the evening I could hear Bertie's familiar laugh, but more often I heard the entirely unfamiliar sound of Willie Henderson's guffaw's. Genuine laughter and genuine automatic reaction to the images and sounds coming from the screen.
The cause of that laughter were the antics, tales, humour and skill of one James Connolly Johnstone from Viewpark Uddingston, and the fantastic wit and storytelling ability of his wife Agnes.
Margot McCuaig and her colleagues at Purple TV have produced a remarkable film celebrating Jimmy's life and times and the film will publicly go to air on 30th September on BBC Alba.
For a variety of reasons, the film is not to be missed.
There have been various films about Jinky and millions of words written about his skill as a footballer and so there is no need for me to add more verbiage about what the wee man brought to the game of football.
While the film undoubtedly stresses how hard he trained, how determined he was to make it as a professional footballer and how he dreamed of playing for Celtic, the main thrust of the film is not about football at all.
Instead it is about Jimmy the man, Jimmy the husband and father, Jimmy the friend, Jimmy the patient, Jimmy the singer and mad cap bundle of fun, Jimmy with the drink problem and surrounding all of that just Jimmy the legend and the legend that is and was …. Jimmy.
Agnes Johnstone is a knockout in this film with an impeccable comedic timing in her stories which betray a deep love for a man who was perhaps not always the easiest to live with yet who was the fulcrum of her life. She was clearly his rock and the harbour which protected him and their three children in stormy waters.
There are of course contributions from friends and fellow players. Big Yogi, Bobby Lennox, Jim Craig, John Clark, Tommy Gemmell, Bertie Auld, Willie Haughey, Archie McPherson and yes William Henderson Esq and others. All tell great stories of Jimmy and all come across as genuine, affectionate and as friends of the man under discussion.
I have had the privilege of speaking personally to all of those mentioned above, with the exception of Henderson, on a number of occasions and so am familiar with many of the wise cracks and stories you hear at footballing dinners and so on.
For this film, Margot McCuaig had journalist Alex O'Hanley interview them all separately and let them tell their stories of Jimmy.
The result is a number of first-hand accounts of Jimmy the schoolboy (Yogi), Jimmy the ball boy (Bobby Lennox), Jimmy the player (Bertie), Jimmy the terrible air passenger (Jim Craig), Jimmy the UFO and Alien watcher (John Clark), Jimmy the friend in need (Willie Haughey), Jimmy the team mate (Tommy Gemmell) and Jimmy the opponent and friend (Willie Henderson).
There is great humour in the film at times, yet at others it is nigh on impossible not to shed a tear. The film follows Jimmy and his family through the ups and downs of his life and his brave and courageous fight against motor neurone disease.
Many of us have our own Jimmy Johnstone stories, both personal and footballing stories, and this film is precisely that – a collection of stories about a remarkable man told by his wife and children and his closest friends.
However, for the football fan who is genuinely interested in football, particularly Glasgow football, the film delivers a message and a story that is part of, yet goes beyond, Jimmy and the others named above.
There is a scene in the film where the normally loquacious Henderson is asked for his thoughts on visiting his great playing rival and friend towards the end of his life.
Wee Willie pauses, almost stutters, tears up and in a sort of choked whisper utters one word – "Hard!" At that moment he finds it difficult to say anything else at all.
It is a very moving moment.
Agnes Johnstone tells stories of the phone calls from John Greig, "Sandy Jardine, God rest him" and others and as I sat there my mind began to wander to a scene I often witnessed myself a number of years ago which in turn brought other memories to mind.
Very often on a Friday I used to go for lunch to a certain restaurant in Princess Square. As often as not, a few tables along from me you could see Simon Donnelly, Henrik Larsson, Giovanni Van Bronkurst, Lorenzo Amorouso and others all sharing a meal.
To be fair, you never saw this on the day before a Celtic v Rangers match and you never saw Alan Thompson sitting with Fernando Ricksen.
Years before, I was taken for a haircut by Dixie Deans of Celtic and Johnny Hamilton of Rangers and in my early years I knew of the great friendship between the likes of Jimmy, Tommy Gemmell and Wee Willie.
I once watched Willie Henderson preview a Scotland v Wales match and all the talk was about how Wales' Leighton James had just completed a transfer for the then record sum of £250,000. Willie, smoking his torpedo cigar bluntly remarked "£250,000 wouldn't get you a deposit on Jimmy Johnstone!"
After the film last night, Bertie, Murdo McLeod and Willie took to the stage to talk about Jimmy. Before answering a question put to him by Archie McPherson, Henderson took the time to make a short speech about Jimmy which concluded with him saying "I cannot speak about Jimmy highly enough as a player or a man".
Wee Bertie also talked about Jimmy turning Davie Provan of Rangers inside out and added "But you know what? Big Provan never once tried to kick him – not that he could get a hold of him to kick mind you – But he didn't try. There was just respect there, and in return there was no rubbing the noses in it, no antagonism, no nastiness."
What a contrast to today's football in this city as portrayed by a media who, in my opinion, openly seek out division, rancour, antagonism and all that is bad about a footballing rivalry with little or no room given over to anything that can be classed as good or decent.
In some quarters of the media, maybe most, good and decent doesn't sell apparently.
This is a remarkable and moving film, brilliantly shot and directed about a great football player and a special man.
However, for me it is also a beacon of hope!
In these times when there is endless point scoring on social media amongst opposing fans, and where rivalry is often replaced by out and out bigotry, insults and the most awful use of words, this film is a reminder of the fact that friendship and respect has existed and flourished between Rangers and Celtic Players (and fans) going back over decades.
I have witnessed scenes where there has been great humour and enjoyment amongst fans wearing green and white and royal blue shirts, but these are very rarely highlighted by a media which does all that it can to fuel a fire and create a rivalry that is unhealthy and little to do with football.
Football is a game. It is not an excuse for tribal warfare, insular ignorance, out and out bigotry or an appeal to the lowest common denominator in human behaviour.
Margot McCuaig's film is testimony to the fact that the greatest rivalry can lead the way to the greatest of friendships resulting in endless laughter in good times and in automatic and heartfelt tears when times get "hard" as Willie Henderson says.
This is the tale of Wee Jimmy, Wee Bertie, Wee Bobby, Wee Willie, Wee Luggy (who points out that Jimmy called everyone "wee man" and big Yogi and big Tommy who, along with Jock Stein, might have been the only exceptions to that rule.
Many of these great players were "wee" men but they had big boots socially and did not allow the baggage that comes with being a footballer in Glasgow to dictate who they would be friends with or how they would conduct themselves either on or off the park
This film, as well as proving what a remarkable family the Johnstones are and were, is a huge credit to those who participated in it and to those who made it.
It is not to be missed, not least because it contains a lesson or two for us all.
If you in any way liked this piece of writing, please feel free to show your appreciation by supporting myself and others who are sleeping out for the homeless (irrespective of which football team they support or if they support none at all) on 12th November via the Celtic charity foundation.
Donations can be made here:
https://mydonate.bt.com/fundraisers/jamesmcginley2
Thanks.
BRTH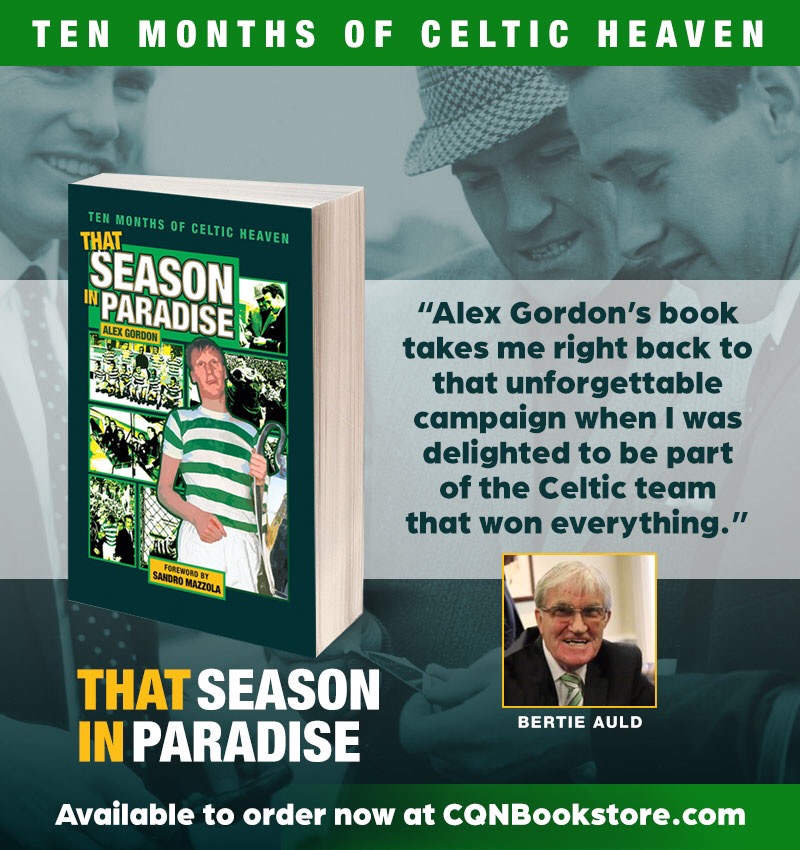 Click Here for Comments >