BRENDAN RODGERS' principal summer signing target will be at Celtic Park this afternoon. Celtic are preparing a record breaking transfer deal to lure the player away from his current employers and hope to persuade the player that a three year contract with the Scottish Champions will be the best development plan for the talented young player.
The player himself is well aware of the interest in him from Celtic and has developed a strong affinity for the club over the past 18 months.
"Who knows? In football you don't know what could happen," he reflected yesterday. "It could turn out good, it could turn out bad. As long as I give it a go."
No-one can accuse Brendan Rodgers of not giving it a go either as he pursues his transfer target.
Recently Stuart Armstrong, also high on Rodgers' to do list, stated that he sees himself as being Celtic's Number 8. By that he meant playing in the traditional position rather than the number on his back. Expect an announcement of Rodgers getting his wish regarding Armstrong signing a new, long term contract in the week before the Scottish Cup Final.
Stage management skills are high these days at Celtic.
If Armstrong is a number 8, the transfer target is also a perfect Celtic number 7.
"I'm still a City player so I'll go back there for pre-season then we'll see what happens from there," Paddy Roberts said yesterday.
"I signed for City two years ago with an aim of playing for them. I had no idea I was going to come here. This was a learning curve and an experience I had to take on fully as a young player.
"City is also a massive club and when I return there I must be confident and believe in my own ability and see where it takes me.
"If it's not right there then I will think about elsewhere. Of course Celtic is always here and I'm grateful for that. But I don't know what will happen so I will live in the moment and enjoy the end of the season.
"As a mark, I'd probably score my move here more than 10 – the highest you could give. It's been a great season, unbelievable and enjoyable. We've been playing brilliant football.
"My game has come on this year, technically and tactically, and that's important. The desire to win every single game is crucial, even if you go to places that are tough and the opposition sit in.
"It's about finding a way to break them down and you must learn that from a young age. Winning every game is crucial and I have that winning mentality which I can take into any team I play in.
"The manager has been great with me, as well as the rest of the boys. He has brought me on a lot this season, on and off the pitch, so we'll see what happens. It's nice for me to know the Celtic fans have taken to me and everyone supports me 100 per cent. It's all I could have asked for when I came up here and Celtic will always have a piece of my heart, no matter what happens."
So is Roberts, you've gathered by now that he is the player at the top of Brendan's list, going to swap that for the cold should he has so far been given by Pep Guardiola who seems to have much more to worry about at Manchester City than fitting Roberts into his starting eleven next season.
This summer Guardiola is going to spend big as he really needs to win the league next season. The chances of Roberts breaking into his side, or even into his thinking seem slim and this will be getting pointed out to the player by his Celtic teammates and a manager keen to have him in his starting eleven.
Roberts is a smart boy too, he know the game and the limits on his footballing prospects at City. At Celtic he gets glory.
"The 5-1 win against Rangers last Saturday was a big moment. I've scored against City and in other games and we won the League Cup but Ibrox was special for all of us," said Paddy talking about that glorious day last Saturday.
"We showed everyone our dominance and how we are capable of playing. We have a real desire to win– and win massively.
"This season has exceeded all expectations. Coming here I had the will to win as well as a desire but the way we've won it this season has been unbelievable.
"That's all thanks to the manager and the entire squad. We've all been working hard and we've been getting the rewards.
"As long as we keep doing that we'll get even more rewards, so we'll keep pushing for that."
Rodgers was happy to talk about the player he calls Pat (we call Paddy) yesterday.
"Pat will have had a great 18 months education here. If you come to Celtic as a loan it's a great option.
"Manchester City are one of the biggest clubs down south and you want to find out if he is capable of playing for them because the Premier League is a tough, tough environment.
"You see very few young players performing there, so how are you going to know if they can cope?
"You send them to a huge club that can really test them, where there are big expectations and they can play in a team of dominance because that's what these teams are too.
"They learn to deal with pressure, they get to play Champions League football and then they return a better player.
"He will have left a real imprint on his game here and got to experience an incredible feeling from a club where he has had some great nights.
"If there is a possibility he is coming back as a permanent player then Celtic will have a good feeling for him."
Paddy, this one is for you…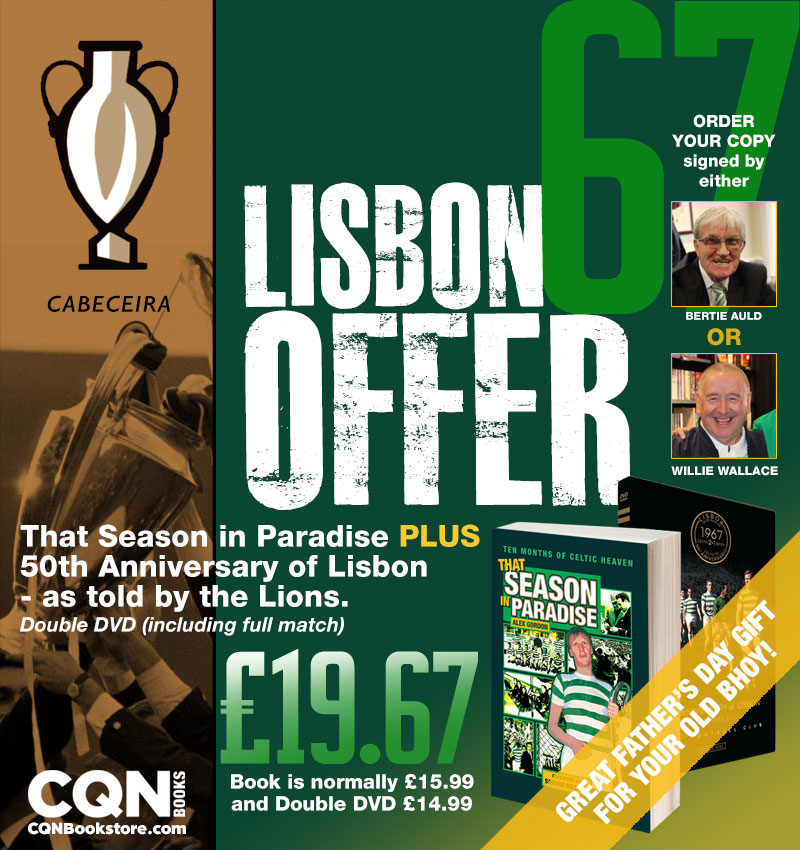 Click Here for Comments >