JONATHAN GOULD, the former Celtic goalkeeper looks back on his time at Celtic and talks about how Brendan Rodgers made a significant difference to the club when he took over as manager. He talks about stopping their Ten, the pressure on the Celtic players that season, losing Wim Jansen after winning the league, tells us why John Barnes was a flop and reveals what the Celtic players did after that draw at Dunfermline and before beating Dunfermline to win the league….
Jonathan, who is currently part of the backroom staff at West Brom, played for Celtic between 1997-2003 and was by all accounts, a colourful character in the dressing room.
He was a dependable goalie and Celtic fans will forever be grateful to him as he was between the sticks for the season we stopped them getting Ten. That season he had 24 clean sheets in 48 appearances.
This is his #10IAR, Scotty Alcroft as always, asks the questions…
How did the move to Celtic all come about? Did you think somebody was at the wind up?
My agent called me on the morning and said he had put my name into Celtic given my past with the Scotland national team and my time in the Premier League with Coventry City. I then contacted my Dad who knew Jock Brown and he made a call. Three hours later we had agreed terms and I was on my way up to Glasgow from Bradford.
Incredibly when I asked Jock about the contact from my agent, he said he had heard from him, but that he had recommended Bryan Gunn and not me! This still gives me the chills now at how lucky I was my father made that call and how there are some people you just cannot trust!
What can you remember about the day you signed?
I walked into Celtic Park and was given a badge indicating I was a contractor visiting the stadium. I still have it !
I signed my contract then was ushered to meet Wim and Murdo. All Wim wanted to know was if I had a family, which I did. The first day of training was the most memorable. I met Tommy Boyd and he introduced me to the players who, one by one wished me all the best. They must have wondered how on earth I had managed to procure such a move given my current status as Bradford City's no 3!
Who was your biggest influence at your time with Celtic?
Early on there is no doubt that Peter Latchford became my mentor. He had all the experience I was about to be exposed to in his locker. He was like a fortune teller. He predicted exactly how the games would pan out, what I should expect, the need to constantly be ready to make that one big save, especially away from home, that would make the difference.
When he left it was a big loss to me personally and I couldn't fight the decision at the time given the new management team that had been put in place. I think that had Peter stayed I would have played more than the 157 games I did for Celtic.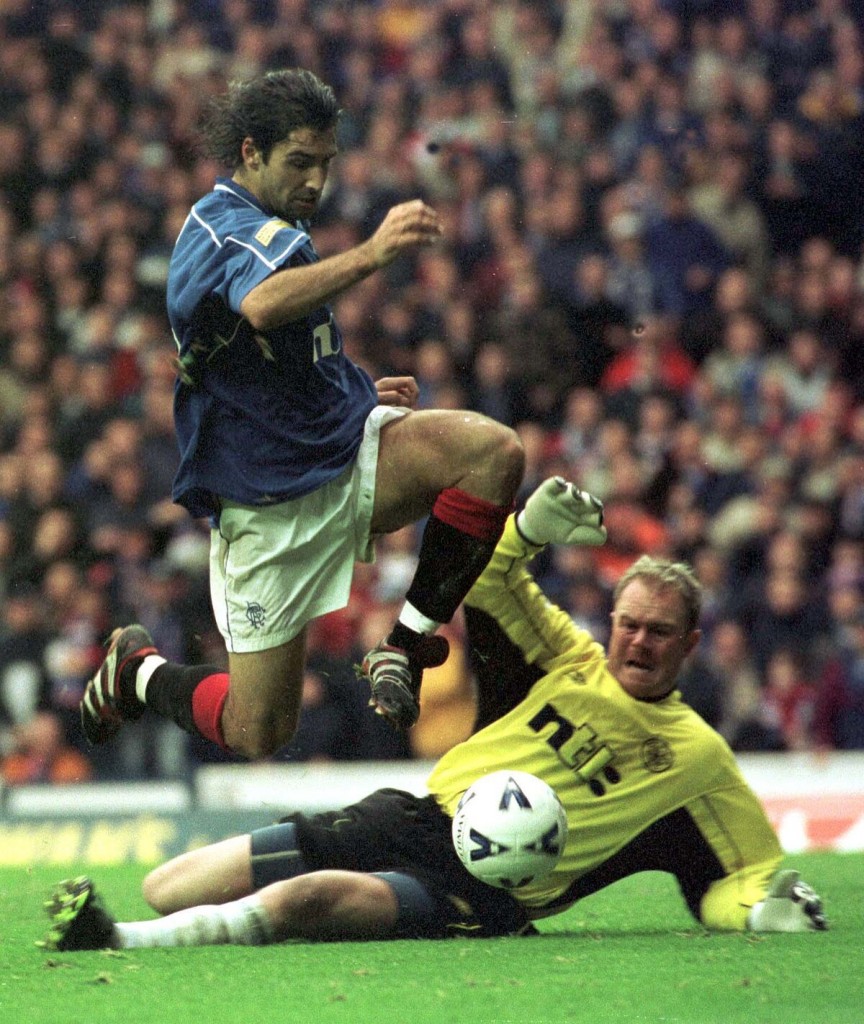 A few of your ex team-mates have named you as one of the characters in the dressing room. What sort of mischief did you get up to? Any funny stories?
To be a personality in a dressing room you have to have other characters around you to bounce off. You have to have a team-mates that play hard on the training ground, on the pitch and on a night out.
We were a tight group who enjoyed each other's company and because we were winners as well this helped our camaraderie. For me the illuminating thing happened a few weeks ago when we attended a tribute to Angie our kit lady. She has spanned 30 years at the club and on the night there were over 20 players all together just from my own era. When you all sit down with a few drinks and look back the stories flow, but they stay in the group.
It was a privilege to put on a Celtic Jersey and Play with them all.
What was the best game you had in the Celtic goalkeeper's jersey?
Aberdeen away in a 1-0 win was up there the season we stopped them getting Ten. It's always a tough place to go and win and with the help of some crucial saves we secured the points when Craig Burley scored a late penalty.
The John Barnes era. Why do you think it just didn't work out for him? Was the job too big for him?
I met John Barnes in Hong Kong in the summer. Its always difficult to really bond with a manager who you played for and eventually got the sack.
John is a good guy and was a great player who I was lucky enough to play against him in his prime, so my take on this is not personal, just professional.
The job came to soon for him. He had not cut his management teeth, made the mistakes and learned from them. Celtic is a massive, massive club with incredible expectations so coming into that environment was a huge challenge on its own for an experienced manager. Neil Lennon on the other hand already new how to handle the expectation. In retrospect I feel sorry for John, at the time I didn't.
Stopping the 10. Did the players feel the pressure that season or did you manage to block it all out?
I don't think the pressure really kicked in until the New Year fixture. It was a crucial point in the season and the victory was vital. Clearly the pressure then mounted towards the end of the season. We drew games we should have won comfortably. In the end the pressure was incredible and that last week of football, the draw against Dunfermline, the bender we went on during the week and finally the win over St Johnstone was huge. We dug in and after Harold's goal the feeling of relief and reward was as fulfilling of any I have had in football.
What can you remember about the aftermath of winning the League that year? What were the celebrations like with the players?
We didn't get a lot of time initially and I don't remember that night!
We were then whisked away to Lisbon to play a game. We spent 3 nights celebrating, drinking, managed to beat Sporting in between and then lost our manager and spent the next week or so asking why!

Were the players shocked to see Wim Jansen go?
We knew it was on the cards, but it was still a shock. We tried to convince the Board and Wim to reverse the decision. We weren't happy and this continued into the following season and affected Dr Jo's tenure which wasn't fair on him either.
History doesn't change, but my gut feelings are that had Wim stayed, the ensuing couple of seasons would have had a different look to them.

Finally Jonathan, what do you think of this current Celtic side and the job Brendan Rodgers is doing?
I watched Celtic play a game in Europe before Brendan arrived and I was dismayed by two things.
The lack of culture in the way they were playing and more importantly the lack of commitment some  – not all –  of the players were displaying despite winning titles.
Brendan and his staff have done an amazing job to change the attitude and the supporters have come back to Paradise, that alone tells you how they are doing.
I now turn on the TV, get excited about watching them and relate to the success and emotions that the players are going through. Its a great time to be a Celtic Supporter!
Thanks again Jonathan for helping stop their Ten. Now Celtic are on our way to doing it!
Interview by Scotty Alcroft @Sco2hot
#10IAR
ORDER YOUR SIGNED COPY OF JIM CRAIG – RIGHT BACK TO 67, A LISBON LION DIARY TODAY!

Click Here for Comments >