JEREMIE FRIMPONG hopes to kick-start his medal collection in the Betfred League Cup Final at Hampden this afternoon.
The Amsterdam-born right-back is poised to get the nod ahead of Austrian international Moritz Bauer to face Steven Gerrard's Ibrox outfit.
He fully intends to award himself an early birthday gift – he turns 19 on Tuesday – in only his eighth first-team game.
Frimpong arrived as a virtual unknown on transfer deadline day from Manchester City, but exploded upon the scene with a Man of the Match performance in the 5-0 Betfred League Cup quarter-final success over Partick Thistle only 23 days after signing,
He kept his place for the semi-final against Hibs and once again the champions scored a handful in a 5-2 triumph. He netted his first Celtic goal in the 4-0 victory over Aberdeen at Pittodrie in October.
The adventurous defender has made seven appearances in Neil Lennon's top side and the Hoops have won them all, claiming a remarkable tally of THIRTY goals and conceding only three.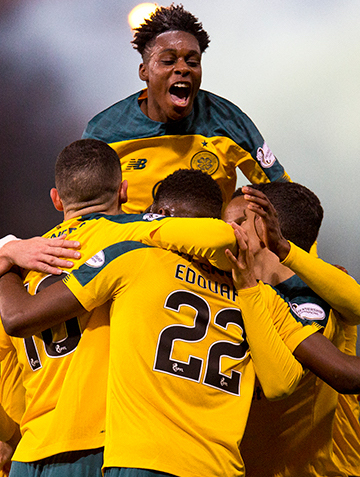 HAPPY DAZE…Jeremie Frimpong leaps onto the celebrating Celtic throng during the 5-2 semi-final victory over Hibs.
It's clear the Dutch Under-20 international is not short on confidence.
Frimpong, speaking to the Daily Mail, declared: "I want to be the best player there is. I want to play for the biggest team ever.
"I want to win the Champions League. I want to hold the World Cup. I want to win as many trophies as I can."
He continued: "Look at Virgil Van Dijk. There's the example. Played for Celtic and four years later he nearly wins the Ballon D'Or at Liverpool. He was so close.
"So, can I be the best player there is? Yeah, I think I can be. Celtic can help me with that. The history here is crazy. They are so good – one of the biggest teams there is.
"So, I hope I can be the best here. But that only comes with hard work and commitment and that's what I'm going to produce to make it happen."
The turning point in the career of the youngster came when Manchester-based youth side AFC Clayton reached an amateur Cup Final and Frimpong recalled: "I scored a hat-trick and I remember playing really well. I won best player of the tournament and they gave me a trophy.
"I played so well I suddenly had Liverpool, Manchester City, Bolton and Blackburn after me. They were all speaking to my parents and it was a big thing for a young kid.
"I went for a Bolton trial first. Then I went to Liverpool and I was going to sign for them. But the travelling was hard and expensive from our home in Manchester. We didn't really have the funds and Man City were more local. I went there on a six-week trial and that was it."
He joined the City academy at the age of nine meant going from school to training and returning home at 9pm.
The new Bhoy continued: "I have always been naturally quick. Was athletics a serious possibility for me? Yeah, 100 per cent.
"I was committed to athletics, but I never thought about it the way I thought about football. It was never in my head to become an Olympic athlete or anything. Football was in my head night and day."
SEE YOU AT HAMPDEN…Jeremie Frimpong is all smiles as he leaves the pitch with Mikey Johnston after last week's 4-1 win over Ross County.
At 5ft 4in, his lack of height always caused a concern with certain coaches. Starting life as a winger, City kept him in the shadows, but change came when he scored twice against Middlesbrough's academy team and earned a promotion to the top team for his age group.
Shortly after that, the regular right-back was injured and Frimpong filled in as a substitute. After the game, academy coach Alan Wright spoke the four words which changed the course of his life.
He remembered: "Alan said to me: 'This is your position. You could be one of the best right-backs in the world if you master it'.
"At first, I wasn't sure. I didn't say yes straight away. I thought about it and thought: 'Let's give it a try'.
"I never worried about height. I just went and played. I know I'm not the tallest. But on the pitch I'll never be the weakest either.
"I will go into any battle. If I get beat I get beat, but I will never shirk from trying."
Neil Lennon spotted him playing for Manchester City's Under-23 team in a friendly win over Celtic's development side at Lennoxtown last season. A £350,000 deal – rising to £1million with add-ons – began to take shape.
Frimpong commented: "I had a good season with the Under-23s, but I didn't want to do that again because I'd already done it.
"I wanted first-team football and if that wasn't coming at City then it had to be somewhere else. It wasn't easy for me leaving, I'd been there all my life. But I had to try it. If you are passionate and serious about football, you can't be staying the same.
"You can't be standing still. You have to go higher and higher and higher and strive for the top. And when you get there? You still can't stop."
This afternoon at Scotland's national stadium, £7million winger Ryan Kent is expected to provide a fierce test of his defensive abilities.
Frimpong admitted: "I never played against Ryan Kent in England. But I was with Brandon Barker at Manchester City. It doesn't worry me. I've always been confident about big games. I think I still have work to do on everything, but mainly defending.
"I'm quite confident in one-v-ones, but you can always improve. Don't get scared, it's just another game. Go and play. I guess that's my approach to life, really."
* DON'T miss the unbeatable match report and best action images from Hampden this afternoon – only in your champion CQN.
Click Here for Comments >