CELTIC great Bertie Auld, one of the most popular characters in the club's history, never shirked his responsibilities in the heat of an Old Firm occasion.
Wee Bertie thrived on the atmosphere of these no-holds-barred collisions as he and Bobby Murdoch patrolled the midfield, controlling and dictating the play.
Here, in an exclusive interview with CQN, Bertie looks at Celtic's visit to Ibrox on Sunday – and reveals why he is a bit puzzled by the antics of the opposition.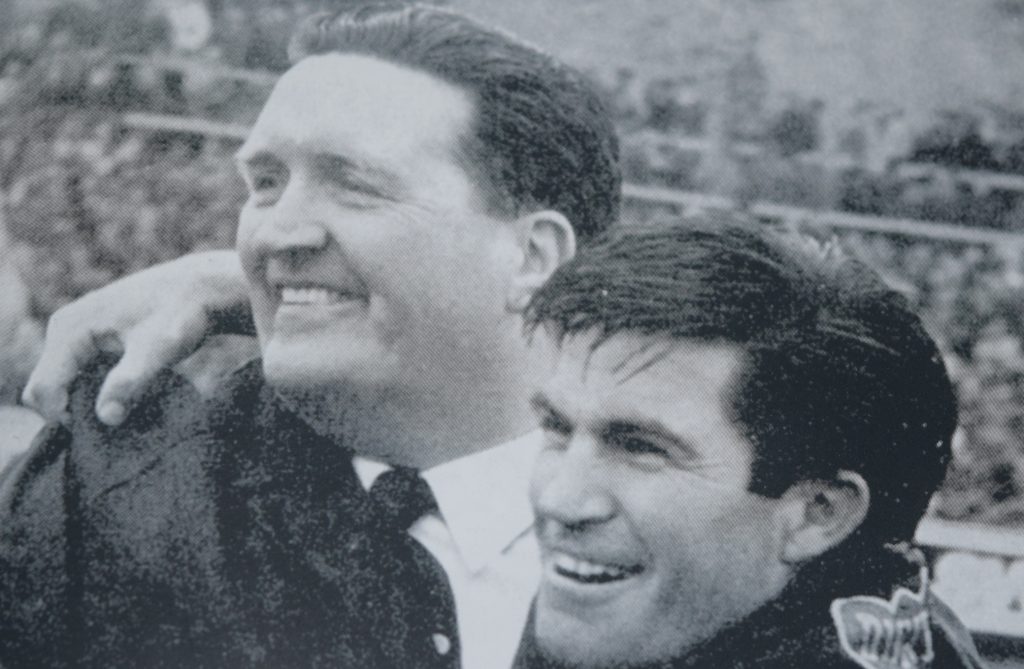 "LISBON HERE WE COME…Big Jock and me after the goalless European Cup semi-final against Dukla Prague."
BIG Jock Stein never allowed his Celtic players to talk about games or our opponents. Anyone making a prediction or discussing a match without his permission knew to expect a word in their ear the next time the gaffer saw them.
Instead, our legendary manager would gather us around him on the day of the game and simply say: "Right, just go out and do it. Show everyone who is the better team. Do your talking on the park."
That's why I have been a bit surprised at the noises coming out of Ibrox in recent weeks. Certainly, Rangers have improved, but they've hardly suddenly become world-beaters. Are they so confident they actually cheered with delight on Sunday when they discovered they were drawn against Celtic in the Scottish Cup semi-final?
That appears to be a bit of false bravado to me. What else can it be? Why the reason for rampant optimism? They haven't beaten Celtic in eight games since Brendan Rodgers became manager, losing six and drawing two.
In fact, I'll pose a question: When did they last actually beat my old club during a game of football?
Okay, they got through 5-4 on penalty-kicks in the Scottish Cup semi-final in April 2016, but they didn't win the tie which ended 2-2 after extra-time. So, you can take that out of the equation, as far as I am concerned.
The season before that, they played Ronny Deila's team in the League Cup semi-final and Celtic won 2-0 going on 10-0 after they had scored two early goals through Leigh Griffiths and Kris Commons. Why they took their foot off the gas that afternoon, I'll never know. The Ibrox side were there for a hammering, but Celtic hardly threatened after the interval. One of football's little mysteries.
Before they dropped out of the top flight, had to be reinvented and start again in the bottom tier at the beginning of season 2012/13, Celtic, with Neil Lennon in charge, walloped them 3-0 at Parkhead in April 2012. It was an onslaught that afternoon and could have been another landslide victory. Charlie Mulgrew and Kris Commons scored in about half-an-hour and Gary Hooper added a third shortly after the interval. A compassionate Celtic team didn't need to rub in their obvious superiority.
The last time Celtic lost a game to them was on March 25 that same year. My old club went down 3-2 at Ibrox, but it might be worth remembering Celtic finished the game with only nine men. Cha Du-Ri was sent off in the 29th minute and Victor Wanyama was similarly treated 12 minutes after the interval. It was only 1-0 for the home side before the two players were banished.
So, if the current Rangers players believe they will beat Celtic on Sunday or next month in the Scottish Cup, I can only think they are playing the law of averages considering their lengthy run of non-success. They might be thinking: "They've beaten us so often, it must be our turn."
But that doesn't always work in football. In my day, I normally found the better team won the game and that was the end of the matter. Mind you, dodgy referees could interfere and that could help to produce an unusual and unexpected outcome, but that's a story for another day.
Their words could come back to bite them on Sunday. Listen, I realise Graeme Murty is new to all this and so, too, are a lot of his players. The guys who arrived on loan deals in January, Jamie Murphy, Sean Goss, Russell Martin and Jason Cummings, as well as Greg Docherty from Hamilton Accies, will not have encountered anything like a Glasgow derby against Celtic.
"ON THE BALL…and on the attack. Just the way the Celtic supporters liked their team to play."
Murty might feel it is right and proper to talk up his team's chances and there's nothing wrong with that. I believe he did that in the two games he has taken his team to Parkhead and gained draws on each occasion.
What isn't so clever, though, is talking live on television after a win over a Championship side and declaring your players were jumping around with joy when the draw came through. That might have been better being left within the walls of the dressing room. I doubt if Brendan Rodgers will need to motivate his players for Ibrox, but it may not be a bad idea to remind them of the antics of the opposition a minute or two before they leave to go out onto the field.
I've never heard Brendan talk like that. Clearly, he always respects his opponents and their players. He is shrewd enough to give them their place. I don't know what is said in private to his team. but, as far as public consumption is concerned, he is extremely tactful.
Look at last week, for example. Jim Duffy's Championship side Morton were at Parkhead on Scottish Cup duty and at no time were they dismissed out of hand. Brendan and his assistant Chris Davies, in fact, went out of their way to stress how much they were aware of the threat posed by the Cappielow side.
Davies even said Celtic would treat Morton as they would Champions League opponents such as Barcelona and Paris Saint-Germain. That's class. No-one at Celtic said they were bouncing around in delirious fashion when they were paired with the Greenock side in the quarter-final. Big Jock wouldn't have allowed that, either. No chance. I never knew him to ever humiliate the opposition.
I am speaking from experience. I can recall a game against Clyde at Shawfield when I sat on the ball three times. I was deep in my own half and I was trying to entice their players to cross the halfway line. But they weren't having any of it. Okay, it was an unusual tactic and the Celtic supporters loved it. Unfortunately, Big Jock didn't quite see it that way.
At the end of the match – we won 3-0, by the way – he had me by the throat in the dressing room. He was fuming. "Don't you ever do that again," he bellowed. "Always respect your opponent."
It would be fair to say he got his point across that afternoon!
I also remember one of my former team-mates had spoken to a national newspaper about a forthcoming game. Jock knew nothing about the interview until he read it on the sports pages. The player turned up for training and Jock asked him to follow him to the manager's room.
My colleague was slightly baffled when Jock handed him a pencil and a notepad. "There you are," said my old gaffer. "If you could just list Saturday's team I would be much obliged."
Lesson learned for the player. Rangers might learn a similar lesson on Sunday.
TOMORROW: I'll name Celtic's key men and deliver my big match verdict – another exclusive only on CQN.
Read more from Celtic Quick News …
Catch up with Pau67's Blog here …
Click Here for Comments >