FORMER Celtic striker David Fernandez, a £1million signing by Martin O'Neill in 2002, reckons his old club can be a hit in Europe this season.
The Spanish frontman, now 42 and back living in his homeland, still keeps an eye on the Hoops' progress – and he reckons they could learn from the team's experience 16 years ago.
Fernandez was an unused substitute when O'Neill's team lost 3-2 to Porto in the UEFA Cup Final in Seville in 2003.
Ironically, he scored his only goal for the club against FK Suduva, Thursday night's second leg opponents in the Europa League play-offs at Parkhead following last week's 1-1 stalemate.
The lively raider, who was brought in from Livingston on a seven-figure deal to battle with Henrik Larsson, Chris Sutton and John Hartson for a first team place, was part of the squad that was shocked by Basel in the Champion League qualifiers and forced to take their place in the UEFA Cup.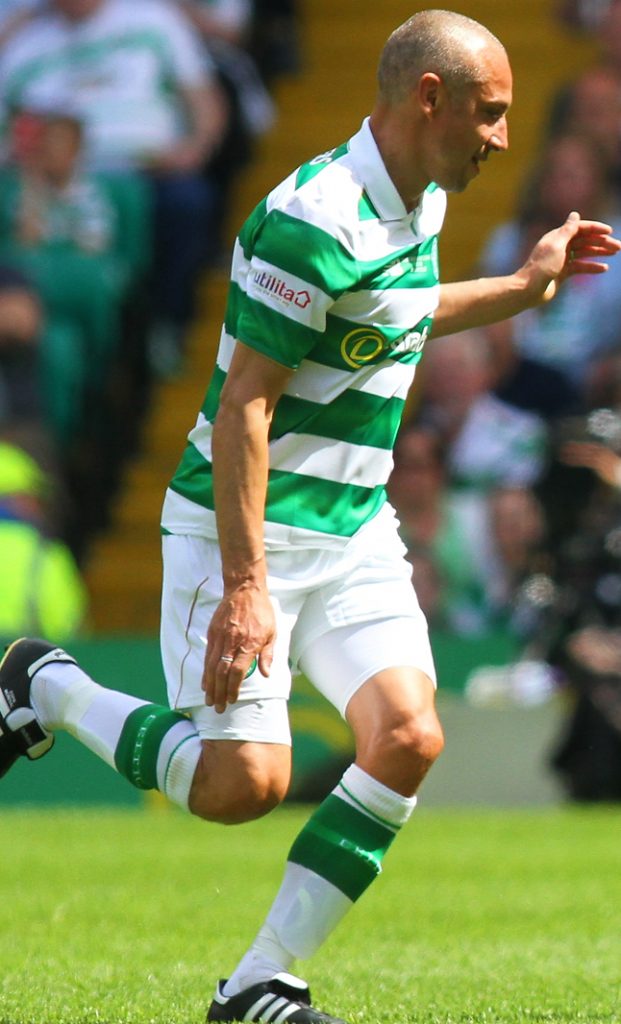 BHOY WONDER…the iconic Henrik Larsson
Fernandez, speaking from his home town of La Coruna, said: "Celtic should not feel any shame about going into the Europa League. They are an iconic name and that doesn't change because they are in a different competition.
"Atletico Madrid won the Europa League last season and that shows the prestige of the competition.
"Celtic are not at the same level as 15 years ago, but they have a good team and a really good manager in Brendan Rodgers.
"Of course, I hope they do well this season."
Fernandez, who was brought to Scotland by former Barcelona star Steve Archibald, caught the eye of O'Neill during his spell at Livingston following the financial collapse of Airdrie.
Ironically, he moved to the East Lothian outfit along with countryman Javier Sanchez Broto who also had a spell at Parkhead. However, neither the forward nor the keeper could hold down a permanent place in the top side.
Fernandez, though, has no sorrows about his switch to Celtic – and blames himself for not putting more pressure on O'Neill to select him.
LEGENDS…Henrik Larsson races away from John Hartson, two players David Fernandez had to try to displace in Martin O'Neill's team.
He said: "I have no regrets about the transfer because there are some opportunities that only come up once in your life.
"I was given the opportunity to be part of one of the best teams in Celtic's history. I could not say no.
"I knew it was going to be difficult to get into the team. The trouble is I let myself go when I felt it was pointless trying to break through.
"As a professional, you can't allow that to happen. I let myself down and I let Celtic down.
"As a player, I had always prided myself on fitness, but I became down and I stopped looking after myself.
"I was definitely overweight. Not fat in the normal sense, but in terms of the shape you need to be in to play football. I wasn't looking after myself and I wasn't fit enough.
"My state of mind was bad. I remember the lowest point. There was a game at Aberdeen. Henrik Larsson got injured after a few minutes and I had to go on.
"I looked at the pictures of that game and did not like what I saw. It was a different version of myself. I was out of order. I changed my attitude after that.
"I didn't like what I had become. When you are not happy with yourself, you are not happy with your life. Everybody thinks the money makes you happy. I was well paid – but I was not happy.
"It was a struggle because I went to Celtic with aspirations. It wasn't happening for me and I reacted the wrong way. The really best players use these situations to become stronger. I didn't."
Fernandez, who made only 20 appearances in the first team before ex-Hoops boss Davie Hay took him back to Livingston on loan in September 2003, added: "The first two months I was in great shape. I felt I was doing well in training sessions. I felt sharp, but there was no game time and I fell to the lowest point in my career.
MY WORD…Martin O'Neill has his say.
"Martin O'Neill was fair. There were better players than me at Celtic.
"I don't know if Henrik Larsson is the best-ever Celtic player, but he must be close. He was not only the best player in the team, but probably the one who worked hardest.
"I remember Seville very well. It was special for me to be taking part in such a big game in my home country.
"Most of my family were there, including my wife, who was seven months pregnant with our second daughter. It's just a shame that we couldn't win the trophy."
Farnandez still shudders when he is reminded of his solitary strike for the Celts in Lithuania in the round that kicked off the march to Seville and victories over Blackburn Rovers, Celta Vigo, VfB Stuggart, Liverpool and Boavista along the way.
He added: "It's all a bit blurry because the goalkeeper nearly killed me!
"We had won the first leg 8-1 in Glasgow, so the game was already decided and there wasn't too much pressure on us.
"I remember it was a pass from John Hartson , but it can't have been the best ball because after I hit it, the goalkeeper clattered me."
Alan Thompson added a second goal as O'Neill's side coasted to a 10-1 aggregate triumph.
Celtic fans will hope it is a good omen for Thursday night.
Click Here for Comments >