RONNY DEILA today U-turned on his controversial post match comments at Hamilton on Friday evening when we backed blunder referee Craig Thomson's decision to send off Derrick Boyata after the player won the ball in a last ditch tackle.
Immediately after the match the Celtic manager had this to say about the latest controversial sending off of a Celtic player by this referee.
"I think it was an okay decision. I have seen it one more time and I don't think he [Boyata] is touching the ball.
"We have to learn in these situations. When you have one-on-one, you have to run with people.
"We have very quick defenders and you always run with them instead of taking chances. Then we get caught and it puts us in a difficult situation."
Today however Deila had changed his mind and revealed that Celtic will now be appealing the red card.
Ronny, speaking at today's press conference ahead of Wednesday's league encounter with Dundee at Celtic Park, said "I have seen it many times. Having seen it from angles, think it's the wrong decision
"His foot is on the ball. We will therefore appeal it. We have been punished by going down to 10 men but hopefully we don't get a suspension."
One aspect of the sending off that Ronny isn't changing his mind on is his instruction that our quick defenders stay on their feet and avoid giving referees like Thomson the chance to punish Celtic.
Ronny is "still saying in these situations that I want my defenders to stay on their feet.
"We have quick defenders and running with people is better than taking chances and putting the ref in that situation.
"When you see that he makes his decision and hits the ball then, in my opinion, it's not a red card.
"
The Celtic manager's open criticism of the player he signed from Manchester City in the summer, has been a major talking point among the Celtic supporters over the weekend with former player Chris Sutton being at the front of the queue of those criticising the manager for the outburst. But Ronny today tried to explain the situation saying:
"This isn't about Derrick, it is about everyone in the defence." Referring to Efe Ambrose's dismissal by Thomson early in the recent League Cup Final at Hampden, Ronny recalled that " we have had some issues with red cards before.
"When you play a high line and press a lot, there is a lot of space behind us and can get into situations of one v one.
"We want our players to stay on their feet, run with them and make the other player to make bad decisions."
On his comments regarding Boyata's sending off on Friday evening, Ronny believes that 
"it's important to be honest. I will never say anything negative of a player personally, only a decision on the pitch.
"I'm honest with the players, Ronny explained. "I talked with Dedyrck and it's not a problem. It was not an attack on him. I have and will defend my players.
"
 The Celtic manager was asked about this morning's transfer headlines surrounding to Celtic players.
On Tom Rogic, Deila confirmed that taks are ongoing and that he sees the player remaining at Celtic. "We are working to get that renewed. He's in our plans for the future," Ronny stated. 
"Talks haven't stopped at all."
On reports that two Spanish sides are interesting in signing Emilio Izaguirre, Ronny revealed that Emilio is "also a player we want to keep" stating that he regards the left back as "a very good footballer.
"
 The sting was somewhat taken out of the tail of Celtic's dropped points at Hamilton by challengers Aberdeen failing to take advantage the next day at home to St Johnstone. The Celtic manager wasn't prepared to say much about the dismal Dons, restricting himself to saying that "in football, you just have to try and do your job. 
We lost two points at the weekend and are disappointed by that but good we are still in a good situation and are looking forward to the game on Wednesday.
"
Deila continued by saying that the "only thing we can do is to win games. This club is used to winning trophies and having pressure on it all the time.
"
"Some of the players have the possibility here to win five times in a row, which hasn't happened many times in Celtic's history.
"
"So we have a great opportunity here to make history and I know the players want that."
On injuries ahead of Dundee's visit the manager confirmed that he only has one player on the side-lines. "It looks good with just Simunovic out. We have a big and healthy squad.
"
Celtic certainly won't be under-estimating Wednesday's opponents who play the Champions on Wednesday before returning to Glasgow at the weekend anxious to avoid a giant killing situation when they face a lower league side in the Scottish Cup.
Speaking about Dundee, Deila reckons that "they are a good football team, especially offensively and have players who can cause problems for us.
"We need to be very good defensively and if we do that we will get opportunities at the other end, so we have respect for them.
"We know it will be tough but we also know that when we are playing at our best we have a very good chance to get three points."
 After Leigh Griffiths missed his second penalty this month Ronny confirmed that he had no plans to axe the striker as Celtic's preferred spot kick man.
Ronny said "I like that strikers are taking penalties. If I ask him I think he would want to take them.
"It depends who is on the pitch as well as Kris Commons has taken penalties before along with others.
"
"We have options but not afraid to give that chance to Leigh – he knows where the goal is."
—————————————————————-
CQN BOOKSTORE SPECIAL OFFER!
Order your copy of The Winds of Change for just £13.99 and you will receive a FREE copy of the Total Larsson DVD plus a copy of Issue 3 of CQN Annual.
The Winds of Change picks up the story of managing Celtic after Jock Stein, which we started in Caesar & The Assassin.
Caesar & The Assassin covered 1978-1991 and The Winds of Change takes us from 1991 when Billy McNeill is sacked up to 2005 when Martin O'Neill leaves after winning the Scottish Cup. So much happened in this period in Celtic's history and this makes The Winds of Change a fascinating and compelling read for all Celtic supporters.
Order 
HERE 
or click on the image below.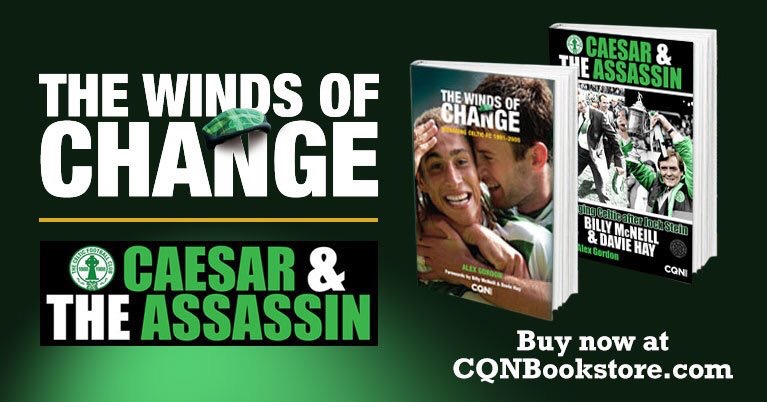 Click Here for Comments >