HOOPS, STARS  AND  STRIPES – The Andy Lynch Story
Andy Lynch and Paul John Dykes
Review by Celtic Historian David Potter
This is an excellent book and well worth spending £14.99 on at Christmas especially for someone who was alive and followed Celtic in the 1970s. It is well written, always interesting, and the story reads well. Paul John Dykes is a fine Celtic writer these days and those of us who have memories of his Neil Mochan book will not be disappointed that he teamed up with Andy to write this one.
Andy comes across as one of the good guys, a little unfortunate with injuries and not always one of Jock Stein's favourites (did Big Jock have any?), but very proud of his days with Celtic and in particular that famous penalty kick and that famous 4-2 win one Monday night in May. Both are well deal with in the book, and in between them of course comes that awful, still painful 1977/78 season when the loss of Dalglish was the catalyst for woes that we had not suffered since the early 1960s. You can sense the hurt in Lynch's descriptions of that season, for he is a real Celt.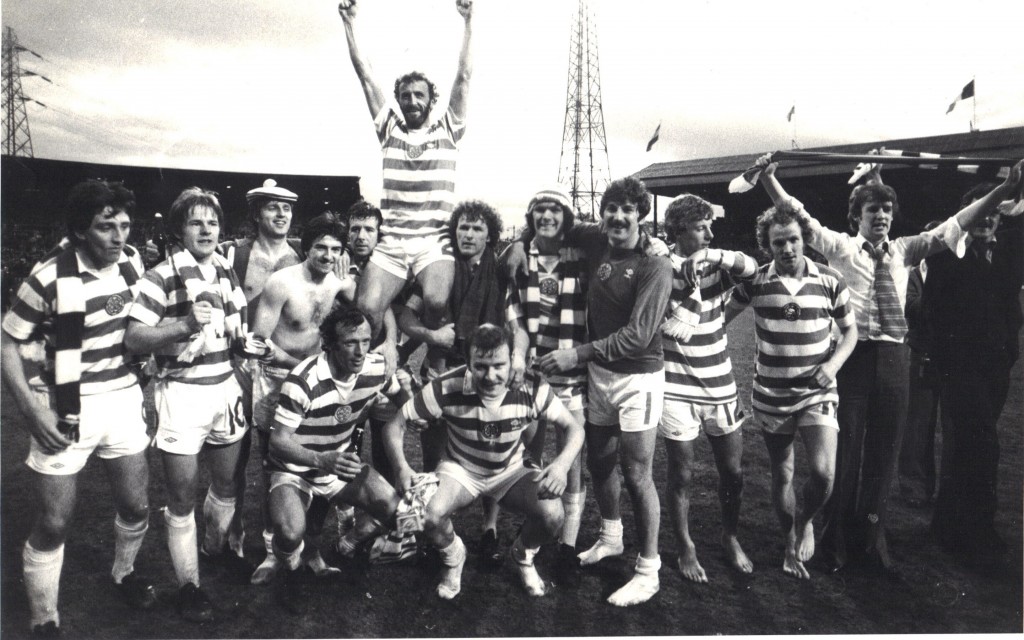 The book is agreeably free from rancour, spite and the self-justification which sometimes spoils football biographies. There is none of the constant sniping at Rangers, for example. Indeed there is a deep respect for Jock Wallace whom Andy served under at Hearts, and although the sectarian aspect is ever present (Jock Stein more or less told Andy he would never be a Manager in Scotland because of his background, and his father always realised that there were limits to his promotion in the Police), there is no bitterness. As I say, Andy comes across as a nice guy.
Mind you, he once told Jock Stein to ram Celtic where the sun didn't shine (and lived to tell the tale!) and once spat on the other Stein, Colin of Rangers – something that he regretted, apologised for and was forgiven by Colin Stein! He is more than a little contemptuous of the Celtic Directorate of the 1970s (who isn't?), but stressed that this does not lessen his love for the green and white. Even Lisbon Lions feel their hair going all funny when they pull the jersey over their head, he tells us!
It was "Flax" – the famous supporter who doubled as a secret agent for Jock Stein – who organised his transfer at Queen Street Station when Lynch was going to Edinburgh to train for Hearts and Flax was selling his newspapers. It sounds incredible, but we are prepared to believe it. And what would old Flax made of things today? I hope he is watching from his own Paradise!
Alcohol looms disturbingly largely in the book, but Andy was usually strict with himself.  He is clearly very much a family man with a great love for his own parents and his own children, one of whom Simon also donned the green and white. His time in America is possibly less interesting for Celtic fans, but tells us a great deal about him as well, and the Chapter on the mega-rich tycoons attempt to buy Liverpool is in some ways alarming, and a warning of how the evils of capitalism are destroying the game, if we didn't know it already. At the other end of the scale, East Stirlingshire conducted their interviews for their new Manager in a hotel bedroom!
A great insight into a player who was maybe not around long enough to be called "great" – but he did well enough. Buy this book. You won't regret it. CQNBookstore.com £14.99
David Potter
—————————————————-
SPECIAL OFFER FROM CQNBookstore.com
If you order Hoops Stars and Stripes – The Andy Lynch Story from CQNBookstore.com you will receive a copy signed by the former Celtic skipper plus a FREE signed copy of Paul Dykes' first book, there acclaimed The Quality Street Gang. So you get both signed books for just £14.99 plus p&p.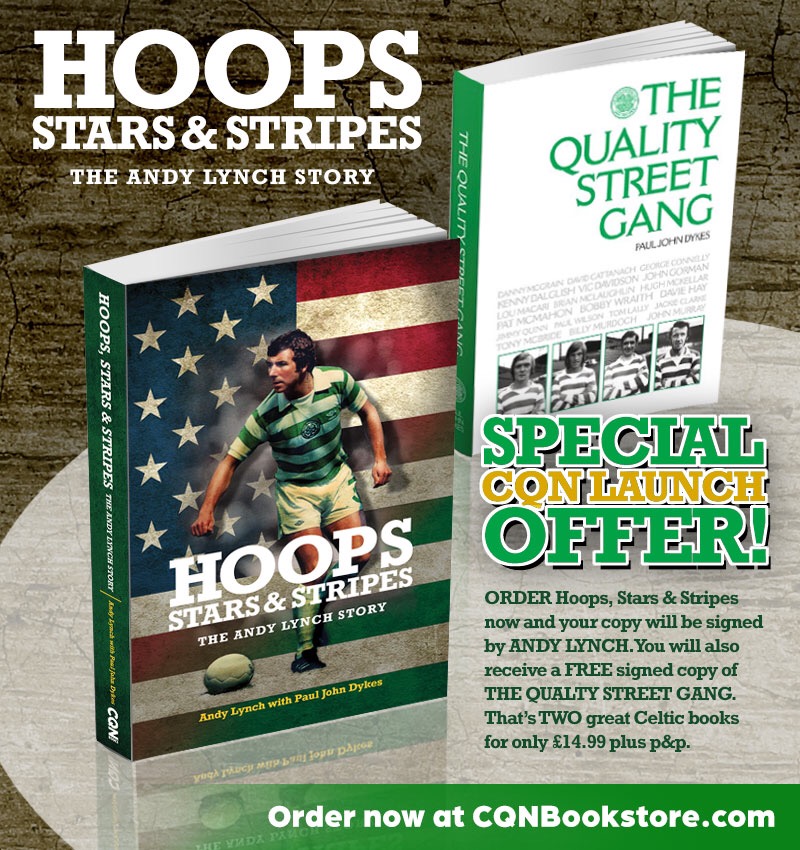 Click Here for Comments >