One of the drawbacks of football – at any level – is the ever present risk of injury. Over the past half century, Celtic have lost many fine players, often with devastating results for player and club. Hugh Gallagher look at 6 such players starting with Joe McBride.
Joe McBride was signed by Jock Stein for Celtic in summer 1965 for the bargain basement price of £22,000. To put that figure in perspective, Alex Ferguson, a vastly inferior striker, joined Rangers shortly after that, for more than 3 times McBride's fee. McBride was an immediate success. His regular strike partner was Stevie Chalmers, with Bobby Lennox and John Hughes, also partnering him on occasions.
In 1965-66 he scored 31 goals and helped Celtic to our first League Championship since 1954 and to the first of 9 in a row. One of the highlights of that campaign was the 5-1 New Year win over Rangers; McBride didn't score but assisted greatly with Chalmers' hat trick. He played in the League Cup Final win against Rangers and was unlucky not to be part of a Treble winning team, as Celtic were undeservedly beaten 1-0 by Rangers in the Scottish Cup Final replay, losing to a last minute Kai Johansen goal.
Joe also contributed towards Celtic's excellent run in the European Cup Winners' Cup. Liverpool knocked Celtic out at the Semi Final stage but a final place at Hampden was denied by the referee wrongly ruling out a last minute Bobby Lennox goal at Anfield. During that run, he scored against Dutch team Go Ahead Eagles and Danes' Aahrus, in the first 2 rounds.
McBride had an unbelievable start to 1966-67. He scored against Nantes and Zurich, helping Celtic to the last 8 of the European Cup, in our first attempt at the competition. He played in the League Cup Final win against Rangers. As Christmas approached, Joe McBride was, literally, the most prolific striker in the world, having scored 36 goals in 26 games. However, disaster struck and he picked up a knee injury against Aberdeen, which put him out for the rest of the season. Incredibly, by the end of 1966-67, he was still Scotland's top striker, despite missing half of the season. Willie Wallace proved an able replacement but the question will always be asked – how many goals would Joe McBride have scored in 1966-67 if he hadn't been injured?
During that unbelievable 16 month scoring spell, Joe McBride amassed a total of 2 Scotland caps – a reflection, certainly not on McBride, but on the anti Celtic bias that pervaded Scottish football.
Joe McBride tried valiantly to make a comeback but it wasn't to be. Less than a year after his injury, in his first 90 minutes back, in a match against Morton, he scored 3 goals but failed to make an impact for the rest of the season.
However, he continued to make a contribution the following season. Just after the start of the 1968-69 season, Celtic were on the verge of going out of the European Cup, at the first hurdle, for the second consecutive season. An excellent St Etienne team, the French champions, who were full of flair, speed and skill had beaten Celtic 2-0 in the first leg. However, on an exciting night at Paradise, Celtic ran out 4-0 winners, with McBride scoring one of the goals.
Despite that, the end of Joe's Celtic career was near and he left shortly after that match, to join Hibs, where he rediscovered his shooting boots and made Celtic fans wonder if we had prematurely dispensed with his services. When McBride left Celtic, he had scored 86 goals in just 94 games.
There can be no greater tribute than to be singled out for praise by Celtic's greatest ever striker and, indeed, Scottish football's greatest ever striker, Jimmy McGrory. When asked to name the best Celtic striker he had ever seen, McGrory, unhesitatingly proffered McBride's name. At the end of the 1966-67 season the Golden Boot award, for being Europe's top goal scorer went to Bayern Munich's Gerd Muller, who, like McBride, and all natural strikers, had the happy knack of always being in the right place at the right time. Muller admitted that, had Joe McBride completed the season, he would have won the award.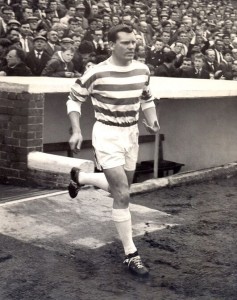 Joe McBride was a humble, modest, friendly man who got great satisfaction out of simply scoring goals for the club he loved. In September 2009, I had the pleasure of sitting beside him on a flight between Derry and Prestwick Airport.
I'd been to Donegal to visit my mother, who was unwell, and Joe, along with other Celtic legends from the Golden Era (Billy McNeill, Bobby Lennox and Bertie Auld), had been attending a Celtic Supporters' Rally in Donegal. He was genuinely interested in my mother's health and then went on to talk, after my prompting, (modestly) about his scoring prowess.
I have travelled that journey many times and that was the only time I was sorry that it was only a 30 minute flight.
Sadly, Joe passed away on July 11th 2012.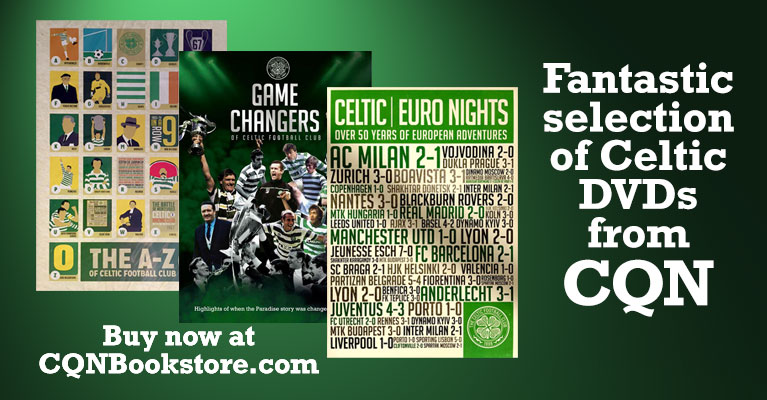 Click Here for Comments >