CELTIC manager Ronny Deila and top scorer Leigh Griffiths met the media this afternoon ahead of tomorrow's 3pm kick-off against St. Johnstone at Celtic Park.
Confidence is sky-high in the Celtic ranks after two impressive "performances against away to Dundee United last Friday and at home to Hamilton  on Tuesday where Celtic added to the 4 scored in Dundee by hitting Hamilton for 8.
While The Celtic support would like a repeat performance the manager understands that to score that many would be a tall order. 'You can't expect to score eight goals every week,' Ronny said today, 'but Tuesday's performance was very, very good and it gives everybody a lot of confidence.
'Everybody has to know that it's about preparation, giving 100% and working really hard for the team, getting the defence right first of all, get good tempo into the attack and then it's very hard to beat us. On Tuesday we were very good and that's what we're hoping for again on Saturday.'
Deila is certainly a happier figure these days after a very difficult autumn, when Europe disappointments overshadowed Celtic's good domestic form.
The manager seems very happy with his squad of players and the performances they are now delivering. "We train them well and everybody is ready when they get the chance' says the gaffer, 'and that's so important when you play so many matches. And we also had subs coming on and making a difference.
'We need to be a team with a big 'T' and everybody has to perform when they get the chance. I was delighted at the performance of the players on Tuesday, and that's the way to get more game-time too."
'What we did on Tuesday night was three points, nothing more, and also improving our goal difference. So it's about performing every week, every time we have a game and the longer we go in the season the more crucial and important the games are.'
Deila and his assistant John Collins deserve maybe a little more credit that that have so far received for the way they have improved certain players in the Celtic side. Nir Bitton is one such example and so too is Celtic's legend on the making Leigh Griffiths.
While others failed to heed the advice and have subsequently been shipped out the door, Griffiths started off an an unfancied bit-player when Deila arrived.  Griffiths took everything on board that the management team told him and started to work hard to deliver on the requirements necessary to get into the team.
On Sportscene last weekend he revealed how John Collins has been working with him in training to improve Griffiths' right foot – and he stood on his lethal left peg twice at Tannadice to score.
Today Griffiiths explained how he is feeling about his elevation to become Celtic's biggest star player in years.
Leigh  said, 'I feel like I'm in the form of my life right now.
'My confidence is sky high. I feel like I'm going into every game capable of scoring goals. I've only got one more goal to equal my record for a whole season when I was at Hibs.
'I got 28 there and have got 27 now, with still a number of games to go, so hopefully I go on to beat that and Chris Commons' mark of 31 from a couple of years back.
'My next target is 30 and I want to hit that as quickly as possible. Then we will look to other targets.
Griffiths was booked at Tannadice for taking off his shirt to reveal his 50 Goals scored T-shirt. Records matter to the Celtic striker, so the yellow card was worth it.
'Yeah these records matter to me. As a striker you want to be selfish with scoring goals. If you set targets and reach them you will be happy. But you can't just set one, you have to keep setting them higher and higher.
'At the start of the season I aim to hit 20, then it's 25, then 30. Once I hit 30 I'll want to hit 40 and then see where I am at the end of the season.'
'Finishing as Britain's top scorer wouldn't go amiss, but firstly I want to be Celtic's top scorer. I want to continue doing well for Celtic. If the goals keep coming I'll be happy.
Henrik Larsson scored his 50th goal of the season at Ibrox on one very memorable afternoon. If Leigh Griffiths keeps banging in 2 or 3 goals every game then even that record might be reached. We certainly hope so.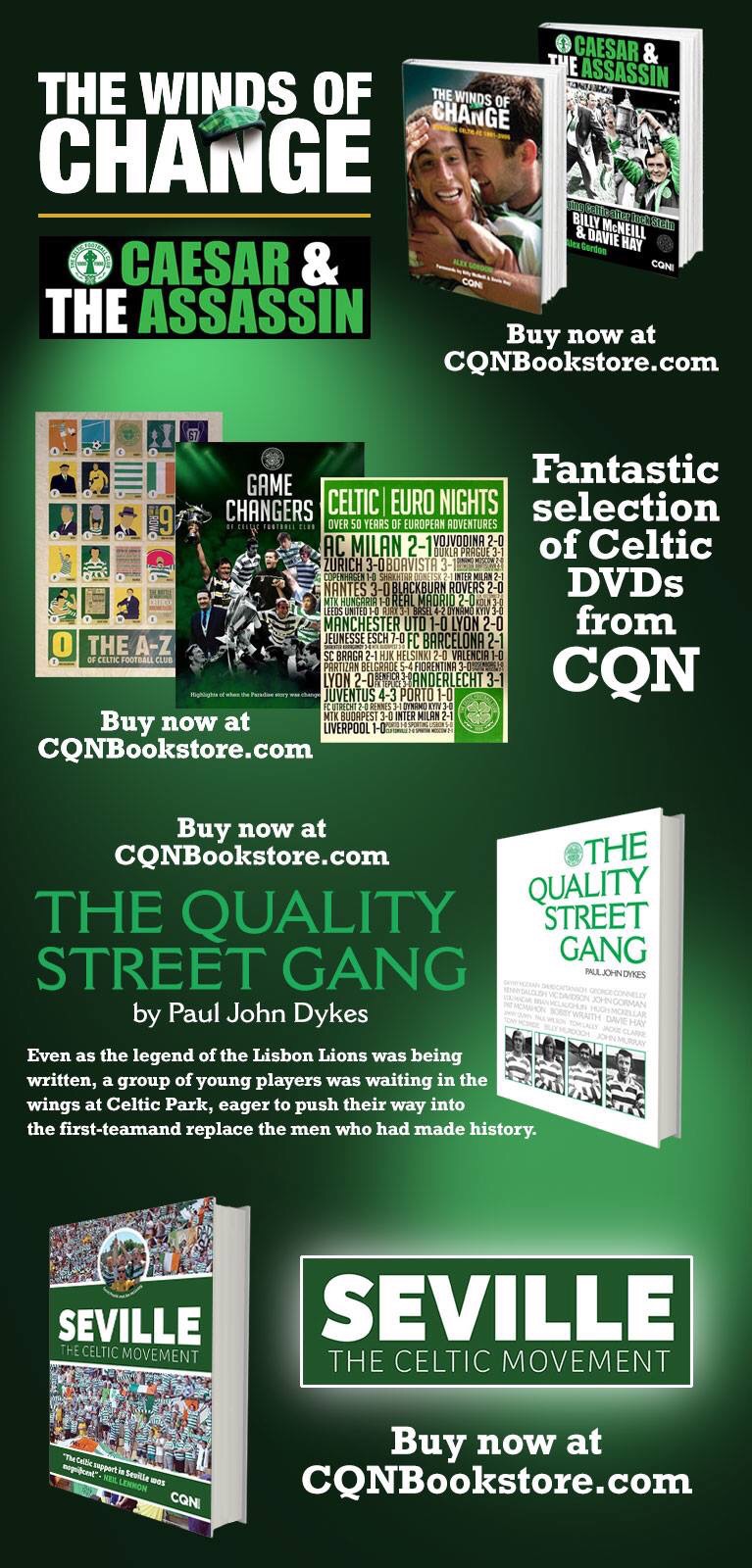 Click Here for Comments >