SIR KENNY DALGLISH celebrates his 72nd birthday today.
The Celtic legend did it all in the game as a player at Parkhead and Liverpool as well as on the international front where he is the nation's joint top scorer with Denis Law on 30 goals after making 102 appearances for Scotland.
CQN today takes a journey back in time to where it all started for Dalglish, who also enjoyed English title success with the Anfield outfit and Blackburn Rovers.
The ball got rolling in a match against Rangers on August 14 1971. And here is how Sir Kenny recalled it in an interview with Celtic author Alex Gordon in his tribute book to club great Billy McNeill, 'In Praise of Caesar', which was published in 2018.
In another CQN EXCLUSIVE, here is the entire chapter in the best-selling publication.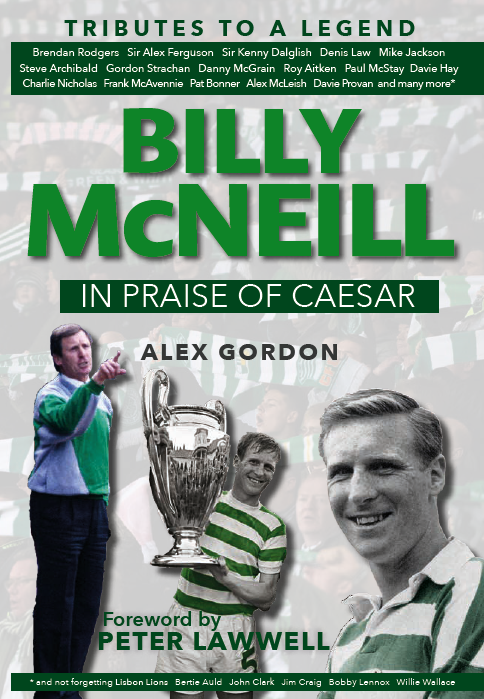 BILLY McNEILL picked up the ball and handed it to me. 'Here, Kenny, you take it.' You could say I was more than a little surprised.
It was the first game of the season, a vitally-important League Cup-tie against Rangers at Ibrox, I was making my Old Firm debut, there was a sell-out all-ticket crowd of 72,500 packed into the ground and we had just been awarded a penalty-kick in the seventieth minute.
John Hughes – 'Big Yogi', to the Celtic fans – had been brought down in the box by their centre-half, Ronnie McKinnon, and referee Bill Mullan immediately pointed to the spot. I didn't think for a moment I would be given the responsibility of having to convert the award. Let's face it, there were a lot of players wearing hooped jerseys with far more experience than me. I'll always remember my immediate response to Billy. 'Get lost,' I said.
It didn't stop Billy from continuing to thrust the ball at me. 'You take them for the reserves,' he insisted.
'Aye,' I said, 'but there are more photographers behind that goal than fans who turn up for reserve games.' Billy was insistent – and I learned that day he was a very difficult customer to argue with.
GOLDEN BHOY…Kenny Dalglish races away from Rangers' Derek Johnstone.
Celtic had guys on the pitch such as Wee Jinky Johnstone, Bobby Murdoch, Big Yogi and Bobby Lennox who were veterans of this fixture, but the Celtic captain chose to entrust me with the kick. What could I do? I placed the ball on the spot and noticed one of my bootlaces had come undone. I knelt down to sort the problem, but I was accused of gamesmanship and attempting to play mind games to unsettle their keeper, Peter McCloy. I hadn't even thought of that. I had a loose bootlace, start and end of story.
I stepped back, looked up and knew exactly where I would place the ball. I struck it sweetly enough with my right foot to the keeper's left, McCloy took off in the opposite direction and the Celtic end behind the goal simply erupted in joy.
We had been leading with a goal from Wee Jinky, scored just three minutes beforehand, and I had just doubled our advantage. We weren't likely to throw away that advantage at the home of our greatest rivals and it was the perfect way to kick off a campaign.
In the midst of all the bedlam of one of these frantic derbies, it didn't occur to me the faith and confidence Billy had shown in me, a twenty-year-old Old Firm rookie who had hardly been a first-team regular the previous season. He really had the courage of his convictions and I will be forever thankful for that.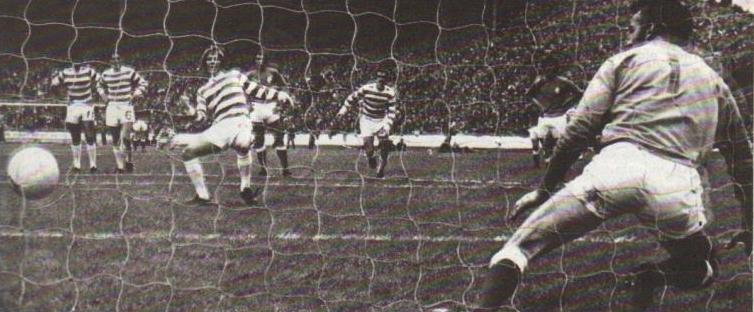 SPOT ON…Kenny Dalglish slots home his memorable penalty-kick against Rangers keeper Peter McCloy.
I suppose I came to most people's attention when I played in a testimonial match for a Kilmarnock stalwart, a big centre-half called Frank Beattie. It was on a May evening at the end of the 1970/71 campaign and a couple of our players, Davie Hay and Jim Brogan, were away on international duty and Wee Jinky was injured. Jock Stein sent a strong team to Rugby Park in recognition of the Killie player's seventeen-year service at the club.
We won 7–2 and I managed to score six goals – Bobby Murdoch got the other – with three coming in an amazing eighteen-minute spell near the end of the second-half. Billy was playing that evening and might have seen something in me. I was fortunate enough to keep my place in the team when we started the new season.
On 31 July 1971, we played a game at Parkhead against Dumbarton in a competition that was known as the Drybrough Cup. We won 5–2 and on this occasion I collected four goals, three coming in eight minutes. Four days later, I hit three in a 4–2 victory over St Johnstone in Perth in the semi-final. We lost 2–1 to Aberdeen at Pittodrie in the Final on a day when Jock Stein went for youth and fielded me, Davie Hay, Vic Davidson, Lou Macari and George Connelly.
OLD FIRM DEBUT BHOY…Kenny Dalglish runs out behind George Connelly with Bobby Murdoch and Davie Hay following on. Colin Jackson is the home player.
A week later came my big moment at Ibrox and, a fortnight later, I was back at the home of Rangers for another League Cup-tie. Parkhead was under construction at the time and Hampden had been seen as the reasonable alternative ground to host the game, but Queen's Park were also getting work done on their ground at the same time, so the Scottish League stepped in and ordered the match to be played in Govan again.
It was goalless at the interval, but I got the opening goal three minutes after the turnaround and Tommy Callaghan and Bobby Lennox added two more as we won convincingly by three goals to nil. Billy McNeill's insistence that I take that penalty-kick had undoubtedly given me a wee boost in confidence.
We knew we had another trip to Ibrox coming up, this time on league business, but before that we hammered Clyde 9–1 at Parkhead where Billy and I both got on the scoresheet. I reckoned he was picking up some hints in the art of finishing! Bobby Murdoch had already scored when I netted in the seventh minute and the Celtic captain added a third shortly afterwards. Poor Clyde. Bobby Lennox added two more before half-time and Big Jock was never one to tell us to take our foot off the gas. Lou Macari, with two, and Tommy Callaghan took the tally to eight before Wee Bobby completed his hat-trick.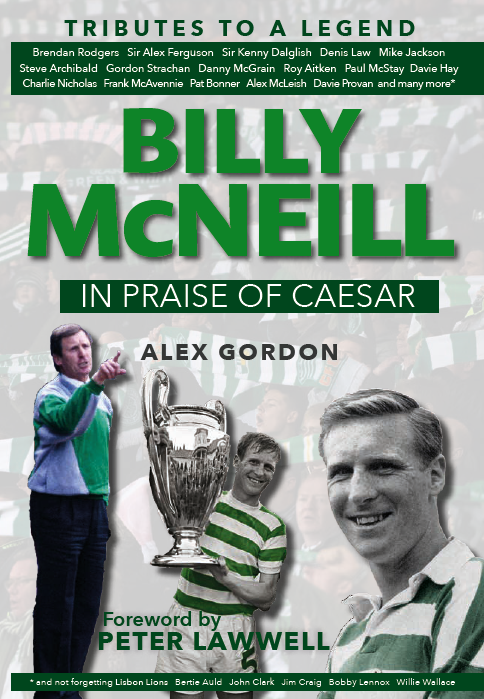 Seven days later, I was trotting out for a third time at Ibrox. As everyone knows, I saw a lot of Rangers when I was a schoolboy and, in fact, my back bedroom looked out on to their training ground. Their South African centre-forward Don Kichenbrand was probably my first hero and I liked players such as Ian McMillan and Jim Baxter; two guys who knew how to pass the ball. But, for whatever reason, there was never any interest from them in me. So, there I was again playing on the pitch and at the stadium I had visited so often. With Big Billy there for inspiration, could I complete the hat-trick?
Remarkably, I did score again as we won the league game 3–2 after trailing 2–1 at half-time. Lou Macari had given us an early lead, but they came back to turn things around. I equalised following a left-wing corner-kick and then I set up the winner a minute from time with a flick into the box that was headed in by Wee Jinky, of all people. Inside the space of a month, I had played three games at Ibrox, won the lot and scored in all of them.
I had heard all about the atmosphere and tension of these derbies. The reserves would mingle with the first team players during the pre-season. Billy might have been the captain of that fantastic team, but he always took an interest in the youngsters. He was never intimidating and was always sympathetic to the cause. Even back then, Billy was an outstanding servant to Celtic, on and off the pitch.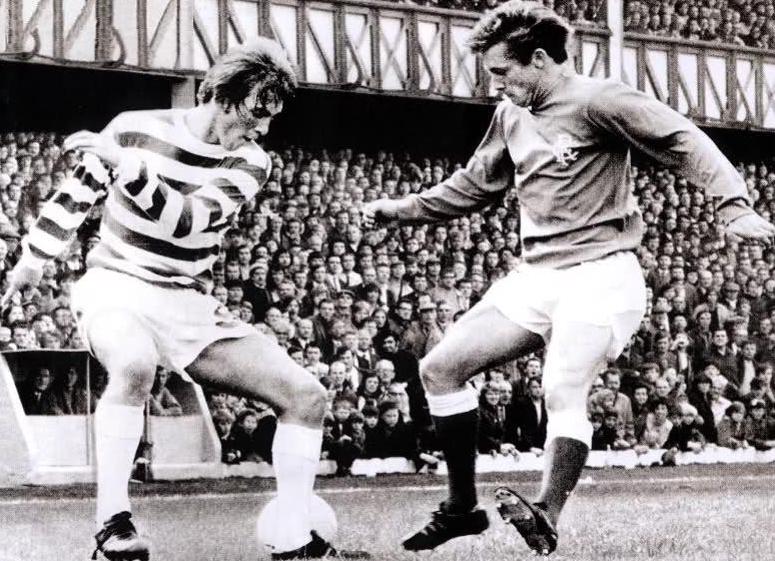 ON THE BALL…Kenny Dalglish tricks Rangers' Willie Johnston.
He did so much for the club that no one would ever hear about. Nor did he look for plaudits. He just went about his business as a thorough professional. For instance, when I lived in Netherlee, on the south side of Glasgow, he would give me a lift to training every day. Wee Bertie Auld also helped out, too, because I didn't have a car at the time. These little things were all hugely appreciated and done without fuss.
My wife Marina and I used to babysit Billy's girls, Libby, Susan, Paula and Carol and son Martyn. We got on well and he could not have been more helpful in so many ways. I was in his car on the day of the Scottish Cup Final against Airdrie in 1975 when he took me by surprise again.
'This is going to be my last game, Kenny,' he said.
'Not before time!,' I joked and then I realised, just like at Ibrox four years earlier, he was deadly serious.
'No, the boots are getting put away after this one. That's it for me.'
Just like that – the end of a glittering era for one of the most famous players in Celtic's history.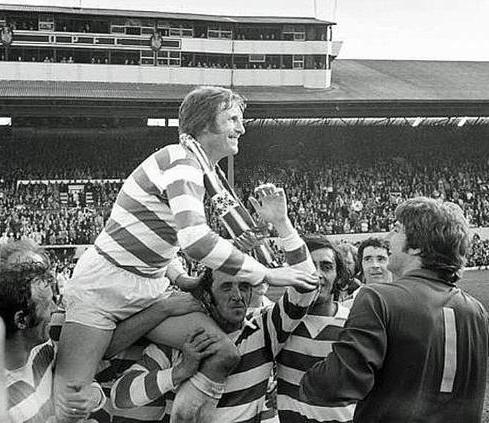 END OF AN ERA…Billy McNeill celebrates the 1975 Scottish Cup Final win over Airdrie – his last appearance for the club.
In that season leading up to the Hampden Final, Billy, at the age of thirty-five, had hardly been injury prone. He missed only six games, with Roddie MacDonald taking over on five occasions and Frank Welsh on one. But it was obvious he had made up his mind and I don't think for a moment it would have been a decision he had made lightly. He would have discussed it fully with his wife Liz and the family. There will have been major factors, of course. The league had been blown and Celtic finished in third place, which would have hurt Billy after winning the title for nine successive years. All these things would have weighed on his mind.
Remarkably, the press never got a whiff of his retirement, everything was kept inside the dressing room. Naturally, there was no one at Celtic who was going to allow Billy McNeill to go out as a loser. Airdrie may not have been one of the game's most glamorous names, but they could make life difficult for you. They were a big, tough team. We were the holders after beating Dundee United 3–0 the previous season, but we all knew strange things could happen in these sort high-profile games.
We didn't require reminding of the afternoon when Billy McNeill was injured and missed the League Cup Final against Partick Thistle. His worth to the team was emphasised again when we lost 4–1 after trailing by four goals at the interval. There was no way we were going to allow Airdrie to stage an unexpected and unwanted action replay.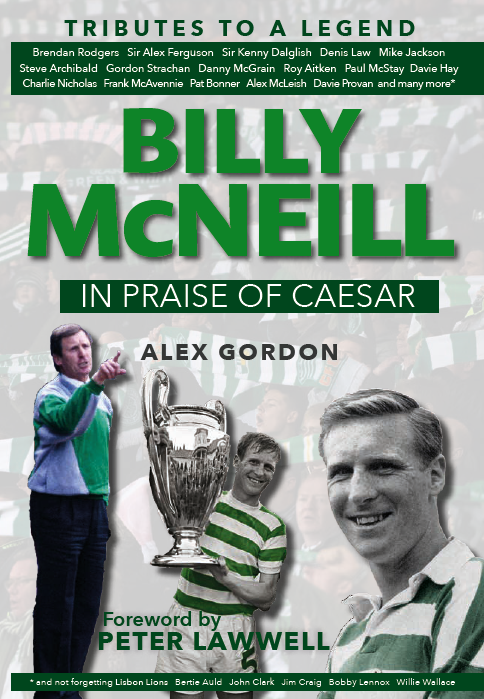 We won 3–1 with two goals from Paul Wilson and a penalty-kick from Pat McCluskey and the only flutter was when Airdrie equalised briefly with a fine effort from Kevin McCann. Billy, as he had done on six other occasions, went up to collect the Scottish Cup.
Amazingly, a decade earlier, Billy had scored the winning goal against Dunfermline to lift the same trophy and end the barren years for Celtic. Somehow it seemed so apt that his last action as a player would be to triumph once again in the competition at the national stadium.
That wasn't the end of the surprises, though. Jock Stein didn't give anyone a hint of who would be Billy's successor as Celtic captain. There were a few contenders, of course. Danny McGrain, for a start. We came back from our summer break and Big Jock summoned me. He was never one to mess about, so he cut to the chase.
'I want you to be the new Celtic captain,' he said. My initial reaction was to say something like, 'What an honour, Boss'. And then you realise the big shoes you have to fill.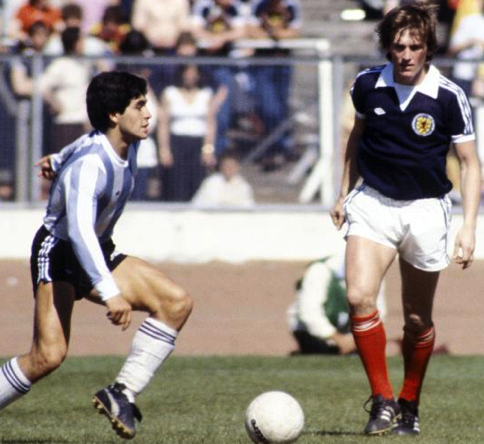 IT TAKES TWO…superstars Diego Maradona and Kenny Dalglish in action at Hampden in 1979.
Somehow, though, it seemed inevitable Billy McNeill would return to Celtic. Although he had businesses to run, it was obvious football – and the only club he had ever played for – were in his blood. After a couple of months at Clyde, he moved to Aberdeen to succeed Ally MacLeod who had taken over as Scotland international manager in time for the 1978 World Cup Finals in Argentina.
Big Jock would have chartered Billy's progress closely. He had left as Celtic's reserve coach to become boss at Dunfermline and then go to Hibs before coming back to Parkhead in March 1965. So, Billy was taking a similar detour back to the east end of Glasgow.
I had joined Liverpool the year before Billy returned to Celtic, but it would have been interesting to play during his reign as manager. I'm sure he would have had a surprise or two for me!
Click Here for Comments >