CELTIC legend Jock Stein made an extraordinary immediate impact on the Parkhead club when he returned as manager in March 1965.
To celebrate the incredible life and times of this remarkable character, CQN are paying tribute to the club's unforgettable ground-breaking leader.
Author Alex Gordon, who has written fifteen books on Celtic with his latest, '50 Flags Plus One', on sale now, has opened his files on the Parkhead great for an EXCLUSIVE twenty-one part series in CQN.
Today, in Part Sixteen of our fascinating look back at these landmark times in the annals of fame at a momentous football club, we continue as Big Jock leads the club into the history books.
CELTIC'S unparalleled and unstoppable odyssey of silverware splendour had begun with a thirteenth-minute goal from Johnny Divers in a 4-0 triumph over Dundee United at Tannadice on August 25 1965.
The ninth successive First Division championship had already been annexed by the time Brian McLaughlin, a second-half substitute for Andy Lynch, exquisitely chipped the ball over Morton keeper Roy Baines in the sixty-seventh minute on the evening of April 30 1974 to nullify a strike from future Celt Mark McGhee to earn the champions a 1-1 draw at Parkhead.
In between Divers' twelve-yard drive on Tayside and McLaughlin's sixteen-yard lob in the east end of Glasgow, Celtic had scored 784 league goals while conceding 231, winning 212 games, drawing 37 and losing 22. They were held in their thirty-fourth league match that season – and 306th in total – against the same opponents at Cappielow in a scoreless stalemate a week later to bring down the curtain on a golden era for Celtic Football Club.
JUST CHAMPION…Kenny Dalglish fires in the title-winner against Falkirk at Brockville.
LAP OF HONOUR…Harry Hood leads the Celtic players as they celebrate their historic nine-in-a-row achievement.
The title was won on April 27 with very little razzamatazz at broken-down Brockville when Jock Stein's side went one over the eight in a 1-1 impasse with Falkirk. It wasn't exactly how a Hollywood director would have arranged the grand occasion, but it got the job done.
Celtic arrived with the burden of a monumental sense of injustice after a European Cup semi-final knock-out from Atletico Madrid, thugs masquerading as footballers, three evenings earlier. They lost 2-0 and no-one outside a corner of the Spanish capital would commit to the belief the victors over two bruising, controversial legs had been the superior set of players. Falkirk, for their part, knew they had to win to dodge relegation for at least another week.
Kirkie Lawson must have thought the miracle was on when he beat Denis Connaghan with only three minutes on the clock. Celtic, understandably, looked tired, but it didn't prevent a moment of sheer genius from Kenny Dalglish to fashion an equaliser in the twentieth minute. Following some delicate weaving and twisting, he carved open a space and from twelve yards made no mistake with an effort that left keeper Ally Donaldson helpless.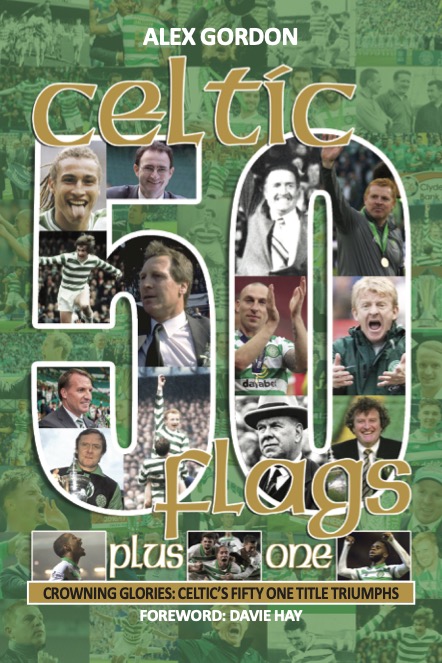 The remaining seventy minutes will not live long in the memory banks of the 14,000 fans who witnessed it that afternoon. Dalglish almost claimed the winner with a wicked drive that came close to demolishing the Falkirk crossbar, but, in the end, Celtic celebrated their ninth successive title and twenty-ninth in their history while the dejected Falkirk displayed remarkable sportsmanship by applauding the feat of their opponents before trooping off with football in the Second Division to look forward to in the new season.
After the Brockville confrontation, Celtic kicked off a mop-up operation to get through their league fixtures and the following Monday they drew 0-0 with Aberdeen at Pittodrie. Twenty-four hours afterwards, Brian McLaughlin got the goal that mattered in the 1-1 draw with Morton. It was the youngster's first league game since being waywardly assaulted by Clyde defender Willie McVie after the unfurling of the eighth league flag at Parkhead on September 8 1973.
Two days after beating Dundee United 3-0 in the Scottish Cup Final with goals from Harry Hood, Steve Murray and Dixie Deans, the final whistle was blown on the season with a goalless tussle at Cappielow.
THE MANAGER AND THE CUP…Jock Stein, watched by physio Bob Rooney, displays the silverware as he steps off the team coach.
Jock Stein declared: "Eventually, it ended as quite an easy win as we defended our title for the eighth time, but it was hard enough during the season for we seemed beset by more problems than usual. We had problems with transfer requests from David Hay and George Connelly, which resolved themselves in some ways.
"We had the problems of an off-form Jimmy Johnstone for far too long during the season. He played in only thirteen league games, just over a third of the fixtures. We had the problems of injuries which face any team during the season. Our list contained some of our most vital key men.
"George Connelly was out with a broken ankle at the end of the season and Danny McGrain was off for a spell then, too. Bobby Lennox missed a chunk of the programme just after the New Year and at a time when we had been scoring freely.
UP FOR THE CUP…Jimmy Johnstone challenges Dundee United keeper Sandy Davie and defender Walter Smith for a high ball in the Scottish Cup Final victory at Hampden.
ON THE RUN…Danny McGrain races away from Dundee United defender Frank Kopel as Steve Murray looks on.
"One of the most satisfactory features in our championship victory was that we took points against the teams that counted. I think at the end of the day that was the difference between ourselves and the rest. The record books show three points from Hibs, four from Rangers, three from Aberdeen, four from Hearts and two from Dundee.
"We did play below par in some games, but we still managed to win or draw in them. When our challengers had a bad game they lost valuable points.
"And, as I think I can modestly say we have proved it, it's relentless consistency that wins league championships. To put beside the league championship trophy, we have the Scottish Cup back again on the sideboard in the Celtic Park boardroom. It was a win that pleased me immensely for I was annoyed at the way we had lost a succession of Finals in knock-out competitions.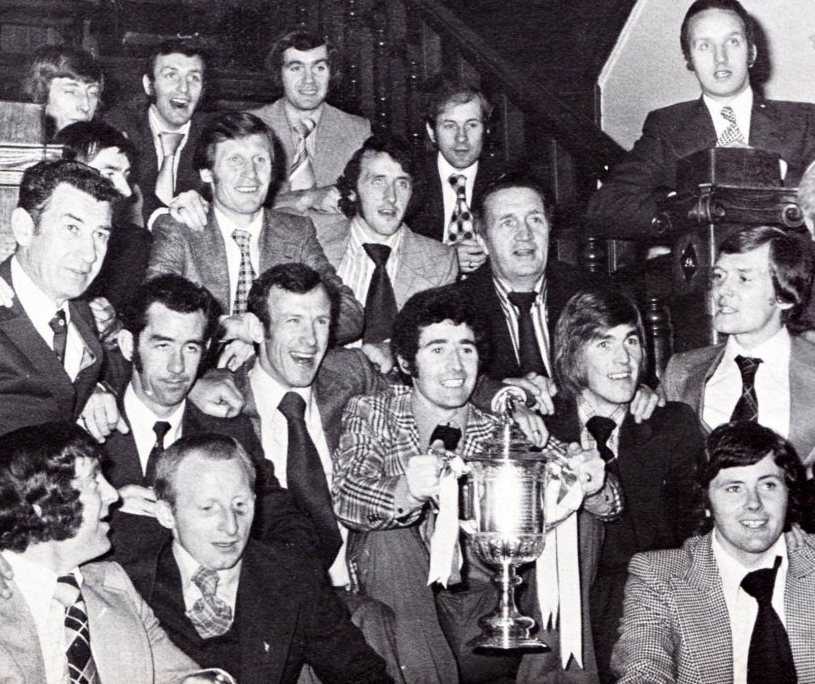 CELTIC CUP PARTY…Jock Stein mixes with the players at the aftermatch celebrations.
"Maybe if I had not been Celtic manager I would have said that it would not have been a bad thing for football if Dundee United had beaten us and the honours had been spread around.
"We had said that before when other teams have knocked us out in the past. This time I wanted to make sure and, because we were properly geared up, there was no chance Dundee United would beat us.
"We did lose in the League Cup Final to a Dundee team who played better than us on the day and deserved their victory on conditions which in my opinion – and another result would not have changed it – were unplayable."
Following a dreary evening's fare in Greenock on Monday, May 4 1974, referee Andy McCririck put his whistle to his lips around 9.15pm to bring a halt to the non-event, no-goal encounter between Morton and Celtic. No-one could have guessed it would be another two years before the league championship would make its way back to Paradise.
* TOMORROW: THE JOCK STEIN YEARS: PART SEVENTEEN: Tough times ahead.
Click Here for Comments >