HAMPDEN, the media were quick to remind Brendan Rodgers, was a ground where Celtic had a bad record. They never said it was a place where Celtic suffered some incredibly bad refereeing decisions that cost the club at least one trophy which meant we had to wait until yesterday to reach the century of honours.
Brendan told them that wasn't his team and now he has been to Hampden twice, has won a semi-final and Final without conceding a goal and in beating Scotland's second best team Aberdeen so comfortably, gave every indication that we'll be back there in April and May looking to add the Scottish Cup as our 102nd trophy, without going bust.
Who, they can ask, is going to stop Celtic?
Here are some highlights from yesterday, photos by Vagelis Georgariou or just Geo for CQN…
SCOTT BROWN lifts the Betfred Cup today, Celtic's 100th Honour. Only Billy McNeill has lifted more trophies as the Celtic skipper. Broonie must be one of the favourites to win the player of the year this season. He has been sensational playing under Brendan Rodgers.
CRAIG GORDON hasn't lost a goal in domestic football sine AUGUST. He is one of the finest goalkeepers ever to have played for our club and has been absolutely outstanding since re-gaining the number 1 slot in September.
MICHAEL LUSTIG jumped the hordings at the end of the match to swap his shirt for this Sweden flag. Last summer he was looking at the end of his time in Glasgow. The club hadn't offered him a new contract and he was looking a faded version of his old self in the second half of last season. The rumour was that he had even sold his home in the West End in preparation for the move back home to Sweden.
How things have changed. He's loving playing for Celtic, has been a star in just about every game and is set to sign a new deal. Looks like the West End isn't going to lose their most famous Swedish resident just yet.
And what about wee Jamesy? For so long the whipping boy among sections of the support he was either injured or off form or both and looked likely to be for the off. He was offered and he refused a new contract but he never really wanted to leave. Brendan Rodgers has made a huge difference to Forrest who was the Cup Final Man of the Match. He terrorised Aberdeen all afternoon in what was his best ever performance as a Celtic player.
Credit to Celtic for having the foresight to hold on to Emilio Izaguirre at the end of last season when everyone – including the player himself – thought that he had said his very emotional goodbyes. The form of young Kieran Tierney was limiting his first team appearances and Izzy just wanted to play football.
Well he came back in the summer – as CQN exclusively revealed at the time – and after waiting on his chance, he's back in the left back position and was absolutely outstanding against Aberdeen. It's a funny old game right enough. Don't be surprised to read about Emilio signing his new contract very soon either.
Great to see Caesar at the game yesterday. Billy McNeill would have loved that amazing tribute to the Lisbon Lions on the 67th minute. A very special tribute and unique to Celtic. We owe so much to our Lisbon Lions.
It is crazy to recall that Brendan admitted he knew very little about Jozo Simunovic as the transfer window was closing in late August and the player was in Italy to discuss a move to Torino. When the Italian club moved the goalposts at the last minute by trying to turn the transfer into a loan deal, the player was told to return to Glasgow.
He took the unusual step of posting a message to the Celtic support on social media saying that he was completely focused on playing for the club. Brendan soon started to work his magic and Jozo has been outstanding at the heart of the Celtic defence. What a block he made against Aberdeen which started the move that saw Celtic take the leas through Tom Rogic.
Moussa Dembele, an unbelievably good bargain buy in the summer for Fulham for only £500,000 – revealed on CQN several days before newspapers lifted our story –  became the first Celtic player to score in every round of the League Cup since a young Charlie Nicholas achieved that feat in 1982.
He is one of the hottest prospects in World football but Moussa is happy playing for Celtic. After the joys of the Champions League – and he wants another crack at that next season – he was at Hampden doing what he does best, scoring.
Then there's Tom Rogic. Willie Wallace told us all about him when he was over for a month with CQN 4 years ago. He said he would be a great player but not yet. Those Lions certainly know a thing or two. Rogic was another who was rumoured to be unhappy and likely to be leaving as last season grinded to a conclusion.
What difference a six months makes working under Brendan Rodgers. Check out that smile!
Leigh Griffiths has had a frustrating time of it this season. In all of Celtic's 100 honours it may be harder to think of a league win when one or two players were so crucial in the winning of the title as last season when Leigh, with 40 goals and young Kieran Tierney with top performances in just about every game, was enough to get is our 5 in a row.
It's maybe no coincidence that these are the two players who have piked up injuries this season that has kept them on the sidelines.
Griffiths has been so professional about not being in the team and you suspect that for the Final he wasn't yet at 100%. He got on in the  last  minute, don't think he touched the ball but he certainly enjoyed lifting the cup. The season is just starting for Griff.
Stuart Armstrong's a bit like Tony Blair – he was never really comfortable on the left wing! Brendan Rodgers has moved him into his favoured central role where he can operate deeper alongside Scott Brown or further forward as a replacement for Tom Rogic. He's now showing why Ronny Deila was so keen to sign him. Another Celt with a big future and a smile on his face, loving life at Paradise under Brendan Rodgers.
And do you know what. Things Can Only Get Better…
Check out the latest books and DVDs at CQNBookstore.com – we have the 50th Anniversary of Lisbon DVD and book, the Official History of Celtic 4 x DVD (It is outstanding) plus Kenny of the Celtic, Hoops Stars and Stripes and much more.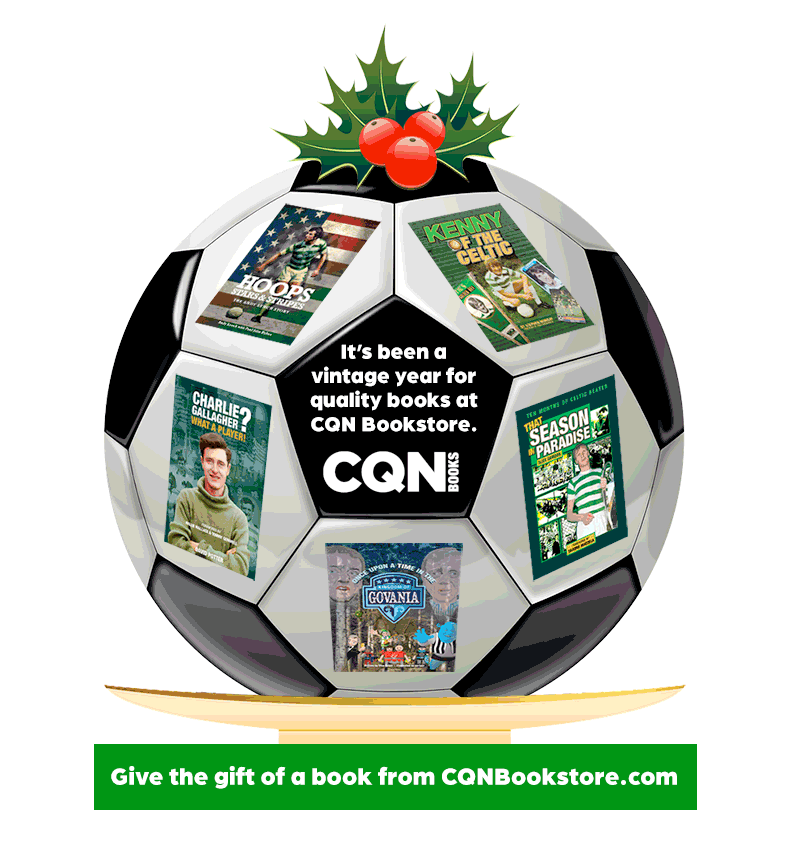 Click Here for Comments >