CHRIS DAVIES arrived at Paradise today and held his first press conference as Celtic's new Assistant Manager.
Chris, who has worked closely with Celtic's new manager Brendan Rodgers over a number of years at both Swansea and Liverpool, joins Celtic from Reading FC where he was first-team coach.
Brendan Rodgers was clearly pleased when announcing that Celtic had appointed Davies as his Assistant, saying: "I am delighted to bring Chris to Celtic, he is a magnificent coach and someone I know will make a hugely positive contribution to the club.
"He is ready and prepared for the challenge at Celtic and I know that Chris, like myself, can't wait to get going next season.
"He has worked with me previously, he is someone I know and trust and he will be a great addition to my team and to the club."
Today we heard more from the former Reading first team coach, who maybe needs some advice on the type of shoes to wear at Parkhead!
He was clearly impressed by the welcome Brendan received a week past on Monday when over 13,000 turned up at Celtic Park to welcome the new boss. Chris said: "Celtic is a massive club and Brendan Rodgers' unveiling last week was sensational. It's a great honour to be here."
Explaining why he's left Reading to take the Assistant Manager's job at Celtic Chris said: "I've worked with Brendan for a long time and as backroom staff we bring a lot of experience to the top level of the game."
 I have a really big interest in the tactical side of the game and to help improve the players individually is where my strength lies."
He also revealed that Brendan Rodgers has sky-high ambitions for Celtic and sees no reason, given the size of the club and no doubt the assurances that have been given by Celtic's major shareholder Dermot Desmond, that Celtic can attract big quality players over the coming period.
"Brendan is open for a challenge. He's a calm person and his temperament is phenomenal. That's why he's able to take a job like this," revealed Davies.
"We know this is one of the biggest clubs in the world and the expectancy is clear. We know we need to win every game."
"I think we can attract quality here at Celtic, big quality. There is no doubt about it."
So what is in store for the Celtic support this season who look like turning up at Paradise in their tens of thousands to return to the era of capacity crowds at Celtic Park?
"To come to this amazing club was a chance I wasn't going to turn down," Chris admitted. "Champions League is a big focus and winning trophies is a must."
The new season is probably the most anticipated one since Martin O'Neill was appointed. It looks like it is going top be special.
Have we signed anyone yet?
Watch this space…
___________________
HURRY to take advantage of CQN's great Father's Day offer. Order the new CHARLIE GALLAGHER book
here
and we will include a copy of The Winds of Change, absolutely FREE.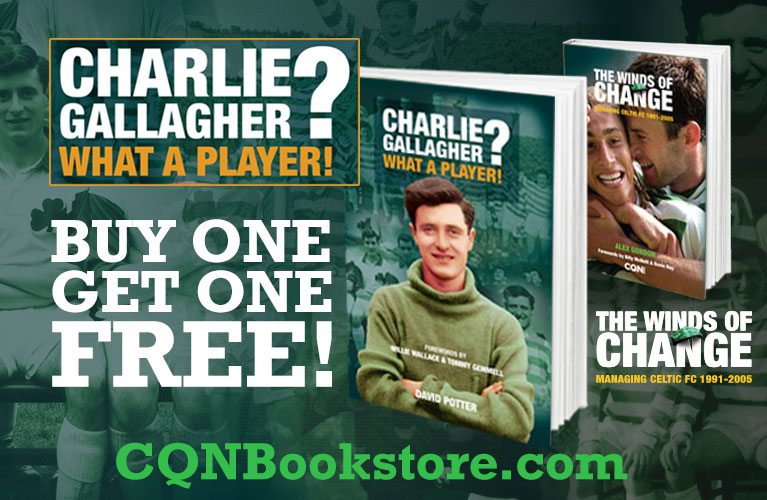 Click Here for Comments >