RONNY DEILA is on his way OUT at Celtic, according to reports from a TV station in his homeland of Norway. However this is being contradicted by BBC Scotland who this morning state that, having checked the Norwegian story with the club, there is no substance to it and no decision has yet been reached ahead of the season's end.
It is however almost impossible to imagine a situation where Ronny Deila will be the Celtic manager beyond the last five league matches in which Celtic are favourites to win Deila's second successive title to add to the previous three won by Neil Lennon.
The Norwegian television station, TV2, last night  claimed the Hoops boss will leave the club at the end of the season when his one-year rolling contract comes to an end.
Sunday's humiliating Scottish Cup semi-final exit on the back of January's League Cup last four loss to Ross County appear to have sealed the 40-year-old's fate.
Deila will still be in place as the Parkhead side zero in on their fifth successive title, but TV2 insist he will not be there as a managerial scramble kicks off with the champions-elect looking for a replacement in the summer. This is practically what CQN has been saying for the last few months so the interesting aspect is that it seems that a leak has come from Ronny's camp as they seek to get his side of the story out there.
Former Everton, Manchester United and Real Sociedad boss Davie Moyes is among the frontrunners although the ex-Celtic defender may prefer to remain in England with relegated Aston Villa a possibility.
Club legend Henrik Larsson admits he is under pressure to keep his job with Swedish side Helsingborgs, who have made a dreadful start to the season.
He was linked with a dramatic return before Deila got the job in June 2014. Larsson said at the time that he didn't think the timing was right.
Roy Keane, currently No.2 to Martin O'Neill with the Republic of Ireland international squad, has also been mentioned.
Like Larsson, he, too, was in the running two years ago, but it is believed he was looking for an enormous transfer budget which led to the Hoops hierarchy switching their interest to Deila.
Lennon, who was at the Hampden to witness the penalty-kick shoot-out shambles, refused to talk about the possibility of coming back to the club he served as manager for four years.
The Irishman pointed out, as CQN reported: "I won't talk about that. There is a manager in charge, so it would be disrespectful to discuss it. You don't want to see anyone lose their job, but he's got a long way to come back now with the fans after this outcome."
Deila won the league and the League Cup last season, but saw the team knocked out of the Scottish Cup by Inverness Caley Thistle. The controversial loss against the Highlanders was the first of a horrendous hat-trick of semi-final failures.
Celtic's lack of progress in Europe will also count against the Norwegian. It looks as though he will say his farewells when the curtain comes down after the game against Motherwell at Parkhead on Sunday, May 15. Hopefully, he can sign off in style with another championship safely delivered.
TV2 also claim that criticism from former players, supporters and a 'bloodthirsty' Scottish tabloid press have also played a part in the demise of Deila.
His agent Tore Pedersen and Celtic have refused to comment on the reports, although the BBC seem to have obtained a denial from the club.
CQN had no further news late last night other than the story we reported yesterday and previously, since around the defeat by Ross County in the League Cup semi-final.
Delia's league record over the to seasons has been more than acceptable in terms of wins ratio, points gained etc. However his record in knock-out cup competitions, both domestically and in European matches, has been woeful. For this, ultimately, he will have to pay a price.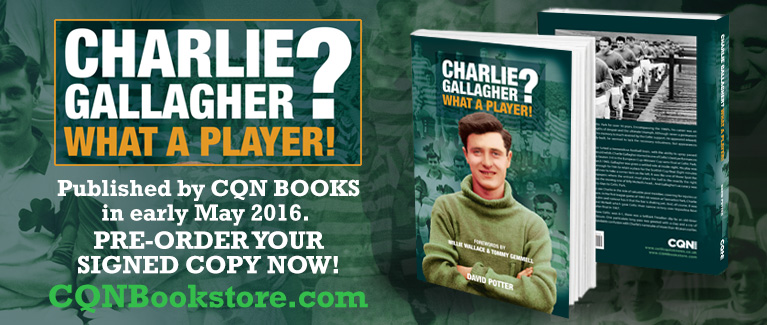 Click Here for Comments >