CHARLIE GALLAGHER was a player at Celtic for over 10 years. Encompassing the 1960's, his career was an eventful one, touching the depths of despair and the ultimate triumph. Although never a permanent fixture in the Celtic first team, his memory is much revered by the Celtic support.
He was signed in 1959 and was one of The Kelly Kids, from whom much was expected. At first sight, he appeared relaxed, laid back and languid. Slightly-built as well, he seemed to lack the necessary robustness. But appearances can be very deceptive. Behind the easy-going exterior lurked a tremendous football brain, with the ability to spray passed which fast-running forwards would relish. He made his first team debut on 22 August 1959 against Raith Rovers at Celtic Park. 
Charlie Gallagher starred in one of Celtic's best performances in years as MTK Budapest were beaten 3-0 in the European Cup-Winners' Cup semi-final at Celtic Park.
Gallagher was extremely creative that night, but a sad combination of tactical naivety and inadequate refereeing led to the return being lost 4-0 to Budapest.
When Jock Stein arrived in March 1965, Gallagher was given a settled role at inside-right. His play was quiet but effective and good enough for him to retain a place for the Scottish Cup final. Eight minutes remained when Charlie trotted over to take a corner kick on the left.
It was like one of those Spot the Ball competitions in the newspapers where the entrant must place the ball in the exactly the right spot. In this case, the target was the moving one of Billy McNeil's head… And Gallagher's accuracy was to signal the return of the glory days to Celtic Park.
The next two seasons were to see Charlie in the role of valuable pool member, covering for injuries or being used as a surprise weapon. In the first league game of 1965-66 season at Tannadice Park, Charlie hit the bar in the first two minutes and rumour has it that the bar is shaking yet. And, of course, it was the action replay from him and McNeill which gave Celtic their narrow victory over Vojvodina Novi Sad in the European Cup quarter-final in 1967.
Charlie's finest year for the club was in 1967-68. It was described as Gallagher's Championship. Bertie Auld was injured and Gallagher took over his midfield role, winning balls and distributing passes for Bobby Lennox and Willie Wallace. Celtic's play in March and April 1968 was as good as has ever been seen in the history of the club, a feature being the number of tricky away games which were own with flair and panache. Rugby Park, Brockville, Morton Park, Tannadice, Tynecastle and Pittodrie were visited and the home sides conquered, only the last-named posing real problems to the Gallagher-inspired Celts.
At Muirton Park, where Celtic won 6-1, there was a brilliant Freudian slip by an old-timer standing near me in the enclosure. One particulate long pass was greeted with a clap and a cry of "Well done, Patsy", an understandable confusion with Charlie's namesake of more than 40 years earlier.
CQN Books this week publishes Charlie's biography, titled CHARLIE GALLAGHER? WHAT A PLAYER!
Written by Celtic historian David Potter this is a valuable account of the career on one of the most gifted players to wear the famous Celtic jersey. Charlie didn't play in Lisbon but played a huge role in getting Celtic there and he provides a fascinating insight into Celtic during those wonderful years when Jock Stein led Celtic to European glory.
These days Charlie is a Celtic supporter and travels on his local CSC bus to the games. He is a hugely popular member of the Celtic family and CQN is delighted to be able to tell Charlie's story and record it in book form as part of our club's history.
CHARLIE GALLAGHER? WHAT A PLAYER! is priced at £14.99 plus P&P and you can order a SIGNED copy from CQN HERE or click on the image below.
Charlie will be on CQN in the next week or so for a Q&A and we will let you know when this is happening.
Thanks to everyone who has already ordered, the books will be sent out as soon as we can get them signed, packaged and away to you regardless of where you are in the world.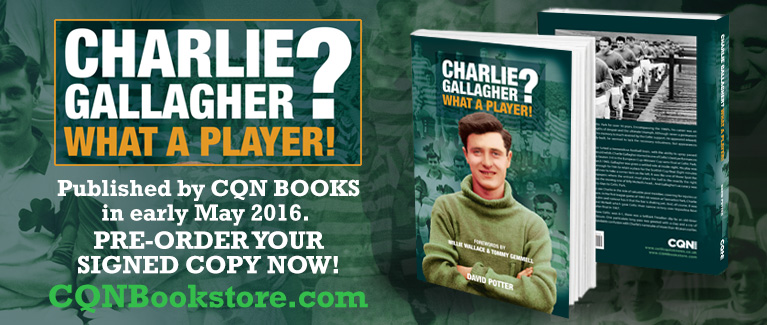 Click Here for Comments >