CELTIC should have been awarded a stonewall penalty-kick at Ibrox yesterday – but, amazingly, there has been absolutely no mention of the incident.
CQN watched the replay of the entire match and spotted the infringement that should have seen Brendan Rodgers' side awarded an undeniable spot-kick.
In the 25th minute, eventual matchwinner Kyogo Furuhashi raced clear into the box onto an astute through ball from Matt O'Riley.
Ibrox was hushed as the Japanese striker took the ball in his stride and sized up the situation with Jack Butland coming off his line. Connor Goldson was also rushing back to cover his keeper with Daizen Maeda offering an option for his team-mate.
ONE…Kyogo Furuhashi is confronted with Jack Butland as Connor Goldson races back.
TWO…Kyogo's shot eludes the keeper, but Goldson slides in to block the ball.
THREE…Kyogo hurtles Butland as the ball breaks loose after Goldson's clearance. 
FOUR…Kyogo is in front of Butland as James Tavernier attempts to clear as Maeda closes in.
FIVE..the ball is cleared as Butland scrambles back into place.
SIX…Butland uses both hands to push Kyogo in the back.
SEVEN…Kyogo tumbles towards the ground after the blatant shove in the back from the keeper.
EIGHT…Kyogo is left sprawling after the push – and, remarkably, no action is taken.
Kyogo slotted the ball under the netminder, but the central defender managed to block the effort. The ball spun clear and James Tavernier, who had caught up with the action, managed to hoof a clearance into the air with Maeda poised to pounce.
At that stage, the keeper scrambled to his feet to get back on his line. Clearly intentional, he used both hands to push Kyogo out of the way.
The Hoops frontman was sent crashing to the turf such was the power of the shove from Butland. There can be no question of a dive.
All eyes were on the ball at the time and, bizarrely, the Ibrox No.1's deliberate push on the Celt went unnoticed.
No blame can be attached to referee Don Robertson or his standside assistant as they would have been following the flight of the ball, but the incident really should have been noticed by the VAR officials.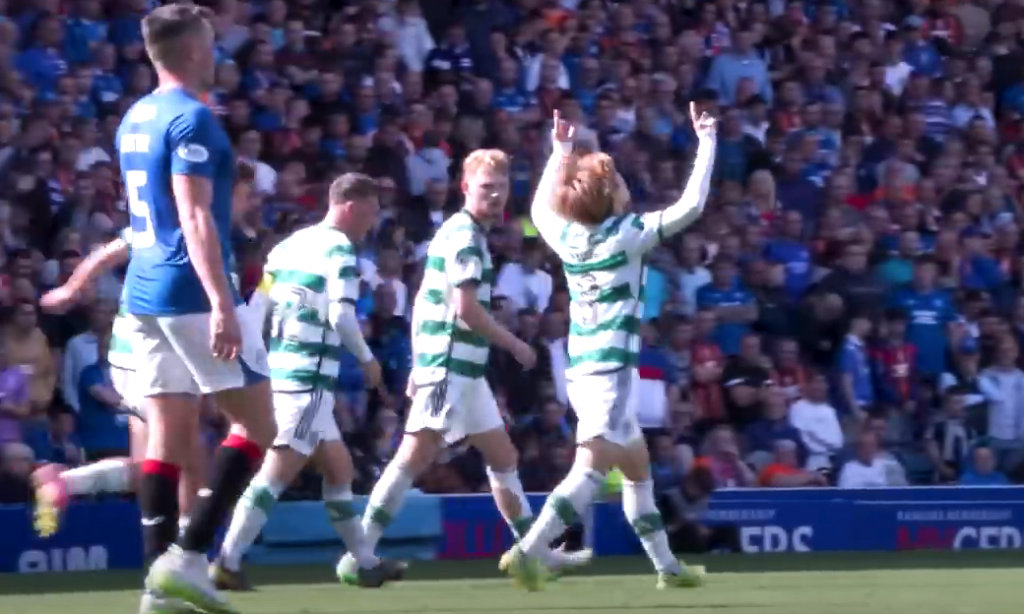 REVENGE…Kyogo celebrates his winner in first-half stoppage-time.
Equally astoundingly, neither Kyogo nor any of his team-mates claimed for a penalty-kick at the time as the game roared on.
It's a clear infringement in the box and the opinion of talking heads on TV sofas is not required.
The home side got away with one.
Check for yourself on 06.05 of the BBC Sportscene link below.
https://www.bbc.co.uk/iplayer/episode/m001q9xx/sportscene-premiership-highlights-202324-03092023
Click Here for Comments >