BOBBY MURDOCH passed away on this date 22 years ago at the age of 56.
In another CQN EXCLUSIVE, we publish the entire chapter of tributes to Celtic's masterful midfielder in Alex Gordon's book, 'The Lisbon Lions: The 40th Anniversary', which was published in 2007.
Poignantly, there are memories from his fellow-European heroes Tommy Gemmell, Billy McNeill, Stevie Chalmers and Bertie Auld who have also passed away since the publication of the tome in honour of Jock Stein's greatest team.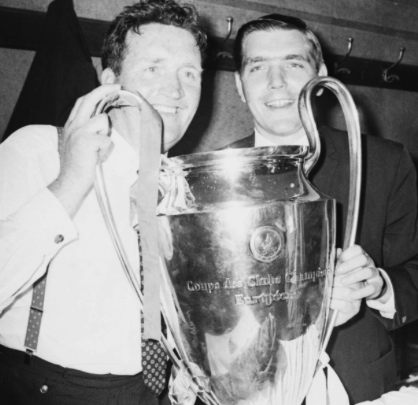 BOBBY MURDOCH went through all sorts of agonies as Celtic gatecrashed the European big-time in Lisbon. Murdoch, thoughtful with a delightful touch as well as possessing a shot of sledgehammer proportions, had his right foot stamped on by a desperate Inter Milan defender early in the game.
The midfielder would later say: "The pain shot right through me. It was probably an accident, but it was a dull one. If there had been outfield substitutes available back then, I might have had to go off. However, as it was, we only had substitute goalkeeper John Fallon on the bench that day. Big Jock told me: "Run it off, Bobby, you'll be fine." As the game progressed towards half-time, I looked down and my right ankle seemed to be twice the size it was at the kick-off.
"People must have wondered why I was favouring my left foot that day. Fortunately, I was two-footed, but my right was undoubtedly the stronger of the two. I even managed to get a couple of left-footed shots on target that day, but both were saved."
BY THE LEFT…Bobby Murdoch slams in a drive as an Inter Milan defender claims offside.
Murdoch's midfield ally Bertie Auld remembers: "I saw Bobby grimace at one point and I asked him what was the matter. He pointed to his right foot and I could clearly see that his ankle was beginning to swell up. I said: "I don't like the look of that, Bobby." "I'm no' too chuffed myself, Bertie," came the reply. What a performance he put in that day on one foot. The Italians got lucky – could you even start to imagine what he would have done to them if he could have used both feet!"
Jim Craig backs up the story: "The fans will always remember that I was the guy who pulled the ball back for Tommy Gemmell to thump in our equaliser. However, I had an even better run and cross before that and this time picked out Bobby. I had seen him leather those sort of balls past the keeper before they had a chance to move.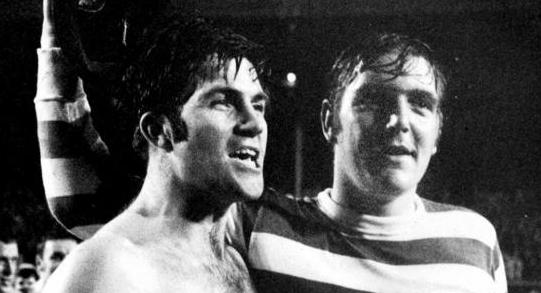 IT TAKES TWO…Celtic's midfield maestros Bertie Auld and Bobby Murdoch.
"On this occasion, though, he allowed the ball to run across him onto his left foot. That gave an Inter Milan defender the opportunity to get at him and, in that split-second, the chance was gone. That was most unlike Bobby, but it does illustrate how uncomfortable he was with his right foot. His display against the Italians was as brave as any I have ever witnessed. Thankfully, he and the rest of us got our reward at the end."
Billy McNeill recalls: "As Bobby said at the time, we didn't have a substitute to cover for him if he had gone off. Listen, there was no way Bobby was going off that day. No chance. He would have played on with his leg hanging off if need be!"
Murdoch's Celtic career got off to a rather bizarre start when, as a 17-year-old who had just returned after being farmed out to local Junior side Cambuslang Rangers, he was told he was making his debut courtesy of an absent-minded team-mate. The teenager didn't expect to get the nod from the-then manager Jimmy McGrory for the first game of the 1961/62 season.
Remarkably, a Celtic player had turned up at the ground WITHOUT his football boots. Suitable replacements couldn't be found and McGrory was forced to pitchfork the young Murdoch into the side. Operating at inside-right, Bobby went out, scored the opening goal in a 3-1 win over Hearts and he hardly looked back after that. Goodness only knows what happened to the colleague who forgot his footwear!
HEAD BHOY…Bobby Murdoch takes to the air, but Inter keeper Giuliano Sarti is alert to the danger.
Murdoch was one of the most unassuming men you could have ever wished to meet. He played down his phenomenal ability and preferred praise to go the way of others.
"I'm not one for fuss," he would often say. But Bobby was a key man with Celtic and rivals noted this. None more so than a representative of Racing Club of Argentina before the ill-fated and bad-tempered World Club Championship Final in 1967.
The South American observed Celtic over a number of games and was clearly impressed by the dynamic and powerful midfielder. When asked about what he thought of the European Cup holders, he said simply: "Murdoch – he is Celtic."
No-one was unduly surprised when Racing Club had a two-man shadow squad on Murdoch throughout the three games. Nor was anyone shocked when they saw Murdoch being kicked very early in the first game at Hampden. Sadly, it was probably seen as some sort of backhanded compliment by the South Americans.
Murdoch, though, still managed to shine in those torrid encounters and Boca Juniors, one of the biggest clubs in the world at that time, were reported to be getting ready to make a massive bid for his services.
In typical Murdoch fashion, he responded: "Ach, I'm no' interested – no way. I'm staying with the club I love. I'm only interested in playing for Celtic." And you just knew that he meant every word of it.
On May 25, 1967 Bobby Murdoch realised a dream. He strode the immaculate surface of the Estadio Nacional in Lisbon with a grace and guile that bewildered Inter Milan. He was in the thick of everything.
Adding his powerful frame to defensive duties, making himself available for passes from the defence, patrolling the middle of the park with Bertie Auld, spraying the ball around with gravity-defying accuracy and plunging into attack to bombard the overworked Sarti in the Italians' goal. All with one good foot!
POWER AND PURPOSE…Bobby Murdoch tangles with Inter Milan winger Mario Corso.
It was a truly memorable performance from the masterful Murdoch. Inter Milan, doyens of their defensive craft, had no answer to the gifted linkman. Inevitably, he was involved in both goals that brought the European Cup to Celtic Park. No surprise, really.
Murdoch, never gifted with electrifying pace, was playing in the old inside-right position when Stein arrived in 1965. His ability to hit devastating, defence-shredding passes wasn't being utilised as much as might have been. His talent for hitting screaming shots at goal wasn't being seen at its best, either, as he often played in packed penalty areas as support to the centre-forward, usually Stevie Chalmers or John Hughes.
Stein, much against the wishes of the-then chairman, Sir Robert Kelly, had the courage of his own convictions to push Murdoch back into a deeper midfield role.
"He is not a wing-half," said Kelly. "You will soon see that he is," countered Stein. The move clicked from day one as Murdoch went onto become one of the greatest-ever Celts and a genuine world class player. Alas, this wonderful personality was taken from us far too early. However, he left each and everyone of us with so many joyous moments to savour and behold.
But if you ever want to witness a midfield player in his absolute prime and doing everything with breathtaking precision, just look again at the European Cup Final of 1967. Bobby Murdoch, with one good foot, was on the greatest platform in football and, to everyone's delight, this wonderful and self-deprecating character played a pivotal role in the club's most famous triumph.

BILLY McNEILL:
Bobby signed for Celtic in 1959, two years after me, and we knew the rough times before Jock Stein arrived. A Cup run was about the best we could manage back then and I don't think we ever made much of an impact in the league. But, like me, Bobby was Celtic through and through. They were the only club for him.
He oozed quality and talent; he was pedigree material alright. Bobby was a first-class team man, too. I recall Jock Stein trying something different before we played a European Cup-tie against AC Milan at Celtic Park in 1969. The first leg had ended goalless in the San Siro Stadium and, naturally, we were in with a smashing chance of reaching the next stage.
Big Jock had noticed, even in their home game, that the AC Milan manager Nereo Rocco, who always reminded of a character straight out of The Godfather, had stuck a man-marker on Bobby. If they were going to carry out that tactic at home, you could be absolutely certain they would repeat it in Glasgow.
Now, the Italians had a marvellous player in their midfield those days called Gianni Rivera. Like Bobby, he was quality. He ran the show for AC Milan, everything seemed to go through him. In actual fact, he was would be right up there among the best players I have ever faced. Big Jock thought it would be interesting to see how AC Milan reacted to Rivera being marked – by Bobby! Now that was a role Bobby had never previously been asked to carry out, but he was more than willing to go along with the experiment. Jock wondered if the guy who was supposed to be sitting on Bobby would still follow him around even if Bobby was refusing to leave the side of Rivera!
So, for about 15 minutes or so, we had the fairly comical sight of Murdoch, his marker and Rivera all situated within yards of each other as the action unfolded. The AC Milan players and their team-mates must have wondered what on earth was going on with this trio. The point is, though, the position was totally alien to Bobby, but he went out and did it to the very best of his ability. Big Jock had reasoned we would nullify their best player while our player was also being nullified, if you see what I mean. Technically, that should mean we are a player up on the deal. Sadly, like a lot of theories it didn't work in practice and they snatched a 1-0 win. Bobby was later released from his chains, but we never got a break that night.
I'm not going to talk about Bobby as a loser, though. No way. Like I said earlier, we had come through the hard times at Celtic, so when we started to win it was paradise, no pun intended. Leagues, Cups, medals – that's what it was all about. It's what Bobby and used to talk about after training in the late Fifties and early Sixties. It was only a dream, but there was no harm in letting your imagination go for a wander every now and again.
The jigsaw came together in Lisbon. No-one played a bigger part in our historic day than Bobby Murdoch.
JIM CRAIG:
Bobby was known as Chopper for most of his career, but he was also called Sam for a spell – and he didn't like it one little bit! We were down at our usual HQ at Seamill on the Ayrshire coast preparing for an important game and Jock Stein set up a training exercise that saw us dribbling round paint pots.
Bobby clattered into a few of these obstacles and sent paint flying all over the place. I recall there was a van parked nearby with the name Sam B. Allison emblazoned on its side. He appeared to be the local painter and decorator. Big Jock laughed; "Hey, Bobby, you've spilled more paint than Sam has in a lifetime." So, Bobby instantly became Sam and the nickname stuck for awhile.
He may not have been able to skip round inanimate objects, but Bobby knew how to get past more orthodox opponents. He had a very graceful, artistic touch. You would sometimes see him going up on his tip-toes, having a wee look around and then arcing a pass about 50 yards or so with uncanny precision.
His shooting power was fairly devastating, too. He had it all. Another thing you might not know about Bobby was that he was a very emotional character. He would cry if we won. He would cry if we lost. He would even cry if we drew. We just cried when he wasn't in the team!
TOMMY GEMMELL:
If Bobby had played in English football around the same time as, say, Billy Bremner at Leeds United, I am sure he would have been hailed as a superstar. As well as being incredibly strong in the tackle, Bobby could repeatedly bring the ball through to set up and score goals.
Yet, when Scottish international squads were being put together, the Leeds United skipper, a superb player in his day it must be said, invariably got the nod over Bobby. Yet my old mate was a lot more creative than wee Billy. I am still of the mind that Bobby never received the recognition he certainly deserved. How many full caps did he win? Twelve! That's a paltry amount for a player who scored over 100 goals for Celtic while playing in midfield. You would have expected a guy with his talent to have won 100 caps never mind score a century of goals.
However, it was so typical of the man that he never once complained. Let me say that all the players at Celtic back then appreciated Bobby Murdoch even if some other people didn't. We were all fortunate to play alongside him.
JOHN CLARK:
I remember Bobby being quite a quiet, even reserved, sort of character. What a transformation when he got out on that football field, though. That was his stage and he revelled in that setting. If you asked me to list his strengths, I would say you might as well cut to the chase and try to detect a flaw. If there were any, I didn't see them and I played alongside him often enough.
Bobby was good with either foot, could shoot from range with equal power and accuracy, could tackle with the best of them and wasn't bad in the air, either. He wasn't the fleetest of foot, but he more than made up for that by his reading of the play. It was actually a pleasure to be on the same pitch as Bobby – especially as he was wearing the same strip as you.
A lot of teams paid him the compliment of sticking markers on him, but they would simply be undone if Bobby spotted an opening and zapped one of his precision passes through it to a lurking colleague. And, if they weren't sticking the ball in the net, he wasn't adverse to coming forward and rectifying the situation himself.
A truly wonderful player and an all-round good guy.
WILLIE WALLACE:
Bobby and Tommy Gemmell were known as the Big Shots in the Lisbon Lions line-up and they both liked to have a crack at goal when they got the opportunity. Big Tommy was electronically judged to have had the hardest shot back then when he clocked 71-miles-per-hour in some radar test set up by a newspaper. Bobby wouldn't have been far off that figure, either.
The thing about Chopper, though, was his ability to flight the ball into top corners. He would shape as if to blast the ball from the edge of the box and defenders would be throwing themselves in the way. At the last moment, though, he would relax, sell them a dummy, and then almost nonchalantly flick a ball goalwards. I recall him doing that exact thing in a league match against Rangers at Celtic Park on September 17, 1966. I was a Hearts player at the time, but I saw the game later that night on television, not realising I would soon be lining up alongside Bobby.
If memory serves correctly, Bertie Auld slammed in the first goal in the opening minute and only a matter of a couple of minutes later, Bobby was about 25 yards out. Again, he took control of the ball, drew back his right foot in his usual manner and then, without breaking stride or taking a second look, simply floated an unsaveable effort high into the top left hand corner. That was typical of the man, though. Sheer class.
STEVIE CHALMERS:
Folk have often asked how I celebrated our European Cup triumph. They always look a wee bit disappointed when I tell them I spent it in an empty hotel with Bobby! Let me hastily explain.
I roomed with Bobby at our rather splendid hotel in Estoril and after the game we both went back and got ready for the specially-prepared banquet with all the UEFA delegates and so on. The beaten Inter Milan players were there, too, but they really looked as though they would have preferred to be somewhere else. Can't blame them.
Anyway, our wives had travelled over to Lisbon and were staying in a different hotel from the players. They were scheduled to travel back that night and Celtic were due to fly into Glasgow the following day. Anyway, after the banquet, Bobby and I saw our wives, said our farewells, wished them a safe journey home and then made our way back to our hotel. After a wee while we decided to get some shut-eye. It had been a long and fairly exhausting day and we knew something special would be waiting for us at home. How special we couldn't possibly have known at the time.
So, we decided to get tucked up in our beds and no sooner had we put our heads on the pillows than there was a banging at our hotel room door. "Hurry up, get up," ordered Jock Stein. "There's been a problem with your wives' plane. The flight's been cancelled. The girls have nowhere to stay. You'll have to give them your beds!"
So, a bleary-eyed Bobby and I dutifully gave up our accommodation for our wives only to find there was no room at the inn for us. And the guys with whom we had made history that same day weren't at all interested in letting us bunk up with them. So, there you have it. Bobby and I were booted out and had an empty hotel to ourselves. I couldn't think of better company.
BERTIE AULD:
I loved playing alongside this boy; he could do everything. He could tackle, he could shoot and he could pass. Everything Bobby Murdoch did was stamped with class and authority. His vision was phenomenal and you would have had to go far to actually meet a nicer bloke.
Bobby's career really took off when Jock Stein came back to the club. He gave the players the licence to go out and tackle, to go for 50/50 balls when, beforehand, the management never used to encourage that. From my own experience I can tell you that you were inclined to get dropped from the team if you got involved in a bit of needle or suchlike. There seemed to be a puritanical presence about the place at the time. Jock, though, believed the game was a contact sport and the ball was there to be won.
The Boss would take his players aside and continually tell us: "Win the battle and you'll win the game." Simple enough words, but the previous management just about frowned on these sort of things. Look, the Lisbon Lions were all good guys, but we knew how to look after ourselves.
Jock gave Bobby the confidence to go into challenges without thinking he might be dropped the following week if he possibly collided with his opponent. Can you imagine that? Big Jock, of course, actively encouraged you to play with adventure, but you're not likely to achieve too much if you haven't got the ball, are you?
Jock Stein gave Bobby Murdoch the freedom to express himself and I don't think the player let anyone down. Ever.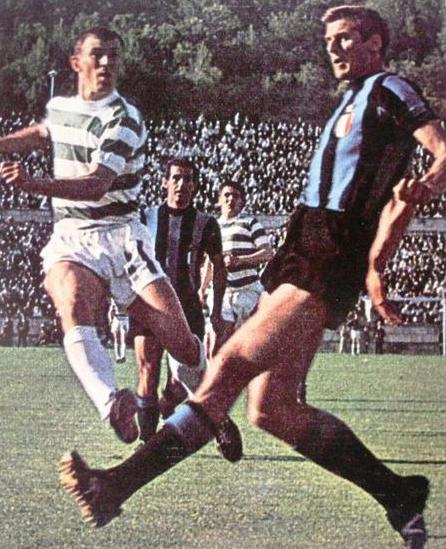 BOBBY LENNOX:
I thought Bobby was Celtic's best player in Lisbon. I can't give him a higher tribute than that, can I? Of course, he had plenty of competition for that honour with my wee pal Jimmy Johnstone, Bertie Auld, Tommy Gemmell and anyone else you care to mention really turning it on that day. But it was Bobby for me; a real 10 out of 10 performance.
He had all the talent in the world and he could also be very aggressive when need be. I mean in a sporting manner, but Bobby was never interested in an opponent trying to boss him around out on the field. That was his domain and he didn't invite anyone in there.
We all know what he contributed against Inter Milan. That, I swear, was one the most selfless displays I have ever seen. He was carrying that injury, but he was still all over the place trying to galvanise the rest of the team. Just ask Big Billy or John Clark. When they got the ball he wanted it immediately. Luggy seemed to have a lot of the ball that day, as I recall. He would do his sweeping up as Inter's rare attacks came to nothing and he would look around for someone to pass to. Bobby was always there.
I am sure Bobby was as happy for me as I was for him when we lifted that European Cup. We had grown up together at Celtic Park. I signed two years after him, but, even as a young man, you could see he was going to go all the way to the top. You can't disguise that sort of quality.
IN WITH A SHOUT…Jock Stein has a word with Inter Milan boss Helenio Herrera before the game.
Click Here for Comments >