MIKEY JOHNSTON hopes to hit the ground running in his efforts to remain in Neil Lennon's first-team plans.
The 20-year-old winger made 23 appearances during his breakthrough campaign, including 11 starts, but knows he can take nothing for granted at Celtic.
Lennon has already told Johnston he expects him to be "more robust" in the new season after being forced to replace him in the 71st minute with Scott Sinclair as the Scottish Cup Final against Hearts was deadlocked at 1-1.
The Scotland Under-21 forward was on the bench when Odsonne Edouard netted the winning goal with eight minutes to play to seal the unprecedented treble treble.
Johnston admitted he cramped up against the Edinburgh outfit leaving his manager with a decision to make.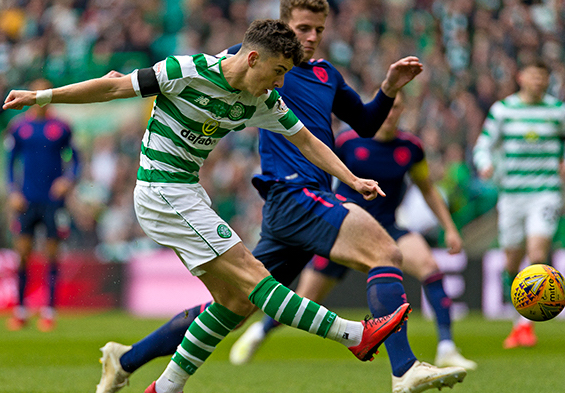 WHAM…Mikey Johnston scores the first of his two goals against Hearts in the final league gmae of the season.
That is why he headed the words of the Hoops boss during the summer to hire a fitness guru.
The youngster, who scored five goals during the historic term, worked with specialist Hugh Watson, who was
recommended to him by formerParkhead and Scotland star Shaun Maloney.
And he admitted he can feel the difference as the team prepare to face a potential eight-game journey to the Champions League groups through July and August.
As he got ready for Tuesday's opening qualifier against FK Sarajevo in Bosnia, Johnston, speaking to the Sunday Mail, said: "The main thing with pre-season is getting your fitness and I'm feeling good in that respect.
"When you're transitioning from youth football into first-team football, the
intensity is a lot higher and it is a wee bit harder to last the 90 minutes.
"I used to manage games at youth level and I want to able to do that now, play 90 minutes at first-team level every week.
"So, I've been working really hard in training and over the summer.
"I've been working with Hugh and I've come back again flying, feeling like I was really fit.
"You do have to take into account the games I'm playing in now.
"The week before the Scottish Cup Final, I played 90 minutes against Hearts.
"It was the same team we were playing in the Final, the same game, but I've cramped up.
THE JUGGLER…Mikey Johnston displays his tricks in the Scottish Cup Final.
"Maybe because it's a bigger game and the adrenaline is going. It could be that."
He added: "I was away on holiday but was doing stuff every day while I was there, then I met my fitness coach when I was back for a couple of sessions.
"Most people do it now – it's just what you must do at this level.
"You don't get much of a holiday in football, anyway, and that's what you need to do if you want to come back in flying.
"At a club like Celtic, that's what
everyone has to do. You don't get a lot of time off and you're into big European games right away.
"Shaun actually recommended Hugh to me – he used him a lot when he was at the club. I still text Shaun now and then because he always has good advice for me.
"I always like to listen to people who have a lot of experience."
Click Here for Comments >