THE despicable fire bomb attack of Peter Lawwell's home could have far-reaching repercussions for Celtic.
Hoops legend Chris Sutton hopes the shocking incident yesterday morning, as reported in CQN, does not force top managers and players to rethink coming to Glasgow.
The Celtic chief executive, 61, had to flee the property with his family, including his four-month-old granddaughter, after the shameful and sickening occurrence which is now under investigation by the police authorities.
Sutton was Martin O'Neill's first signing for the Parkhead side in the summer of 2000 when he agreed a £6million switch from Chelsea to spearhead the Irishman's revamp of the team that had toiled the previous season and had limped in 21 points adrift of Dick Advocaat's Rangers.
The one-time England international striker asked: "Would the terrible thing that happened to Peter put off someone coming up here?
"That would be for the individual to decide for himself. When I came up in 2000, I was aware of the rivalry to an extent and for the most part in the five-and-a-half years I was there, I enjoyed the back and forth between the fans. But there were always moments when people overstepped the mark.
"Over the piece, it is a brilliant city and you're hoping that incidents like this don't dissuade top managers and top players to come up to Scotland.
"But the image this is portraying is not good. I've had friends down south texting me this morning about the attack on Peter Lawwell's house saying: 'What on earth is going on up there?'
"It's shameful. It's giving Glasgow a terrible reputation."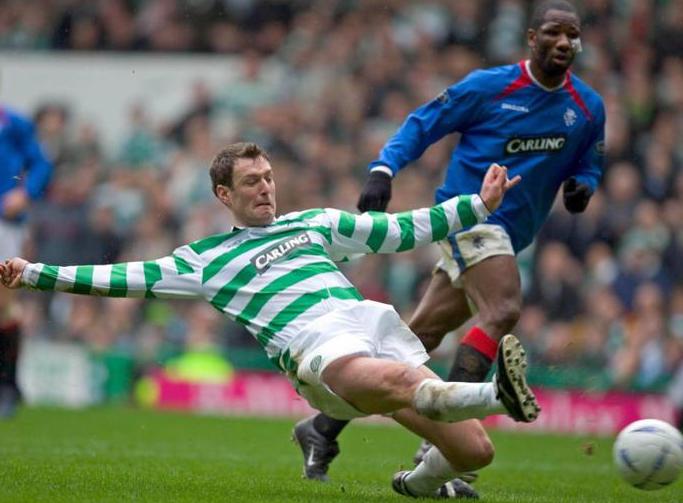 HITMAN…Chris Sutton stretches to score against Rangers with Marvin Andrews looking on helplessly.
Sutton, speaking to the Daily Record, added: "This is the work of a couple of idiots, probably. And it's not about the club they support – it's about personal responsibility.
"I just don't understand what goes through somebody's mind to do that.
"How would they feel if their own families were subjected to such a terrifying ordeal? They'd be outraged.
"Thankfully, nobody was hurt, but the consequences of the action taken by whoever carried out this attack could have been horrific. It's bad enough with the damage to vehicles and the residence, as well as the trauma to the people inside the house.
"He's had to put up with a lot over the years, but this is just a different level of unacceptability. It's just wrong and I hope he and his family are alright."
A spokesperson for the SPFL said: "Every decent football fan will unite in absolute condemnation of the thugs responsible for this cowardly act.
"It's difficult for normal, civilised people to comprehend the mindset of those who would plan and execute such a horrific crime. The consequences for Peter and his family could have been far worse and our thoughts go out to them as they deal with the aftermath of this awful, premeditated attack."
Click Here for Comments >