CHRIS SUTTON spent five years alongside Martin O'Neill after joining Celtic in a £6million switch from Chelsea in the summer of 2000.
There appeared to be a bond between the former England international striker and the Irish manager from day one when he became his first signing.
Sutton agreed a contract extension in April 2004, but O'Neill abruptly left the club at the completion of the following campaign to open the door for the introduction of Gordon Strachan as the new Celtic boss.
The double-act got off to the worst possible start when the frontman suffered a broken cheekbone in a collision with a team-mate in the 5-0 collapse against Artmedia Bratislava in the Champions League qualifier – at that time the club's heaviest defeat in European competition.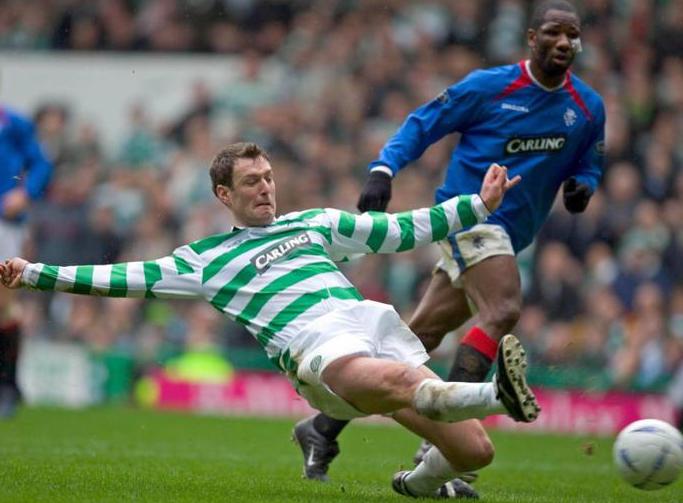 S-T-R-E-T-C-H…Chris Sutton slides in front of Ibrox defender Marvin Andrews.
Sutton had to watch the second leg from the Parkhead stand and John Hartson led the line in a 4-0 victory with that fifth goal proving elusive that would have taken the tie to extra-time.
If the popular Englishman, a fans' favourite in the east end of Glasgow, had been disappointed that evening, it was nothing to what he was about to experience as he headed for the exit.
Sutton admitted: "I never wanted to leave Celtic. Not even when Strachan came in.
"I was happy carrying on. New ideas, new methods, that's fine. I didn't necessarily have an issue with Gordon up until the first day.
"I injured my cheek, it was a bad injury. My vision was impaired. We had a disagreement about that. He didn't really bother his backside with me and didn't speak to me much. I was angry with him."
STRAIGHT TO THE POINT…Chris Sutton tells it like it is.
Forty-nine-year-old Sutton, speaking in a past interview with Open Goal, added: "I was sitting upstairs one day and he was talking to me, he started to try and joke. I just ignored him and carried on eating my soup.
"Then we had a conversation in his office. He asked what that was all about and that ignoring him wasn't on. I told him he ignored me for six weeks. He said he called me. We agreed to disagree because he didn't call me. We got on and it was fine after that.
"Then he pulled me in before Christmas and said he wanted to change the terms of my contract. I said: 'If you want me leave, I'll leav, but if you want me to stay those are the terms'.
"He said I'd been injured a lot. There wasn't a lot I could do about that. In the end, we fell out. I didn't want to leave and I felt I was wronged in that instance. I didn't want to leave Celtic."
However, Sutton agreed a move to Birmingham City as a free agent in January 2006 and scored one goal in 11 outings.
He was released at the end of the season and reunited with former gaffer O'Neill at Aston Villa in October. Unfortunately, after only one goal in nine appearances, a recurring eye problem forced him to retire from playing at the age of 33.
Sutton made a surprise return for Wrexham in October 2012 as a one-off outing before finally hanging up his boots.
Click Here for Comments >