The count of how many times I've heard "I hope we don't take the foot off the pedal like we did last year" has reached double figures. This is never a good sign. Football games, against any level of opponent, need to planned for and respected.
During last season's League Cup semi-final, Celtic went two goals up early on, then made 100% sure the result would never be in danger by denying Newco even an attempt at goal (the match stats recorded one attempt, which was actually a wayward cross from a free kick). Compare and contrast with Borussia Dortmund's two goal advantages last night. While I'd love to score a barrel-load, winning the game is all that really matters.
We have seen enough Celtic teams dominate possession in Europe against less-resourced teams only to lose to the sucker punch. This has been a harsh lesson, which I hope has been learned.
I doubt many of us know what to expect from Newco. They won the Championship but this season didn't have to contend with vastly superior Hearts team. They are also in the semi-final because they thumped Premiership Dundee 4-0 at Ibrox, which is a huge result for any lower league team (we've failed to score twice against Dundee recently).
All my "Rangers" supporting pals tell me they are hopeless at defending, so there's a decent possibility they will defend deeply and play on the break – just as several others have done effectively against us this season. We're going to have a lot of possession in the final third, but Scott Brown and Nir Bitton will need to offer a lot of defensive cover.
Most of all, we'll need discipline. There's a red card winging its way to the first Celtic player to stare at an opponent in a rash manner. The First Minister will probably get involved too, so be prepared.
Did you read Walter "dare I say it, 10 in a row" Smith? What a man to have in your corner days before a big game. He'll have them thinking it's 1957 all over again!
———————————
Charlie Gallagher! What a Player! is the new book by Celtic historian David Potter, published by CQN Books at the end of the month. Order your signed copy HERE or click on the image below.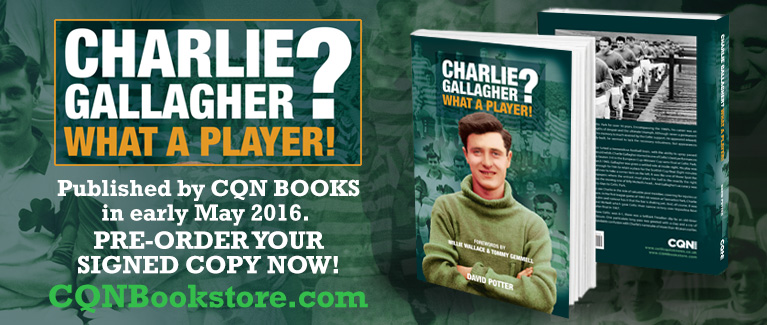 Click Here for Comments >