BRENDAN RODGERS kissed and made up very publicly last night with Leigh Griffiths and even gave his temperamental striker a wee kiss on the cheek in-front of the away support at the end of last night's match at Firhill.
Celtic were coasting to victory, already 3 goals ahead and looking for more when Rodgers, taking no chances with his only fit striker, once agin substituted the player. But Leigh Griffiths, who has had to endure a frustrating season interrupted by injury, was less than impressed.
With echoes of Kris Commons in Norway, which signaled the beginning of the end for the former Celtic talisman, who himself will leave the club at the  end of the month, the incident will be the first real test of Rodgers' man management when a player shows dissent.
And Rodgers will illustrate that it isn't Ronny Deila or John Collins that is handling the situation this time around.
"Yeah, I think for a wee minute he just lost his show of selflessness for the team," Rodgers said.
"He's a good kid, he's a good boy, all strikers they want to play 90 minutes, but for me it's about the team.
"I'm looking to protect him, protect Boyata, protect some of the other players who haven't played tonight, in order to make sure this team is successful.
"But he's a good boy, a good lad, so we move on."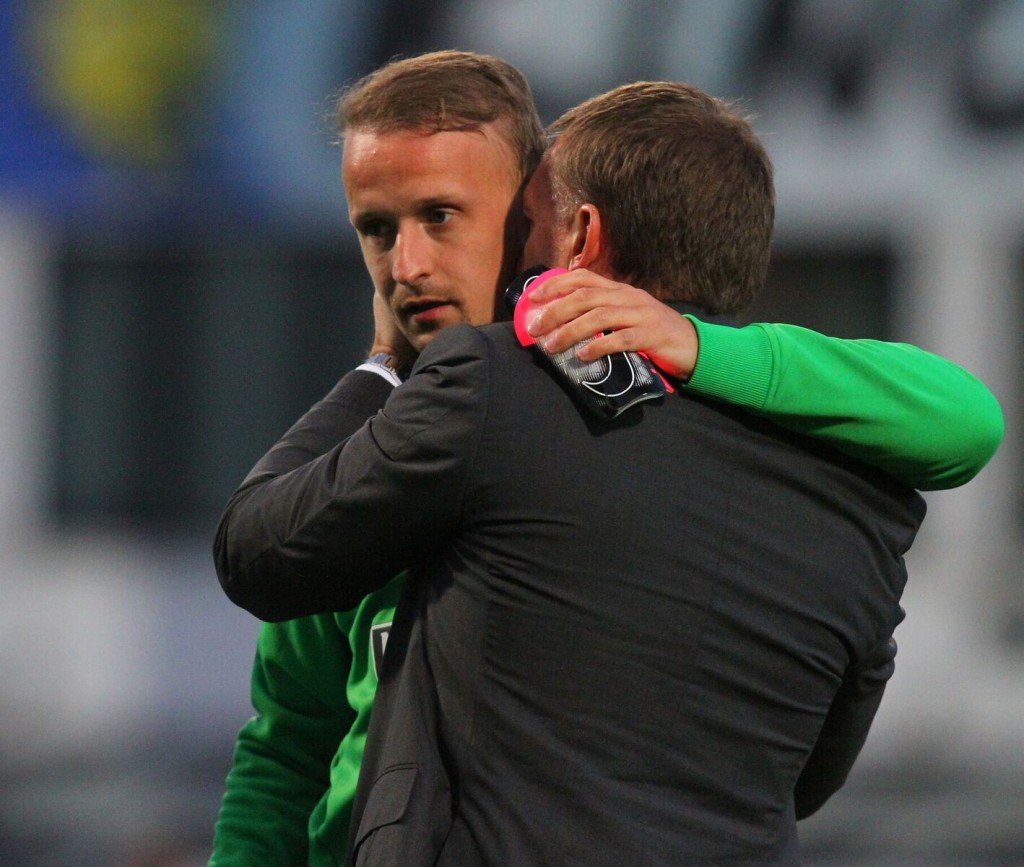 Apparently ex-Celtic striker Andy Walker said on Sky that the incident could put Griffiths' Cup Final place at risk. The Sky co-commentator said:
"That's him just put his Cup Final place in jeopardy."
That seems highly unlikely. It looked to the support that Rodgers withdrew Boyata, who was outstanding, and then Griffiths with the Cup Final in mind.
Boyata is a first choice in central defence and Griffiths is currently the ONLY choice as the lead striker.
Moussa Dembele, if he has recovered sufficiently to be considered, is likely to make the bench, not the starting eleven.
Surely Griffiths could have figured this out for himself?
For the support at the match, there was a clear view of the incident given that the entire Celtic support at Firhill was opposite the dug-outs.
One CQN'er just back from the game had this to say:
"Just watching the recording of the game, fast forward to the substitution, Griffiths comes off, first issue, no eye contact with Sinclair and the high five is very half hearted. I don't think those two get on. They don't necessarily need to.
"Then Leigh has a word with Bren, Brendan is absolutely fuming and tells LG to sit down, LG persists, you can tell Brendan is seriously unimpressed. Brendan is big on respect, i was at a function where he spoke, there were a few drunkards at the back being a bit noisy. He was not impressed with them at all.
"Brendan has boxed clever at the end by hugging Leigh in front of the cameras. However, Leigh will get an absolute rocket behind the scenes.
Trust me, he will never pull a stunt like that again.
"If he does his Celtic career will be over.
"Leigh is fans favourite, he knows it and milks it, rightly so.
But he should be under no illusions, Brendan wont care about that one bit. Leigh Griffiths only needs to look at Izzy and Gamboa if he wants to understand what being a team player is all about."
Remarkably this is the second major talking point in successive games occurring as Leigh Griffiths is being substituted. At Pittodrie a week ago he was booked for pulling up his socks as he walked off the park. The referee ran over to issue the card after he had reached the Celtic dug-out.
Celtic play Hearts on Sunday at Celtic Park. The visitors will be without their American striker Bjorn Johnsen. The player and the Hearts boss Ian Cathro had a half time altercation in the tunnel on Wednesday night as tensions spilled over due to Hearts' abysmal form.
The pair had to be separated as the players headed for the dressing room and Johnsen was immediately substituted. His future at Hearts is now in doubt.
Our advice for Leigh Griffiths, a player every Celtic fan adores, is to head straight into the manager's office at Lennoxtown this morning with a six pack of Tunnock's teacakes in hand, offer apologies, eat some humble pie and get on with winning the next two games.
Your moment wasn't late in a game at Firhill that was already won.
It's at Hampden.
50 years ago Willie Wallace scored twice to beat Aberdeen.
Leigh, you do the same and the support will be talking about the Leigh Griffiths goals in the Cup Final a half century from now.
Click Here for Comments >