AFTER MOTHERWELL'S bluster in defeat the reality is a little clearer this afternoon surrounding the two controversial incidents in the Betfred Cup Final. Both involved Motherwell's central defender Cedric Kipre.
After ten minutes he went into a tackle on Celtic striker Moussa Dembele who later noted that he could have lost a leg in this incident. Craig Thomson kept his card in his pocket.
Then later in the game Kipre, beaten for pace by Scotty Sinclair, used his arm to unbalance and impede the Celtic forward who was otherwise through on goal.
Celtic fans in the North stand got a perfect view and knew it was a penalty but the TV pundits and the newspaper hacks in the South Stand reckoned otherwise. The Motherwell manager even said there was no contact.
No contact equals a dive. Sinclair, who was recently denied a stonewaller against Hibs because he tried to stay on his feet, this time took the hint.
So we know all that. Words were spoken and written about all of this yesterday. Today it isn't words, it's actions. They speak louder.
Celtic have revealed that Demeble is suffering from ankle injury from the shocking Kipre challenge that will rule him out of tomorrow night's visit to Fir Park and the weekend fixture, again against Motherwell, at Celtic Park on Saturday.
The striker is struggling to make the vital Europa League decider against Anderlecht next midweek too.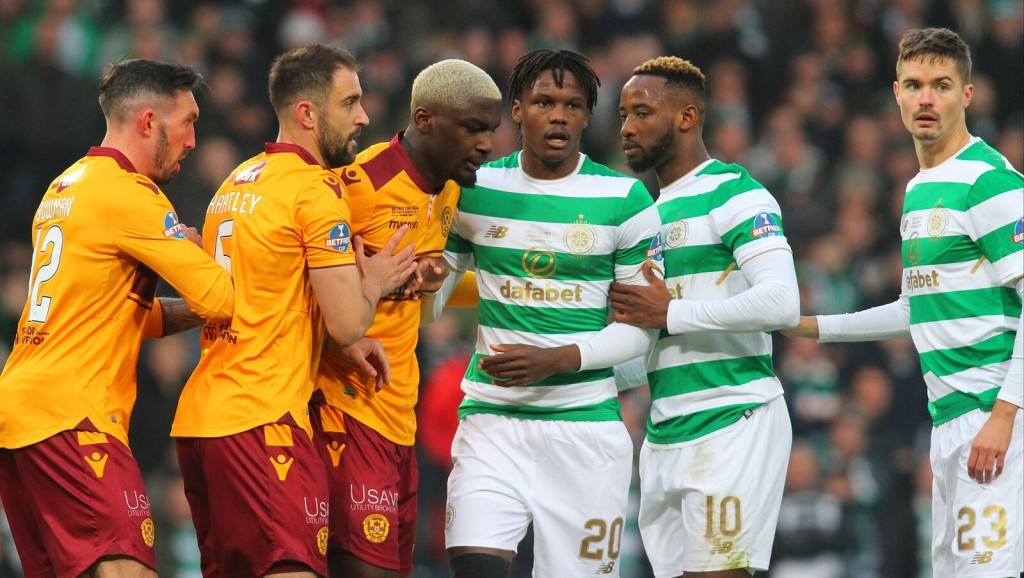 The Compliance officer at the SFA waited patiently yesterday for the 3pm deadline. Having read the bluster form the losing side at Hampden he would have expected an appeal against the red card that Kipre belatedly did receive in the game. After all Sinclair wasn;t touched was he?
This time in-actions spoke louder than the Motherwell words. No appeal was lodged.
And the Compliance officer has NOT cited Scotty Sinclair. Had he thought that he dived with no contact from the Motherwell player then he almost certainly would have issued the player with the option of accepting a two match ban.
That didn't happen, the uncomfortable truth is that it WAS a penalty and the player, as the rules stand, got a justified red card.
It seemed a harsh rule when Efe Ambrose got send off against Ross County in the semi-final of this competition a few years ago and it was only less harsh on Kipre given his first 'leg-breaker' challenge on Dembele.
Today the damage done by that horrible tackle was revealed when Celtic assistant manager Chris Davies spoke about the incident.
"Moussa's got a bad knock and twist of the ankle. Thankfully it's not what it could have been, which is a long-term one. He was limping around after it. The more you watch it back in the replays, the worse it gets. He is, luckily, quite robust physically and he got away with it.
"It's likely he will be out for the weekend.
"We will just have to see how he responds. Obviously it's swollen and sore. We will find out in the next few days."
"We will just have to see how it goes," the Assistant manager said.
"It's quite difficult to tell when it's 48-72 hours after that kind of injury, that twist and contact. We will just have to see but hopefully he will be available for that."
Leigh Griffiths will lead the line tomorrow and on Saturday. Anderlecht will have to wait and see which goalscorer they will be up against.
ORDER YOUR SIGNED COPY OF JIM CRAIG – RIGHT BACK TO 67, A LISBON LION DIARY TODAY!

Click Here for Comments >