FORMER Fulham boss Kit Symons has backed Moussa Dembele to be a scoring sensation at Celtic.
The 19-year-old French striker agreed a four-year deal with the champions on Tuesday after his contract with the Craven Cottage outfit expired.
They will share £500,000 in a compensation fee with his original club Paris Saint German whom he left as a 16-year-old for the London side.
Symons, who was sacked in November after just over a year in charge, said: "Moussa came in from PSG and made an initial impact in the youth team.
"Even then he was a strong lad in his age group with pace and power. He scored a shed load of goals at youth level and looked a real threat and a real player.
"If anything, it was probably a little bit too easy for him within his own age group.
"I was manager of the Under-18s and the Under-21s at Fulham and he pretty much missed out on the 21s. He went straight from the youth team to the senior group and that was because he was able to deal with all the demands of men's football."
Despite Fulham's struggles near the bottom of the Championship, Dembele scored 17 goals and ranked among the top 10 strikers in the division. He was five years younger than any other player who reached double figures in the division.
Symons added: "He made that step up really comfortably. It was quite obvious that he'd need to be tested and pushed a little bit.
"Physically, he could handle it without any problem whatsoever. Now it's just a case of him pushing himself to kick on.
"He had a few opportunities before I took over and then I played him regularly. That's because I knew him and how to manage him. He needed a little rocket here and there and a cuddle at other times to bring the best out of him.
"Moussa's a quiet lad off the pitch, but he's got an air of arrogance, too – which is what you want from a striker.
"If you look at his attributes as a player, he's got everything that the top teams are looking for.
"He's got pace and he's a threat over the top, but he's also got the power and strength to play as a lone striker and hold the ball up.
"He can play as a one or in a two and he scores goals. Everything is geared up for him to be a top footballer."
——————————
ONCE UPON A TIME IN THE KINGDOM OF GOVANIA
Let's all laugh at Rangers, let's all laugh at Sevco…the story of the two Ibrox clubs told brilliantly by CQN poster Mea Culpa and illustrated by Cartuja. This is a fantasy story book for grown-ups and is the funniest thing you will read all year!
Once Upon a Time in the KINGdom of Govania is an Escape Goat Production for Celtic Quick News and Internet Bampots.
Available to order now exclusively from 
www.cqnbookstore.com 
– copies arrive this Friday! If you're going on holiday soon take this to read on the beach…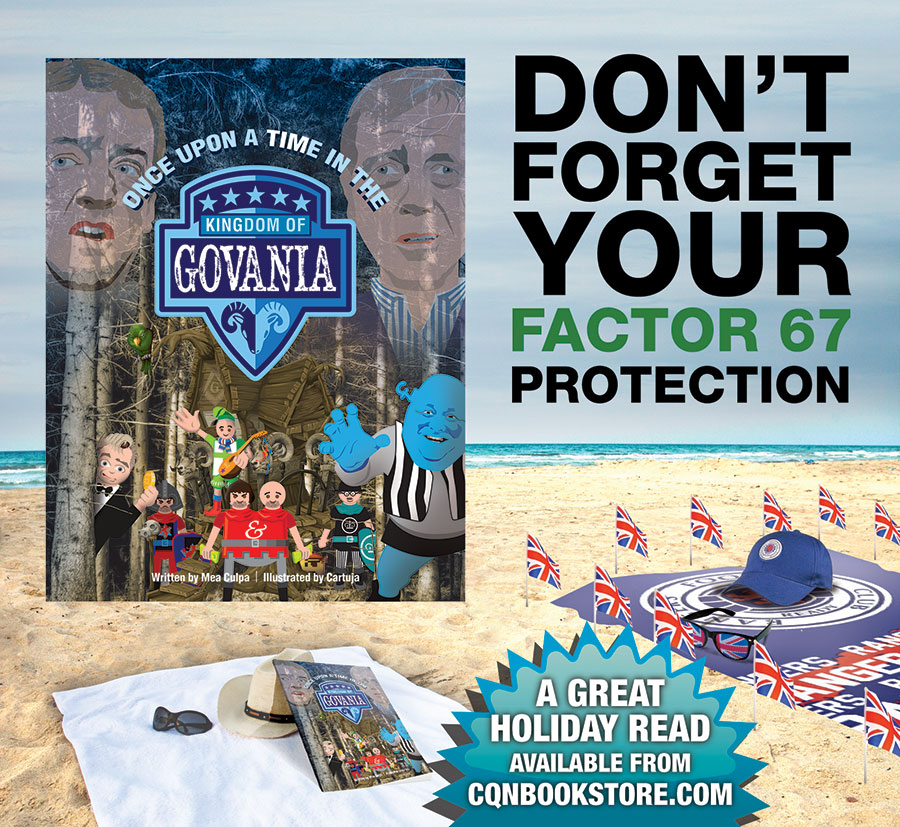 Click Here for Comments >