LEIGH GRIFFITHS "must be embarrassed" by his lack of game time at Celtic.
That's the controversial view of former Hoops favourite Charlie Nicholas who is convinced the 30-year-old striker's time at the club is up.
Griffiths has been given just eight minutes by interim boss John Kennedy in the three games he has been in charge and the frontman who has scored 122 goals in 254 games only made an appearance in the 88th minute for Odsonne Edouard in the 1-1 weekend derby draw.
It's has been a turbulent campaign for the forward who was snubbed by Steve Clarke when he announced his Scotland squad for the forthcoming World Cup qualifiers, starting with Austria at Hampden on Thursday.
The former Livingston and Wolves hitman has scored only 25 goals in the past three years, including seven this time around.
Nicholas is far from impressed and, writing in his Daily Express column, stated: "Leigh Griffiths' time at Celtic must be up now.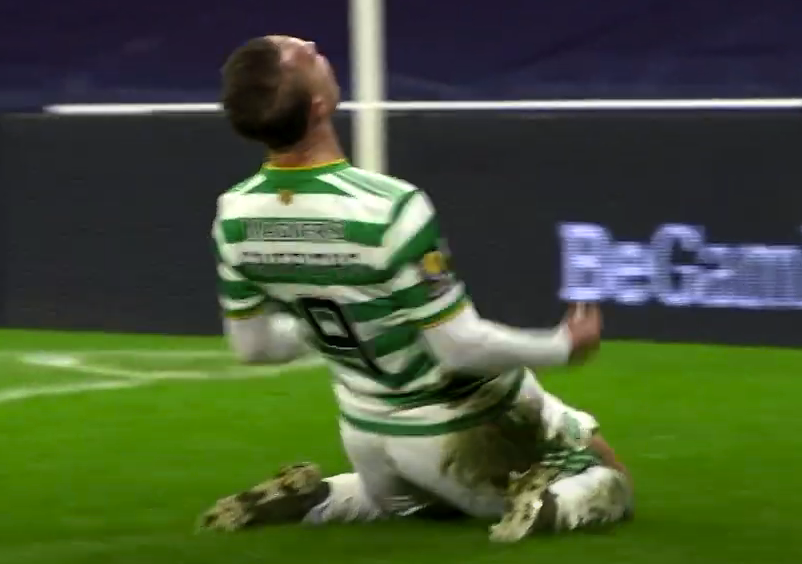 RARE MOMENT OF JOY…Leigh Griffiths celebrates his strike in the Scottish Cup Final against Hearts.
"His team was drawing against Rangers and in need of a goal, yet he was only sent on in the 88th minute.
"What does that tell you? Griffiths must be embarrassed.
"Things have gone into meltdown for the 30-year-old in the last three months. When it was a big game and Griffiths was on the bench, you always thought he could come on and score a free-kick or a long shot from nowhere.
"The fact he only got a handful of minutes at the weekend doesn't look good.
"A new manager could come in and accept Griffiths, but I just can't see it."
Celtic legend John Hughes insisted the player owes the club a massive debt, as CQN reported.
Big Yogi fired in 189 strikes to take him to seventh place in the list of all-time Parkhead top marksmen. He applauded Griffiths' feat of joining the Century Bhoys when the player swept in a trademark free-kick in the European win over FK Sudova in Glasgow on August 30 2018 – and the club icon urged the player to go on and break his record.
IT TAKES A WORRIED MAN…Leigh Griffiths wears a frown as Celtic slump at home to Sparta Prague.
Hughes, talking to author Alex Gordon, laid it on the line that the forward was running out of time to show his gratitude to the club for throwing him a lifeline when he needed it most.
He said: "I don't think it should be forgotten that Celtic offered Leigh Griffiths a four-year contract when they were aware of his mental health issues.
"At one stage of 2018 when he netted his 100th goal for the club it looked as though he was on fire. I told him to carry on scoring and get past my total. I really hoped that he would achieve that.
"He scored his landmark goal in August, but four months later Brendan Rodgers admitted the player would be given time off for personal issues.
"It was around about that time the club gave the player the security of a deal that will take him up to June 2022. That was a bold move by Celtic. However, his form over the past three seasons has been disappointing, there is no other word for it. The statistics tell you all you need to know.
"He netted six in 20 games in season 2018/19. Griffiths followed that up with 12 in 32 appearances and has collected a mere seven from 25 outings in all competitions in this dismal campaign.
OFF TARGET…Leigh Griffiths fails with a free-kick in the 1-0 loss to Ross County last month.
"That is not impressive shooting from a player who will surely be the first to admit he can do so much better. We know he has goals in him, he is a natural goalscorer.
"Look at his record in 2015/16 when Ronny Deila was in his second and final year as manager – he walloped in an astonishing FORTY goals. Think about that for a moment.
"That is 15 more than he has scored in total over the past three years. I think that tells you all you need to know."
Hughes added: "Has Leigh Griffiths a future at Celtic? He still has a full year to run by the time the club prepare for another challenge.
"He will be 31 in August and time is running out to say thank you to the club for the faith they showed in him when he had to overcome his own issues. Thankfully, it looks as though he has managed that and we can all be grateful for that.
"However, it's time for him to stand up and be counted. Plainly, I would tell him: 'You owe Celtic'.
"And next season looks the perfect setting for the player to deliver."
Click Here for Comments >