We've decided to freshen up the #10IAR feature to not only include Celtic players and former players but also Celtic fans. Having started this up, it's such a buzz reading back people's memories of Celtic and it's not just the people lucky enough to have worn the Hoops that have fantastic memories, the fans do too. There are some great interviews already in the bag and we will be posting them over the next few weeks.
First up for our maiden #FanOfTheWeek #10IAR is none other than Paul John Dykes. I've actually known Paul for 30 years. We attended primary school together in a wee town called Penicuik in Midlothian. It was a school full of Hearts and Hibs fans which at 8 years old was alien to me. We moved there from Ayrshire and I found this boy in my class like me that was a Celtic supporter and it turned out to be Paul. We struck up a great friendship but not long after, Paul's family moved away back up to his native Dunfermline area. We managed to get back in touch years later and it's great to be in contact with him and his family again.
Paul can be found at most Celtic events and recently hosted a night with Neil Lennon and Chris Sutton in Glasgow just last week which was a major success. Paul has also written some great Celtic books on The Quality Street Gang, Neilly Mochan and Andy Lynch and is the co-host of the CQN Podcast A Celtic State of Mind. Already in 2018 he podcast has had some outstanding content with interviews with former Celtic Director Tom Grant and on the current podcast an interview with Tommy Sheridan, assisted by Celtic legend Frank McGarvey which is a great listen. Paul talks about all of this in his #10IAR here.
So sit back and enjoy and here is Paul John Dykes and his Ten in a row…
What was your first memory of Celtic?
All my earliest memories in life seem to revolve around Celtic. I can remember my father getting ready to go to the games in the early eighties. We lived in a small mining village called Oakley, and my old man went home and away on the Valleyfield bus, which ran from a pub just a couple of miles down the road from where we lived.
On that bus would be uncles and older cousins of mine, but my brother and I were never allowed to go at that stage. This was a bus full of guys who'd been working all week, and they didn't want four or five-year-olds holding them back and eating into their drinking time. I fully appreciate that now, but I yearned to be a part of it back then.
It was such an important part of our family's life, and I have vivid memories of my dad in a green-and-white scarf and denim jacket, with that strange-smelling dichotomy of drink, fags and chewing gum.
I can also remember family gatherings at New Year and the like, when all the males would spend the whole night incessantly talking about Celtic. The youngsters were never part of the conversations, but you started to pick up the names of players. The one that stands out clearly for me is Charlie Nicholas.
Then the singing would start, and there was always a fine selection of traditional Irish ballads being chanted into the early hours. I suppose these early experiences were the beginnings of me learning about the history of our club.
What was the first game you went to?
From those heady days of family gatherings and Celtic sing-songs, we then entered a really depressive and challenging period with the miners' strike. My dad was a pit-man, and having no wages for a year undoubtedly put paid to any chance of me going to Celtic games for a while.
The strike only served to galvanise and politicise us as a family. My mother's ancestors had fled government-facilitated famine in Ireland in the 1840s. Nearly 150 years later and we were still being oppressed by the ruling class. It had a profound effect on all of us. Once the strike ended, my old man moved about and worked abroad for several years, and I didn't manage to get to a game until the pre-season of 1987 when I was eight.
It was the Tommy Burns Testimonial against Liverpool, who were a special side at the time, and were managed by Kenny Dalglish. I remember Danny McGrain (having recently been given a free transfer after 20 years' service) came on to the pitch at full-time to share the adulation of the crowd with his great friend, Tommy Burns.
That was me witnessing the final remnants of The Quality Street Gang, who would later play a massive part in my life some years later.
Who are your top 3 favourite Celtic players and why?
I'll list these in chronological order, because it would be impossible for me to compare them.
My favourite Celt of the fifties is Neilly Mochan. I studied Neilly's life for two years, and met several members of his family, when I worked on his biography and biopic. Once I finished the book, I felt as though I had gained an insight into the personality of this remarkable Celtic icon, and he left a lasting impression on me.
George Connelly is undoubtedly my favourite Celt of the sixties and seventies. He was the reason behind me writing my first book, The Quality Street Gang, as he was from the same Fife village (High Valleyfield) as my mother. He is an absolute inspiration to anyone from that area, and it was a real privilege to meet him back in 2010.
From the eighties, my hero was Paul McStay. He could have gone anywhere, and achieved anything in the game, but he opted to stay with Celtic for his entire career, even though the club were struggling for large sections of his playing days. We won't see many more like him in the modern age of hair weaves and tattoo'd sleeves.
Best game you've ever seen involving Celtic in your time?
We've been blessed with some incredible European experiences since Martin O'Neill's time in charge, and I have enjoyed every one of those victories immensely. The one game that stands out for me though, is the 1995 Scottish Cup final – even if it was a dreadful game of football.
The reason this was so important was that it was a real watershed moment because we hadn't won a trophy in six years, and this was the first silverware since Fergus McCann saved the club. The feeling of utter relief was palpable that day at Hampden when the ref blew for full time. I remember thinking that it was the beginning of a trophy-laden managerial career for Tommy Burns, but sadly that wasn't to be.
Worst game you've ever seen involving Celtic in your time?
It was in that very same season, and in the other domestic cup final against Raith Rovers.
Brian Potter was from High Valleyfield, and he went to the same high school as me. His younger brother, John, was with Celtic for a few years; his older brother, Gavin, was also an excellent player, but he was hampered by injuries. Brian had saved the vital penalty for Raith Rovers in the Coca Cola Cup semi-final against Airdrieonians, after coming on as a 17-year-old substitute.
The whole village was really proud of him, as was everyone at St Columba's High School. Then he went one better, and was on the bench as Raith Rovers pulled off the unthinkable by beating us in the final. Later on that season, Brian joined his brother, Gavin, on our Celtic bus for the final Rangers game of the season. We won 3-0 at Hampden that day, and although we gave Brian a good dose of ribbing, we were all still really delighted that he was doing so well.
Pick your best ever Celtic XI from what you've had the pleasure of witnessing (4-3-3).
1. Fraser Forster
2. Tom Boyd
3. Kieran Tierney
4. Virgil van Dijk
5. Paul Elliott (captain)
6. Stiliyan Petrov
7. Henrik Larsson
8. Paul McStay
9. Frank McAvennie
10. Lubo Moravcik
11. John Collins
Manager: Brendan Rodgers
Give us a funny or surreal moment from your time supporting the Hoops.
The most surreal experience was moving into a former Celtic captain's home for a fortnight. Andy Lynch and I had been working on his autobiography for some time, but we needed an intensive writing session to get it completed. We watched Celtic games, went for a drink, had meals, and spoke on tape for about six hours every day. That fortnight was a brilliantly surreal experience, but Andy and I ended up as good friends, and we still chat or text every few days.
Give us your assessment on how this season has gone so far?
In any other season, we'd all be delighted. The only thing that I feel is preventing that satisfaction is that we haven't matched the unusually high level of performance that Brendan's side were able to produce last season. I still believe that we'll win the treble, and the side will write another memorable chapter into our glorious, unbroken history.
I'd like to see Dembele, Rogic, Roberts, Sinclair and Armstrong enjoying a revival in the second half of the season. They were all top drawer last season, and we are a frightening prospect when they are on top form.
Money isn't an option, what 3 players would you sign for Celtic just now and why?
Gianluigi Buffon – some players are made to play for Celtic, but the worlds never align to let it happen. George Best, Eric Cantona and Zlatan Ibrahimović would have all fitted in well at Celtic. They had that class and gallus, rebellious nature that appeals to us. I'd give Buffon whatever he wanted to play until the end of the season.
Gerard Pique – he could play with us until the age of 40 and shore up the sieve at the back. I imagine the prospect of him playing alongside Ralston, Tierney and Ajer. He'd still only be the second-best member of that defence right enough.
Edinson Cavani – he doesn't like Neymar, so he'll fit in well at Celtic Park.
Finally, explain to us what Celtic means to you?
Celtic have had an omnipresence throughout my life since day one. I can't imagine a day without them. The late, great Tommy Burns said about the Celtic support: "They're there, and they're always there." I feel the same way about Celtic Football Club.
Interview by Scotty Alcroft for CQN Magazine. The Quality Street Gang and Hoops Stars and Stripes The Andy Lynch Story both by Paul Dykes are available from CQNBookstore.co.uk
#FanOfTheWeek
#10IAR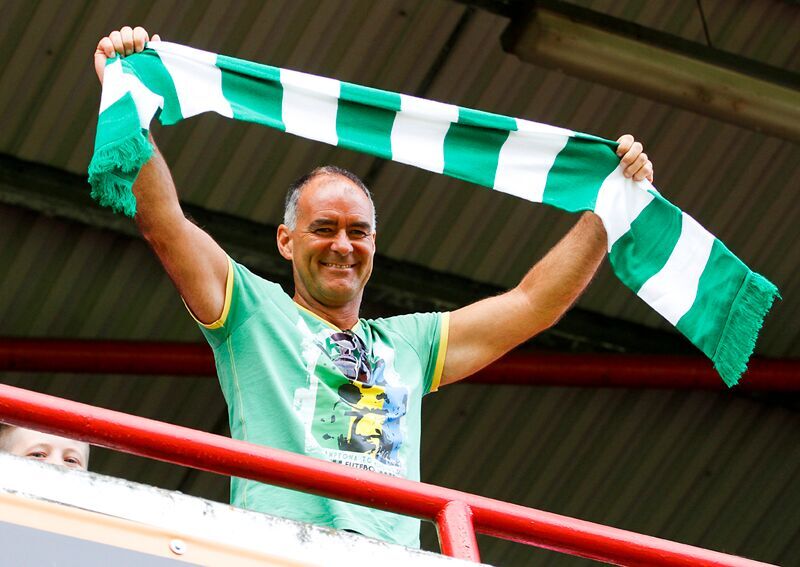 NEW CQN PODCAST OUT NOW FEATURING TOMMY SHERIDAN
A Celtic State of Mind presents its 30th instalment of insightful discussion around the culture of Celtic Football Club, the city of Glasgow, and fans of the reigning treble-winning Scottish champions.
Kevin Graham is joined by Scotty Alcroft to interview Scottish pro-independence politician, Tommy Sheridan, at The Penalty Spot in Glasgow.
The interview took place as part of A Celtic State of Mind's first live event – Five-a-sides at The Penalty Spot – and, as such, there is some background noise (including mobile interference – apologies) from the audience.
The other voice you may hear throughout this episode is that of former Celtic striker, Frank McGarvey, who is a friend of Tommy's, and who was also interviewed separately that day for a future show.
You are sure to enjoy Tommy's eclectic input, as he discusses everything from Catalan independence to Coolio, with a constant undercurrent of that thing called Celtic.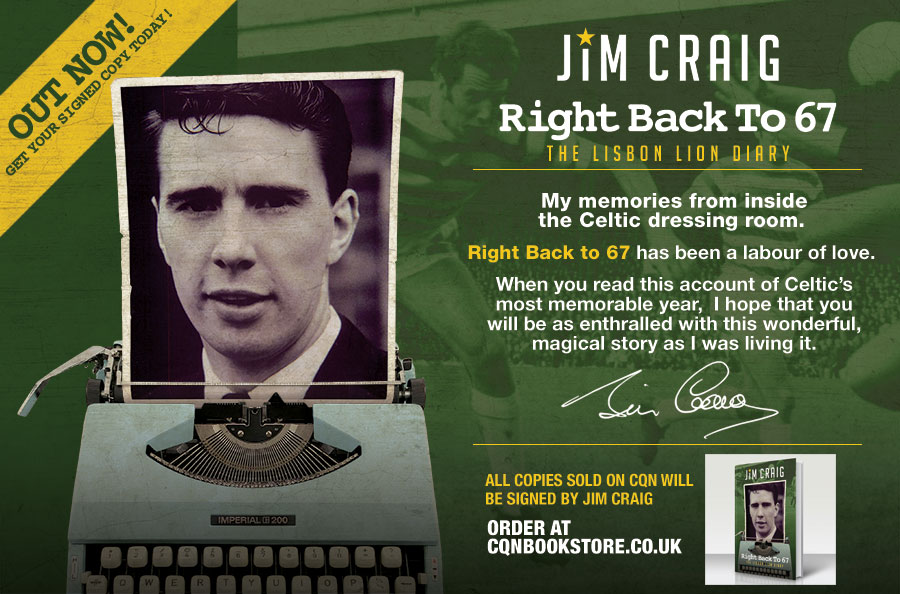 Order Jim Craig's new Lisbon Lion Diary – Right Back to 67 from CQNBookstore.co.uk and you will receive a signed copy from the man himself plus a FREE copy of That Season in Paradise – Ten Months of Celtic Heaven signed by fellow Lisbon Lion Bertie Auld! Simply order Jim Craig – Right Back to 67 and the second book will be sent automatically. Stocks are running very low so hurry!
Click Here for Comments >