I see former Celtic youth prodigy Islam Feruz has been talking to the media. He has taken the Liam Miller football career path, hyped beyond belief at Celtic, disappear into anonymity at an English club, before pitching up at Hibs.
Feruz, who turns 20 tomorrow, is three years younger than Miller was when he left Celtic, so the Somali-born Scotland-eligible player has time on his side, but apart from a bank account which few leaving their 20s could scarcely imagine, and no doubt plenty of life experiences of living as a young footballer in London, the script thus far could have been so much better for the player.
I watched him at youth level and it was clear he had more ability than any of his peer group, but turning a school leaver into a great talent takes more than inherited gifts. It requires work, sacrifice and a willingness to learn. Scottish football's folklore is full of tales of unfulfilled potential.
There's no love lost with Feruz. He took what was on offer from Celtic and left the moment he was able to sign for an English club, but I hope he makes it, both at Hibs this season and thereafter as a great player. Great talents deserve a stage, even if its owner is not always worthy.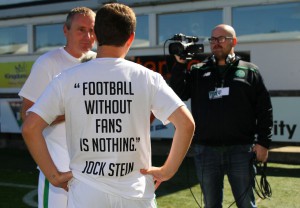 Thanks to everyone who got the ball rolling yesterday with our Walfrid and Directors' Box hospitality auction for the Foundation, and special thanks to club sponsor Intelligent Car Leasing, who provided the prize.  It's a money-can't-buy experience for three people to enjoy, so eat, drink and enjoy – but you'll need to bid here first.
Click Here for Comments >